Poetry has been an important part of the Gold Country for all of her rich history. Beginning of course with the native tribes, traditions of poetry were also celebrated by early pioneer settlers.
For three years now AmadorArts has partnered with the California Arts Council to bring a curriculum called Poetry Out Loud to local high school students. Poetry Out Loud, or "POL," as the fans know it, is a recitation competition that teaches presentation, literacy, and reading skills while developing social and emotional maturity. This curriculum is funded by a grant awarded to AmadorArts from the California Arts Council. POL is easy to implement, can be added to any existing curriculum, and meets both NCTE (National Council of Teachers of English) and Common Core standards. It is an honor to provide another free arts curriculum to the school district.
When Hailey Dacier was a junior at Amador High School, she won the 2018 Amador County Poetry Out Loud competition and went on to compete in Sacramento with students from all over the state. Hailey regards her POL experience with a wide grin and a lot of excitement. Said Dacier, "Poetry Out Loud is a wonderful program and their purpose of bringing the arts to all students is beautiful. At the 2018 Poetry Out Loud State Finals I recited "When I Heard the Learn'd Astronomer" by Walt Whitman, and "Snowflake" by William Baer. These poems emphasize elements in nature, such as snowflakes and stars, that are simply perfect and untainted by human flow or influence. I connected with how the poets reflected the true beauty in the world in such descriptive language and emotion."
Dacier is now a senior and hopes to attend the University of Montana to pursue a degree in astrophysics, engineering, or criminal justice. Although she is not competing in POL this year, she is eager to express how this curriculum has benefited her overall high school experience. "The competition was so inspiring to see, for all the students were incredibly talented and passionate. I was humbled to see how much talent resides in California alone, and it was an honor to be able to perform in such beautiful venues as the State Senate Assembly Hall and the Crest Theatre. I am very thankful to have been a part of Poetry Out Loud, and I will always cherish the experience." Her two days of leadership building and peer competitions has made a lasting impression on this young leader who now sits on the Amador County Unified School District school board.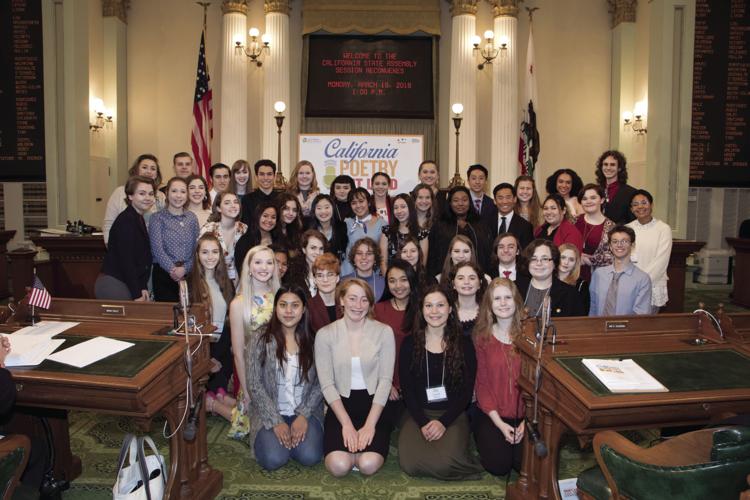 This year, AmadorArts was awarded the maximum POL grant from the California Arts Council. We are proud to use this grant to hire local performance artists and poets to tutor the student competitors from Amador, Argonaut, and Independence high schools. This grant is helping our community to be the first county to record and broadcast the entire poetry anthology so that anyone and everyone who loves poetry can be a part of Poetry Out Loud. As part of our work on the POL anthology, AmadorArts is issuing an OPEN CALL for anyone who would like to record a recitation of any of these poems. It is super easy to record a poem on any smart phone and all ages are welcome to celebrate poetry in this unique way! You can even do it from the comfort of your own home if that is more convenient. And if you want help recording, we are more than happy to offer assistance. To find poems, visit poetryoutloud.org and get in touch with us at the AmadorArts Center at 617 South Hwy 49, in Jackson, inside the Mother Lode Plaza. We are open Monday through Friday from 9 a.m. to 11 a.m. and 4 p.m. to 6 p.m. Call us at 209-256-8166 or send email to amadorarts@gmail.com.
Poetry Out Loud is only one of many arts education curricula that AmadorArts provides for free to the school district. If you would like to be more involved with our unique programs, join our volunteer team and know that your efforts can make a direct impact on the lives of all 4,000+ students in Amador County public schools. We will see you this evening at 6 p.m. at the Amador County Library for the County Poetry Out Loud competition. Come on out and support these amazing students!