Egg Topped Avocado Toast
2 slices multi-grain bread, toasted
2 tsp butter
½ medium ripe avocado, peeled and thinly sliced
4 thin slices tomato
2 thin slices red onion
2 large eggs
⅛ tsp seasoned salt
2 tbsp shredded cheddar cheese
2 bacon strips, cooked and crumbled
• Spread each slice of toast with butter; place on a plate. Top with avocado; mash gently with a fork. Top with tomato and onion.
• To poach each egg, place ½ cup water in a small microwave-safe bowl or glass measuring cup; break an egg into the water. Microwave, covered, on high 1 minute. Microwave in 10-second intervals until white is set and yolk begins to thicken; let stand 1 minute. Using a slotted spoon, place egg over sandwich.
• Sprinkle eggs with seasoned salt. Top with cheese and bacon.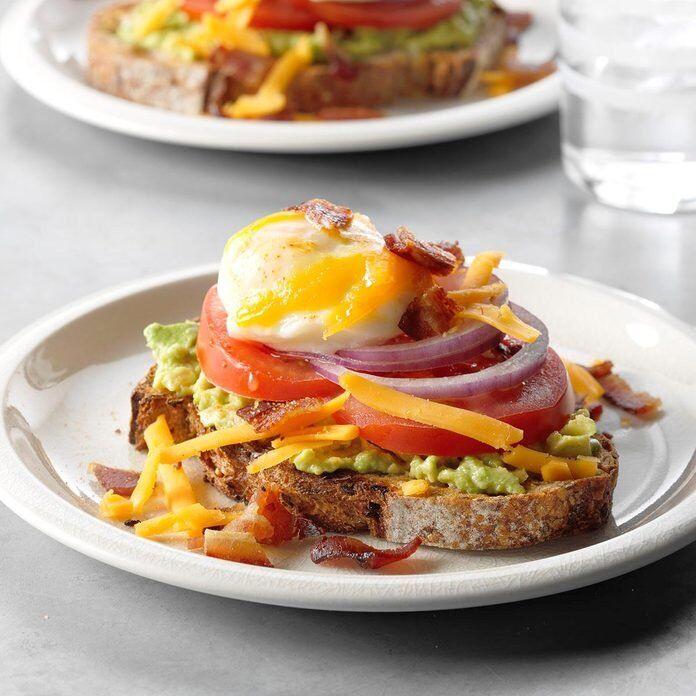 Test Kitchen tips
•  For a buttery texture and flavor, be sure to use a ripe avocado. To speed its ripening, place it in a brown paper bag along with an apple or kiwifruit.
•  If your avocado is ripe before you need it, refrigerate it and it'll stay at its peak a few days longer.
•  To store leftover avocado, sprinkle the cut surface with lemon juice and wrap it tightly with plastic wrap; use within a day.
•  If you're more comfortable cooking your egg in a skillet, sunny side up or over-easy eggs would be delicious, too! Health Tip: Skip the cheese and bacon to reduce the saturated fat and start your morning on a healthier note.
Kallee Krong-McCreery - Escondido, CA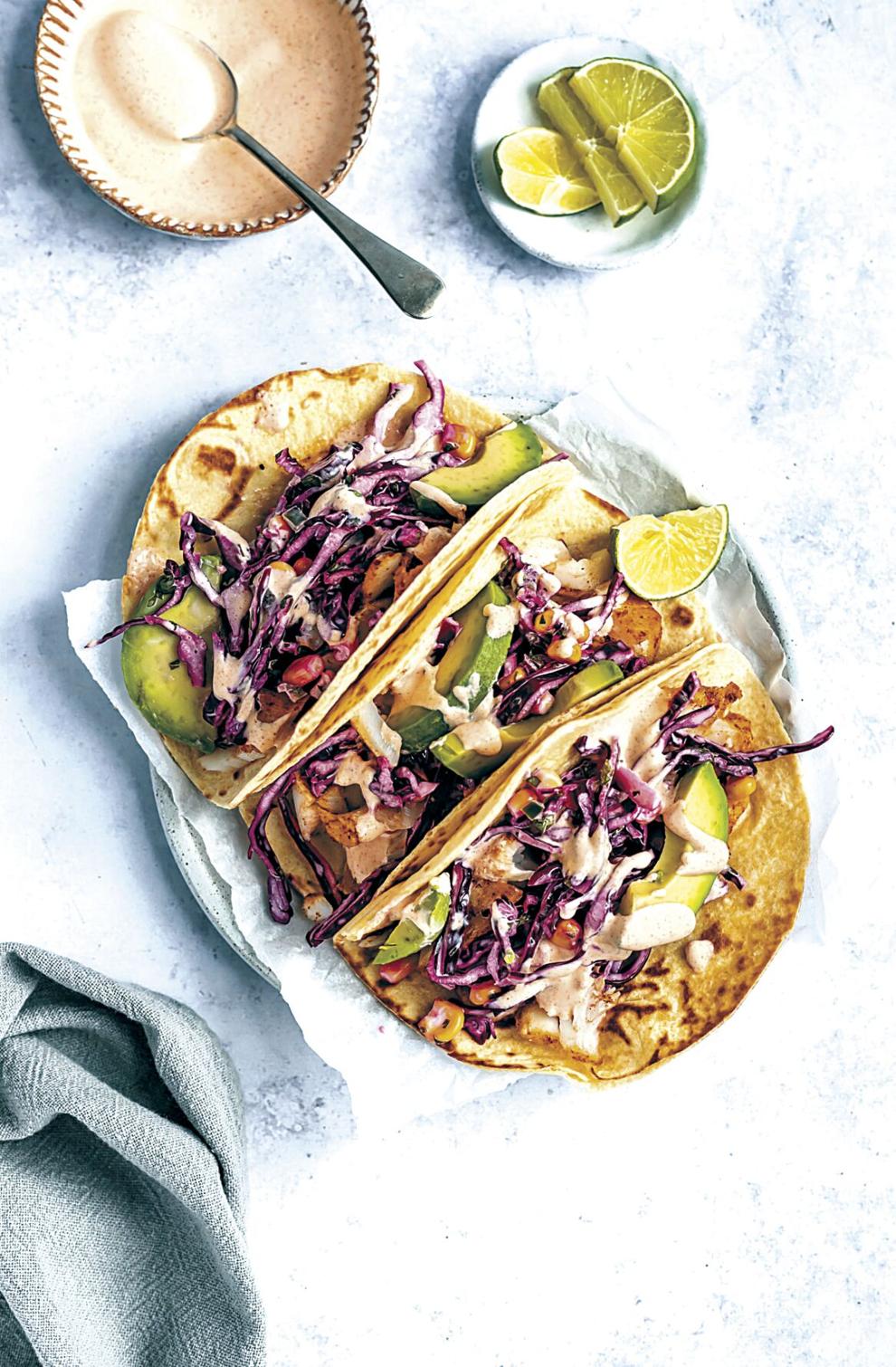 Fish Tacos
½ cup fat-free mayonnaise
1 tbsp lime juice
2 tsp fat-free milk
1 large egg
1 tsp water
⅓ cup dry bread crumbs
2 tbsp salt-free lemon-pepper seasoning
1 lb mahi mahi or cod fillets, cut into 1-inch strips
4 corn tortillas (6 inches), warmed
TOPPINGS:
1 cup coleslaw mix
2 medium tomatoes, chopped
1 cup shredded reduced-fat Mexican cheese blend
1 tbsp minced fresh cilantro
• For sauce, in a small bowl, mix mayonnaise, lime juice and milk; refrigerate until serving.
• In a shallow bowl, whisk together egg and water. In another shallow bowl, toss bread crumbs with lemon pepper. Dip fish in egg mixture, then in crumb mixture, patting to help coating adhere.
• Place a large nonstick skillet over medium-high heat. Add fish; cook 2-4 minutes per side or until golden brown and fish just begins to flake easily with a fork. Serve in tortillas with toppings and sauce.
Jennifer Palmer - Rancho Cucamonga, California
Almond Butter
4 cups almond meal plain or 2 cups plain and 2 cups toasted
1 ¼ tsp sea salt
½ tsp sugar
1-4 tbsp canola or safflower oil
Combine all ingredients in a high quality home food processor (or hand food grain mill) and process for 1-2 minutes or until creamy smooth. For crunchy almond butter add ¼ cup plain whole or roasted almonds in the last few seconds of processing.
You can substitute orange marmalade for plain sugar for a delicious taste. Also you can leave out the sugar or salt entirely if such items are not on your diet.
To toast almond meal spread thin on a cookie sheet and place in a pre-heated 350°F oven for 10-15 minutes. Watch carefully to prevent scorching. If using toasted almonds you can leave out the oil and make excellent butter in a food mill.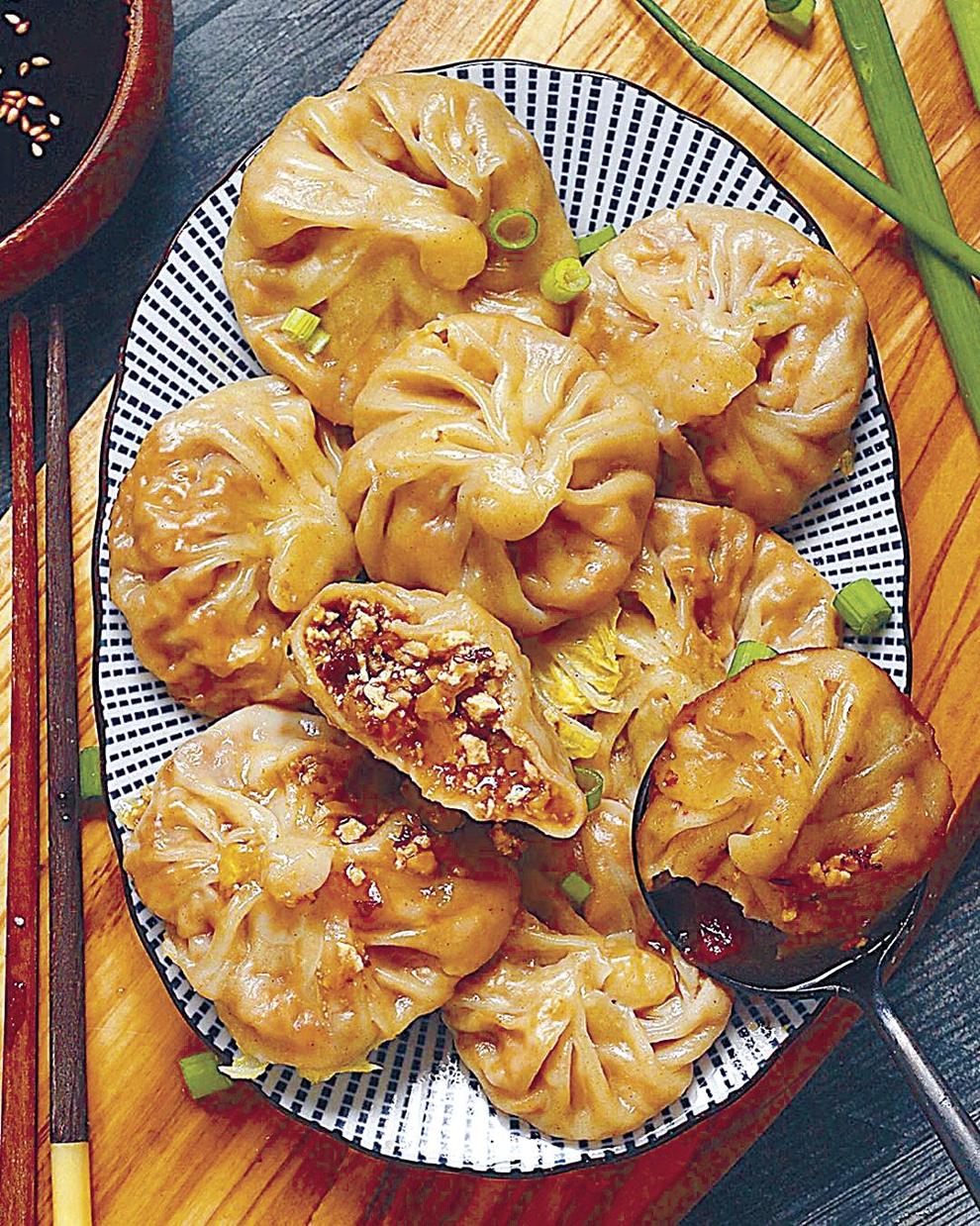 Xiaolongbao
FOR THE ASPIC:
½ lb pork skin cut into 1-inch strips
1 lb pork neck bones (that still have meat on them)
water
2 slices ginger
1 scallion (cut into 3 pieces)
1 tbsp shaoxing wine
FOR THE DOUGH:
1 cup all-purpose flour
6 tbsp warm water
FOR THE FILLING:
1 lb ground pork
2 tbsp shaoxing wine
¾ tsp salt
½ tsp sesame oil
¾ tsp sugar
3 tsp light soy sauce
3 tbsp water
⅛ tsp ground white pepper
1 tbsp ginger (minced)
1 cup aspic (diced into ½-inch pieces)
TO SERVE:
Chinese black vinegar
fresh ginger (julienned)
THE ASPIC
1. In a small pot, add the pork skin and pork bones and cover with cold water. Bring to a rolling boil, and immediately drain and rinse off the bones and the skin. This gets rid of any impurities. Rinse out the pot and put everything back in. Add 4 cups (950 ml) water, ginger, scallion and wine. Bring the pot to a boil and then reduce the heat to low. Cover and simmer for 2 hours.
2.After 2 hours, turn off the heat, allow the soup to cool, and strain the liquid into a bowl. Once the liquid is completely cooled, cover and refrigerate overnight.
THE DOUGH
1. In a mixing bowl, add the flour and the warm water 1 tablespoon at a time. Work and knead the dough for 15-20 minutes. The dough should be very soft and smooth. Cover with a cloth and let it rest for 30 minutes.
THE FILLING
1. Take your ground pork and put it in the food processor. Pulse for 30-60 seconds until the pork resembles paste. In a mixing bowl, add the pork and the rest of the ingredients except the aspic. Whip everything together thoroughly, for about 2 minutes. You want everything to be extremely well combined, and the pork should look like a light, airy paste. Gently fold in the diced aspic, and do not over-mix. Cover and transfer the filling to the refrigerator until ready to make the dumplings. If you're ready now, you can put it in the freezer for 15 minutes to allow it to firm up and make assembling the buns easier.
ASSEMBLY 
1. Lightly dust a clean work surface with flour and roll the dough into a long cylinder/cigar, about an inch in diameter. Cut the dough into small equal pieces weighing about 11 grams each (the dough chunks should be a size resembling that of gnocchi). Roll out each piece into a round disc about 3 - 3 ¼ inches diameter. Keep everything under a damp cloth.
2. Prepare your bamboo steamer. You can line it with cheese cloth, Napa cabbage leaves, or these lovely bamboo steamer discs, which can be found in some Chinese restaurant supply stores (if using these, you must brush the discs with oil first!).
3. When all that is prepared, take out the filling. You'll be making each bun one at a time. Place about 1 tablespoon of filling in the middle of your dumpling skin. Pleat with as many folds as you can muster: 12-20 folds should do it. Make sure the top is sealed. If the filling ever gets too wet or hard to handle, put it in the freezer for another 15 minutes and start again.
4. Place the buns in the lined steamer basket, about 2 inches apart.
STEAMING 
1. In a metal steamer pot or wok, boil water. If using a wok, put the water at a level so that when you put the bamboo steamer into the wok, the water rises about ½ inch up the bottom of the bamboo base. You never want the water to touch the dumplings inside, though, so make sure not to fill it too high!
2. Once the water is boiling, put the bamboo steamer in the wok or steamer pot, cover with the bamboo steamer lid, and steam over high heat for 8 minutes. Immediately remove the bamboo steamer from the pot and serve.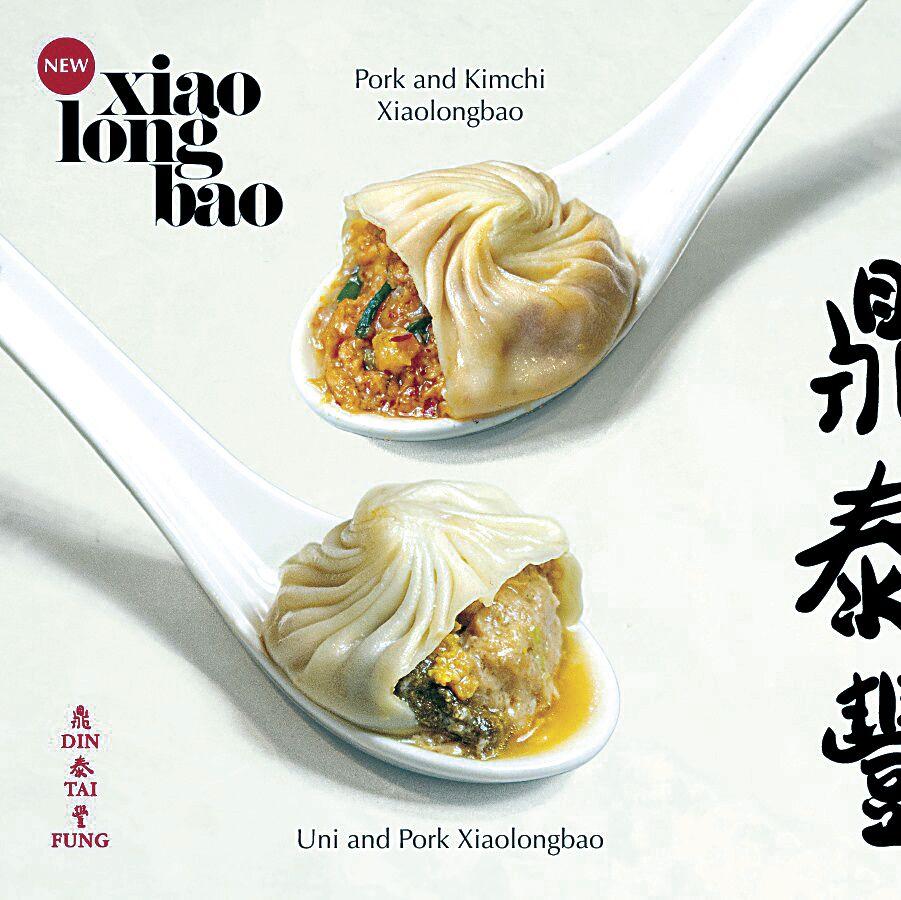 EATING
1. Ok, so there is definitely a proper way to enjoy these dumplings. Put away the soy sauce because it has no place on the table right now. What you want is Chinese black vinegar. Pour some out into a small, round dish or bowl, and top with some very thin matchsticks of ginger.
2. Take out your two utensils—chopsticks and a Chinese soup spoon (a fork would just butcher these and the soup would dribble out all over the table. It would be a tragedy of Shakespearean proportions).
3. Carefully, slowly peel the xiaolongbao off of the steamer basket and dip it into the vinegar. Gently transfer the dumpling to your soup spoon and take a tiny bite out of the skin on the side of the bun to make a little hole. Proceed to slurp the soup out of the bun (Carefully. It's HOT). Then, with a little more vinegar, finish the whole thing off in one bite.
Trust me, these are WELL WORTH all the work
Judy at The Woks of Life.com