Polish Boy
4 smoked kielbasa links
4 cups slaw (recipe below)
4 cups French fries (recipe below)
4 hoagie buns to fit the kielbasa
For the Sauce:
12 hot banana peppers
4 garlic cloves
1 cup yellow mustard
1 cup white-wine vinegar
3/4 cup sugar
1/3 cup all-purpose flour
1/2 cup water
For the Slaw:
1/2 head napa cabbage (shredded)
1/2 clove garlic (minced)
1/2 small red onion (julienned)
1/2 jalapeño (minced)
3 tablespoons Champagne vinegar
3 tablespoons yellow mustard
2 tablespoons mayonnaise
1 tablespoon sugar
1 1/2 teaspoons salt
1 tablespoon Worcestershire sauce
For the French Fries:
2 pounds russet potatoes (cut into matchsticks)
1 bottle canola oil
Salt to taste
Steps to Make It
To Make the Sauce
In a food processor, puree the hot banana peppers, 4 garlic cloves, yellow mustard, and white wine vinegar.
Pour the purée into a nonreactive saucepan, then add the 3/4 cup sugar and bring it to a boil over high heat. Lower the heat and simmer the mixture for 30 minutes.
In a small bowl or juice glass, mix the 1/3 cup flour and 1/2 cup water to make a smooth paste. Whisk it into the pepper mixture and continue to simmer for 20 minutes, stirring regularly, until it becomes very thick. Let the sauce cool, then pour it into a covered nonreactive container (such as a glass jar).
The sauce can be refrigerated for up to 1 month.
To Make the Slaw
In a medium bowl, mix together the cabbage, garlic, red onion, jalapeño, Champagne vinegar, yellow mustard, mayonnaise, 1 tablespoon sugar, 1 1/2 teaspoons salt, Worcestershire sauce and some of the sauce that was prepared in the above step.
Cover and refrigerate for 1 hour.
To Make the Fries
Peel the potatoes and cut them into long fries about 1/4 inch thick. As you cut them, put them in a bowl of cold water to cover.
Pour enough oil into a medium pot so that the oil comes 3 inches up the sides. Heat the oil to 275 F. 
Drain the fries and pat dry.
Working in batches, if necessary, cook them in the oil for about 5 minutes; they should be soft and pale.
Remove them from the oil using a slotted spoon and rinse under cold water to remove excess oil and starch for a crisper fry later.
Reserve the pot of oil.
Cover a rimmed baking sheet with paper towels and lay the fries on top. Chill completely in the refrigerator. The potatoes can be prepared this way up to a day in advance of cooking them.
Heat the oil to 350 F. Add the fries, in batches, if necessary, to the oil and cook, stirring gently, until the fries are golden brown, about 5 minutes.
Remove them from the oil to a large paper-towel-lined bowl and season them with salt, shaking the bowl to distribute the seasonings evenly.
To Cook the Kielbasa
Grill or pan fry kielbasa for 5 to 10 minutes per side, until done.
Place in a hoagie bun, top with slaw and fries and serve.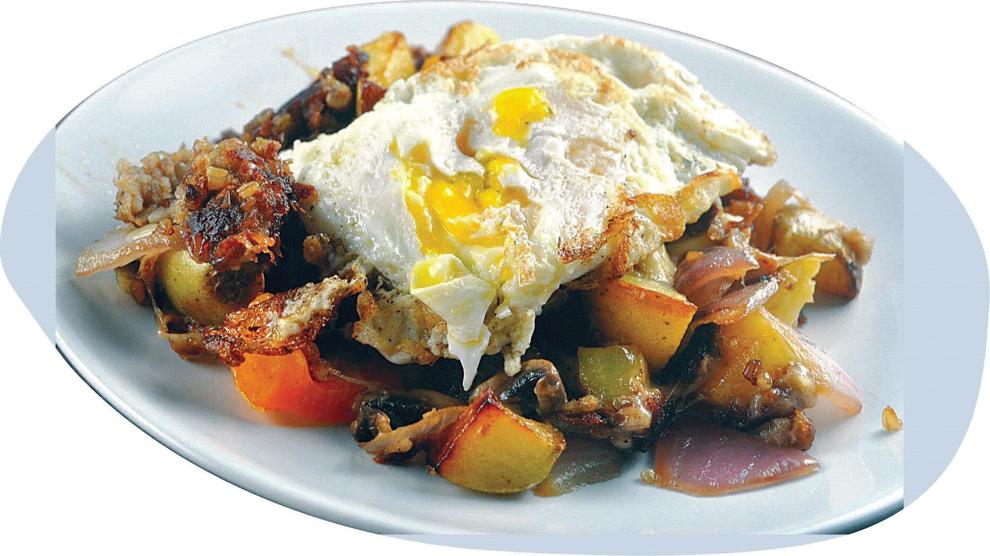 JARLSBERG & GOETTA HASH
Goetta is a Cincinnati favorite – combine potatoes, onions, pepper, mushrooms into a flavorful hash – then add goetta and the melty deliciousness of Jarlsberg Swiss cheese.
1 pound Yukon gold potatoes, diced 
1/2 pound goetta, crumbled (can substitute pork sausage)
1 orange pepper, large dice
1/2 red onion, large dice
4-6 oz mushrooms, sliced 
Olive oil 
1 cup shredded Jarlsberg Swiss Cheese
3-4 over-easy fried eggs (optional) 
Coarse sea salt
INSTRUCTIONS
Heat pan to medium and add 1-2 tbsp olive oil
When pan is hot, add diced potatoes and season with sea salt – cook 10-12 minutes until slightly fork tender. Stir as needed but let it cook – don't mess with the potatoes a lot. Remove from pan and set aside. 
Add crumbled goetta (or sausage) and cook until brown. If using goetta – pat thin with spatula until one side is crispy – then flip and crisp on other side. When cooked, remove from pan and set aside.
Add additional oil to pan and once heated, add vegetables. Season with sea salt. Saute vegetables 3-5 minutes until fork tender. 
Add potatoes and goetta back to the pan and stir all together. 
Top with shredded Jarlsberg and put lid on pan to melt cheese for 3-4 minutes. 
In another pan, fry eggs for your crew and top with hash with over-easy eggs (or leave them off – if you're not an egg fan) 
NOTES:
It takes a little longer to cook everything separately - but it ends up much better when you're done. If you don't have goetta, substitute pork sausage. Be sure to season with coarse sea salt at each step!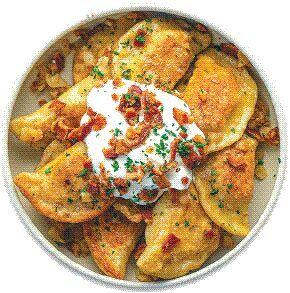 Pierogi
Dough
Filling
1 cup (227g) warm mashed potatoes
1 cup (113g) sharp cheddar cheese, shredded
To finish
4 tablespoons (57g) butter, cold
2 large (156g) shallots, diced; or one medium (156g) onion, sliced
To make the dough: Mix together the flour and salt. Add the egg to the flour and combine. The dough will be quite clumpy at this stage.
Work in the sour cream and soft butter until the dough comes together in a slightly rough, slightly sticky ball.
Using just your fingertips, knead and fold the dough without adding additional flour until the dough becomes less sticky but still quite moist.
Wrap the dough well in plastic wrap and refrigerate for 30 to 60 minutes, or up to 48 hours.
To make the filling: Combine the warm mashed potato and cheese. Stir and mash until the cheese is melted and the filling is cool to the touch. Taste and adjust the seasonings with salt and pepper.
To fill the pierogi: Roll half the dough 1/8" thick. Use a 2" round cutter to cut circles of dough. Repeat with the other half of the dough. Save the scraps; these can be snipped into small pieces and added to simmering soups.
Place 1 1/2 teaspoons of filling on each round of dough. Gently fold the dough over, forming a pocket around the filling. Pinch the edges of the pierogi to seal, then seal again with the tines of a fork.
At this point the pierogi can be frozen for up to 4 weeks, or refrigerated overnight, or cooked in a large stockpot of boiling salted water. Only cook about 10 pierogi at a time, so that they have room to float without sticking. When the pierogi float, they're done. The time will vary depending on if they're fresh or frozen.
Sauté the shallots or onion in the butter in a large skillet until the onion begins to brown. Add the drained pierogi and cook until browned and crisped. Serve hot with additional sour cream, applesauce, or other condiments.
4 cups cubed white bread without crusts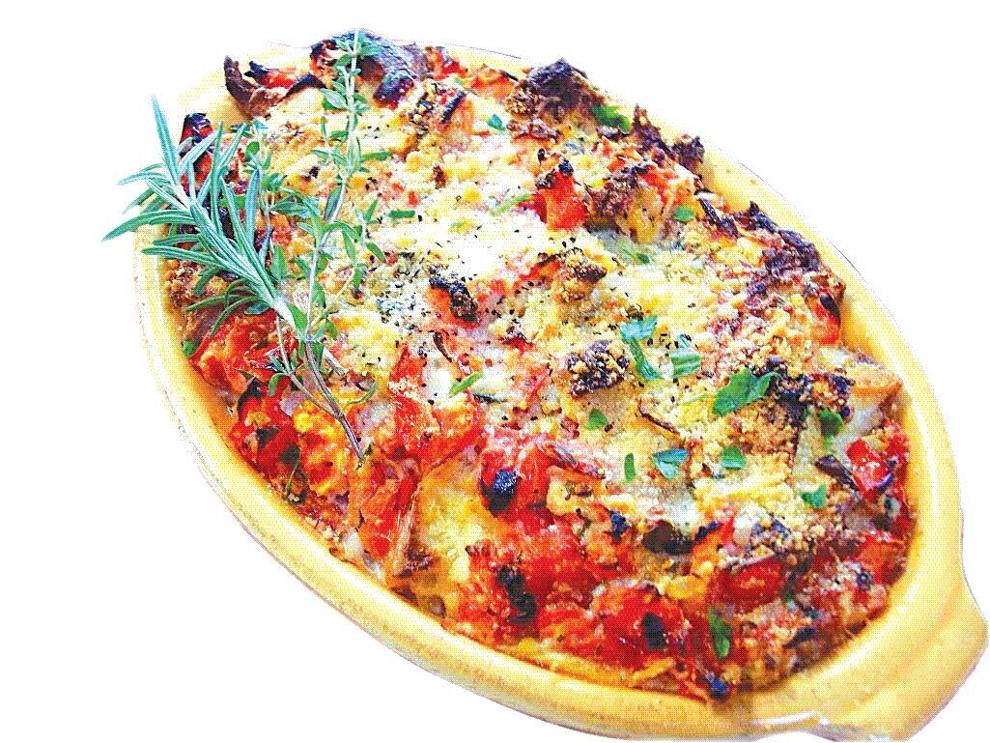 Ohio Tomato Pudding
¾ cup butter, melted
1 (14.25 ounce) can tomato puree
1 cup brown sugar
1 tablespoon lemon juice
1 tablespoon orange juice 
Step 1
Preheat oven to 325 degrees F (165 degrees C). Spray an 8x8-inch baking dish with cooking spray.
Step 2
In a large bowl, toss the bread cubes with melted butter, and stir in the tomato puree, brown sugar, lemon juice, and orange juice. Lightly spoon the bread mixture into the prepared baking dish.
Step 3
Bake uncovered in the preheated oven until the top is golden brown, about 1 hour.