The Sacramento Area Regional Theatre Alliance (SARTA) held their annual awards party Sunday, September 22, and once again, Volcano Theatre is feeling the love!  They say it is a thrill and an honor just to be nominated, and that is so true. SARTA judges hundreds of productions all over northern California, and just to be awarded a Certificate of Achievement (top 10 percent) is a big deal. A nomination is a thrill. And a win is huge! 
Last year was a banner year for the VTC with four nominations, four Certificates of Achievement, and two wins, Best Production, Comedy and Best Supporting Actor (Marty Brifman), both for "Sunshine Boys." 
 This year, SARTA bestowed two Certificates of Achievement to the Volcano Theatre Company: Alicia Barber for Set Design, "Alice in Wonderland" and Bob Duzdevich for Sound Design for "A Tuna Christmas" and a nomination for costumes in "Alice in Wonderland," acknowledging the hard work and creative genius of Gina Casaleggio, Perley Tyson and Robin Rehart. Kathleen Rich, longtime VTC costumer also played an integral role. And they won!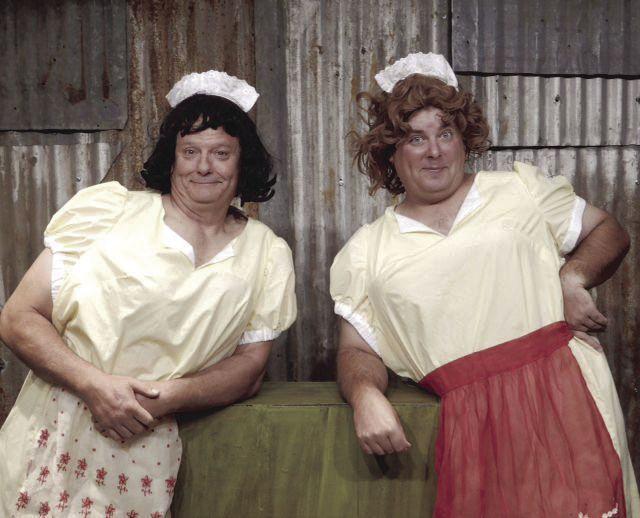 Congratulations to everyone on their awards and acknowledgements. 
 Now in its 46th year, the Volcano Theatre Company continues to take seriously their commitment to bring quality community theatre to Amador County. Those with the desire to become involved, whether on stage or back stage, i.e. set building, costume craft, light or sound operation or stage managing, just to name a few, are all welcome to join the all-volunteer ranks. Additional community outreach is provided by means of a high school scholarship program funded entirely by patron donations and a preview performance, which raises donations for the Interfaith Food Bank. 
Currently running in the intimate and historic Cobblestone Theatre is the comedy "Life & Beth," which will continue Friday and Saturday evenings and Sunday matinees through October 13th. Opening on November 15 will be the holiday show "The Trial of Ebenezer Scrooge." All tickets are on sale now at volcanotheatre.net. Come play with Us!