On January 20, 1879, engineer Richard Harper Stretch penned a letter from San Francisco to Frank Mason Brown in Sutter Creek. Brown was the manager of the Amador Canal and Mining Company. The letter was to inform Brown that Stretch would soon visit Amador County to examine and compile a report on the canal company, the Amador Lumber Company, and the Sutter and Amador Water Works, and to request any information that Brown possessed regarding the companies. Brown's reply of January 24 requested that in addition to reporting on the present condition and future prospects of three companies, Stretch should include in his inquiry information on the 'past workings' of them as well. Brown also indicated that there was an urgency to the task for which Stretch had been hired – a proposed consolidation. These letters were included as front matter in the subsequent report that was generated by Stretch. A third letter, from Stretch to Theodore Le Roy of San Francisco, written on February 15, 1879, is evidence to the expediency with which Stretch completed his task and provides insight into why his services were necessary. A portion of that letter reads – "In compliance with your instructions I have examined the property of the Amador Canal and Mining Company and Lumber company and the honor to present the following report…A perusal of the report will, I am certain, convince you, as the month of investigation I have given to it in the field, has convinced myself, of the great and constantly-growing value of the property. There is no element of loss, but on the contrary, every element of permanence and prosperity." It is not clear what Le Roy's interest was in the consolidation – investor, buyer, or real estate broker. Before this story delves into the state of the three companies in 1878-1879, we'll learn a bit about these three men.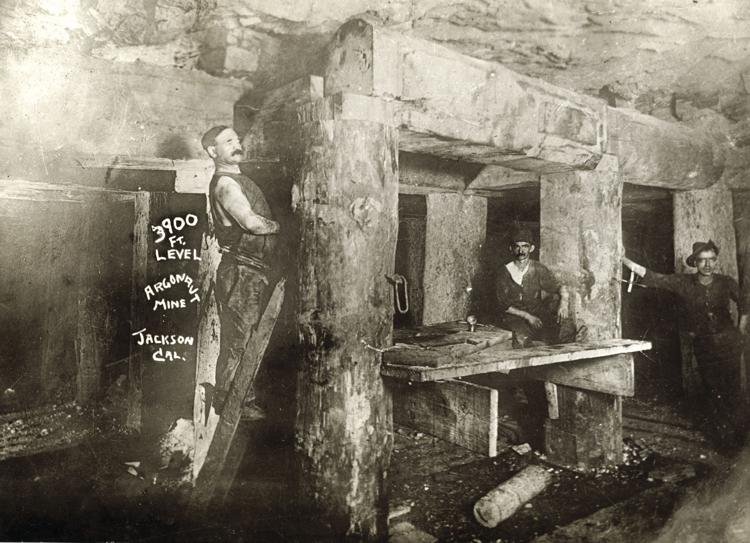 Richard Harper Stretch has been called a "man of keen intellect and pervasive curiosity" and his many talents testify to this observation. He possessed the skills needed for the job of preparing a report on the possible consolidation of three of the largest business enterprises operating in Amador County in 1879. Stretch was born in Nantwik, England in November 1837 to Joseph and Hannah Stretch. After receiving an education in Quaker schools, he attended the Banbury Mechanical Institute where he apprenticed as a draper, a dealer in cloth. In 1860, at the age of 23 he set sail for America, keeping a journal of his travels. It was Stretch's intent to study and collect specimens of insects in the western hemisphere. Over the next six months he visited Halifax, Nova Scotia, Boston, New York, Panama, New Orleans, Chicago, Michigan, Niagara in New York, Philadelphia, and New York City. By the end of July 1860 he was back in his native England. Three years later Stretch returned to the United States and spent another two or three years on his entomological studies in California, Nevada, and Arizona. It would be another decade before he would publish a book on his work. In the meantime, Stretch turned his attention to geology and mining, traveling about Nevada collecting and studying geologic specimens. His astute dedication to this pursuit led him to be appointed as the first State Mineralogist in Nevada. Upon his appointment he donated to the state his private collection of mineral specimens while lamenting that Nevada, whose economy was at that time dependent on the mining industry, should have a school of mining where those interested in the industry could educate themselves, and mineral samples from across the state could be deposited to assist in their education. After leaving his post as State Mineralogist, Stretch went to Oregon where he mapped the Newport Coal Mines at Coos Bay. Upon his return to Nevada, he mapped the Chollar Potosi Mine, and then in 1869 moved to San Francisco with his wife Caroline, who he had married in 1866. Over the next several years, Richard once again turned his attention to entomology compiling his book for publication. That work, Zygaenidae and Bombycidae of North America was published in 1875. The 242 page volume included Stretch's full color illustrations of moths. In addition to his interest in insects and geology, Stretch was also a student of hydrology. His self-taught skills as a hydrologist, took him to Southern California where he and J.E. James authored a report for the 43rd U.S. Congress on the practicality of using the waters of the Colorado River to irrigate desert regions. He is also credited with having put in the head gate for the first large irrigation ditch in California near Kingsbury and for having drilled the first artesian well in the state near Fresno. He was also one of the founders and worked as an engineer for the San Diego Irrigation Company. Stretch was also employed for a time as the City Engineer for San Francisco. He surveyed and designed the western section of Seattle, Washington and served as the King County, Washington surveyor for a time. He also was employed for two years as a United States Deputy Mineral Surveyor in Washington. Stretch donated his entomological collection consisting of 5,000 specimens to the University of California. His work in Washington took place after his study of the Amador companies was compiled.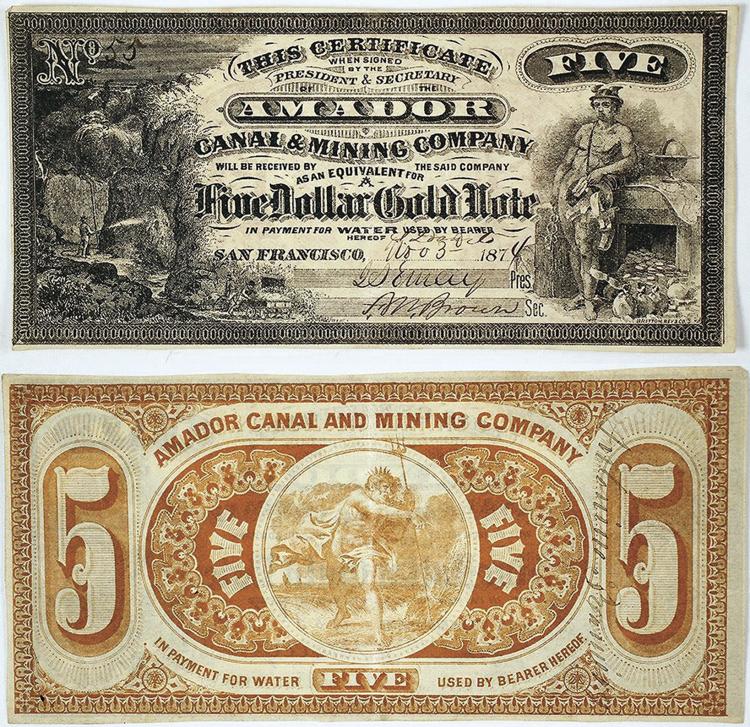 Our next player in the consolidation saga is Frank Mason Brown, manager of the Amador Canal and Mining Company. Brown, a native of Hancock County, Maine was born there in 1845 to Samuel Peters Brown and Charlotte Mason Brown. In 1861, Samuel was appointed as a Navy Agent by President Lincoln and moved with his children to Washington, D.C., Charlotte having died in 1858, leaving him a widower. After attending common schools, Frank received his university education at Bowdoin College in Brunswick, Maine, and then went to work for the U.S. Department of the Treasury as an Assistant Special Agent for Alaska. After leaving that post, Frank headed to California. In 1877, he returned east where he was married to Mary Haworth Ward in Chicago. Frank brought his bride west and settled in San Joaquin County. That same year he was elected as a California State Senator representing Northern California. In March 1878, he introduced a bill into Congress to provide for the construction of a railroad from Ione to Jackson, what would eventually become the Ione & Eastern Railway and later the Amador Central Railroad. Prior to this Brown was promoting the construction of a V-flume from Tanner Reservoir to Ione to be used to float timber harvested by the Amador Lumber Company to the railhead of the Amador Branch Railroad. After that scheme failed to gain momentum, lumber company executives and Brown claimed that a railroad would be much cheaper to construct. Given that Brown was the General Manager of the Amador Canal and Mining Company from 1873 to 1879, it is no wonder that he was in favor of a consolidation of the three companies, all of which would benefit from the construction of a railroad. Providing water, lumber, and transportation to the mines would be a very profitable operation. Unfortunately, Mason did not live to see the completion of a railroad in Amador County. After he left the employ of the Amador Canal and Mining Company, he and Mary moved to Leadville, Colorado where he became manager of the Farwell Consolidated Mining Company. Then in 1882 they moved to Denver where he worked in mining, real estate, and the railroad business. Frank Mason Brown died from drowning in the Colorado River in 1889 while on a survey for the Denver, Colorado Canyon and Pacific Railroad. His raft overturned in the rapids and his body was never found. He was the founder and President of the railroad company.
The third and final participant in the proposed consolidation was Frenchman Theodore Le Roy, born at Meaux, France in 1816. His, is one of those Golden State rags to riches stories. Theodore left his native France in the 1840s, traveling to South America where he and his brothers, Eugene and Victor, set up trading business, importing and exporting goods between South America and France. The men brought expensive goods from France and then would sail up the west coast of South America where they sold these and took on South American goods which they would then ship to France. In 1848, when they arrived at Callao, Peru, the port was in a frenzy over the discovery of gold in California. Victor sailed north to do business in San Francisco and purchased a building where the Le Roys set up selling expensive French wallpaper. Theodore was the next to arrive and man the shop. The building burnt down and the Le Roy's investment was gone but they soon rebuilt. Rather than return to the wallpaper business, Theodore rented the building and began buying and selling land, serving as a broker to others, and loaning money. His property deals extended the length of the state. Theodore eventually came into possession of Rancho Guadalupe after the owners defaulted on loans he gave them. He subdivided the property and established the town of Guadalupe and set aside property for the Le Roy Park. Problem was, his deal with the original owners of the Rancho, the Estudillos, included a clause that Le Roy was to sell the property and pay them any excess gained over what they owed him. In the end Le Roy won out when the courts ordered a foreclosure sale. His bid of $638,665 won him the 43,682 acre Rancho Guadalupe, the Rancho Camalia, and the Rancho San Leandro. A review of historic newspapers revealed that this was not the only lawsuit Theodore Le Roy was involved in. There were many of his real estate transactions that were challenged in court. However, his wheeling and dealing amassed him an immense fortune, which at the time of his death, was assessed in excess of $1.3 million. It took ten years to settle his estate. Having never married, it was expected that his brother and nephews in France would become wealthy; however, after his accounts were settled, the remainder was but a fraction of the fortune. After his death, an uncompleted will was found, in which he left to actress Sallie Hinkley $300,000 "on account of her relations with Le Roy." Theodore's brothers had died. Victor, before his death, assigned his interest in Theodore's estate to Rene de Tocqueville, a relative by marriage. The final decree distributed $350,000. Half of that went to de Tocqueville, $60,000 to Sallie, and one quarter each to nephews Eugene and George Le Roy. 
If the efforts of these three men could convince investors that a consolidation of the Amador Canal & Mining Company, the Amador Lumber Company, and the Sutter and Amador Water Works could be a profitable enterprise, they would pull off one of the largest business deals in the history of Amador County.
To be continued…