From the establishment of the American Legion in March of 1919, and its humble beginnings in Amador County in mid-October 1919 as a community project, the American Legion Post #108 (and later, Ambulance Service) was made available to the communities of Amador, Calaveras and Alpine County by a team of dedicated volunteers. These first members, many of whom were veterans and former servicemen, included many familiar names; Fregulia, Giannini, Cuneo, Pierovitch, Larson, Vicini and Oneto, were the key to the establishment of Post #108 and with the continued support of Amador County, veterans and youth still benefits our community today from their efforts. Over the last 100 years, the American Legion has grown exponentially, hosting dozens of events and supporting community projects every year.
"According to an article from the Amador Ledger in 1919, a meeting was held at the Jackson courthouse to organize a local post of the American Legion on October 19, 1919, and nearly 100 ex-servicemen attended the meeting," American Legion Post #108 Judge Advocate Robert "Dogman" Saracino explained. "Mr. M. J. O'Connor opened the meeting and explained the aims of the Legion and read the history of the organization, which was founded earlier in 1919. On October 20, 1919 Amador Post No. 108 was chartered by the American Legion, and Amador was chosen as the name of the post. At this first meeting, there were 31 charter members. A second meeting was held at the courthouse in Jackson on October 28, 1919 and 41 new members joined, making a total of 72 members." Many of those locals who served in The Great War, World War I, had been returning home after the demobilization of the troops; a Welcome Home Parade was held in Jackson on the 11th of November, 1919, with many Legion members and veterans attending and proudly wearing their Legion pins.
The message of serving veterans, promoting Americanism, national security and supporting children/youth resonated with the community; by January of 1920, just a few months after the formation of Amador Post #108, the member list had grown to 140, and by September totaled more than 180 active members. "Then, in 1926 a plaque was dedicated to the Men of Amador County who lost their lives in the World War, and it was placed on the wall of the Old Jackson Courthouse community well, for all to see," Saracino continued, "and in the late 1940's, the wall was dismantled and the plaque was relocated to the "Rock" memorial in Sutter Creek where it remains to this day."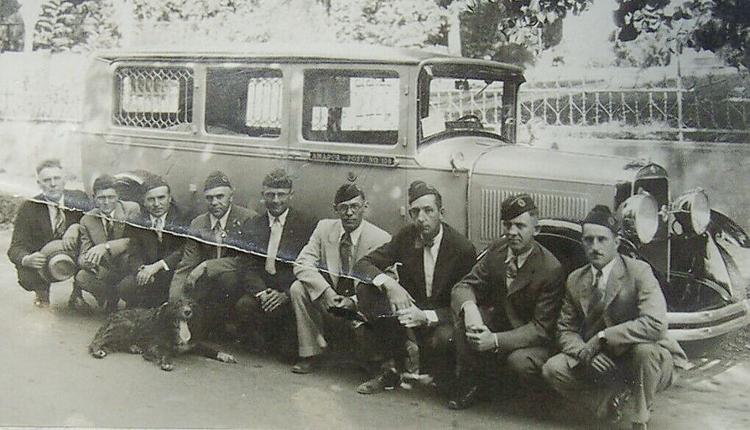 Ten years in, the Legion members came up with an idea - an ambulance service, initially created to transport veterans to and from their hospital and doctor appointments, quickly opened to the whole of Amador County. A campaign to purchase an ambulance was successfully funded within two months, and Amador Post 108's first ambulance, a 1929 Studebaker President 8, was purchased from A. L. Davies auto dealership in Jackson for a grand total of $3,351. This was a large sum for the time, equating to about $50,300 (with inflation) in 2019. Pictured in an old black-and-white photo circa 1929, just after the arrival of the Post #108 Ambulance, stood nine of the Legion's volunteers, including Al Davies, Lute C. Bourne, Louis Malatesta, Charles Raggio, Antone Spinetti, Clyde Getchell, Alexander Gibson, Howard Dayton and Alfred Malatesta. Within weeks of its arrival, the Studebaker ambulance was being utilized. "The ambulance was operated by volunteer members of Post #108 and were providing an ambulance service to the county for free. In 1933, the Post began to cover operating costs with the introduction of the "membership ticket" program, an annual subscription costing $3," Robert continued. "Then, in 1937, Amador Post No. 108, American Legion was incorporated as a 501(c)19 nonprofit organization. In July of 1950, Amador Post 108 acquired a lot just South of the Forestry station off of Highway 49, given to the Post by the Allen Family in the memory of 2nd Lieutenant George E. Allen who was killed in action on the 15th of November, 1944. The Post formed a building committee to start construction of their new building and the first part of the foundation was begun on the 30th of October, laid by a group including Don Vicini, a young Butch Martin, Walter Rhodes and Paul Davalle. The first event held in the completed hall took place on April 5, 1952."
"In the early 1970's, the ambulance service personnel were paid for their service; prior to that, they were all volunteers," Robert revealed. "In 1971, paramedic programs were established in California and the Emergency Medical Services (EMS) authority was created in 1980. The first EMT-II's were introduced in 1983 and limited Advanced Life Support (ALS) was provided to Amador County when the first paramedics came aboard in the mid-80's. Then, on the 1st of July 2005, the American Legion Post #108 expanded into Calaveras County, nearly doubling its size in personnel and operational area. In 2017, the ambulance service started our Critical Care Transport Paramedic program and our paramedics were certified by BCCTP. The ambulance service now employs over 80 paramedics, EMT's and registered nurses." 
True to their service mindset, Post #108 also hosts life-saving blood drives every other month, collecting more and more units every year, cooked and fed the community a free Thanksgiving feast last Fall, remembers and honors former servicemen and women, those currently serving, those who lost their lives serving and their families during their Memorial Day and Veterans Day services and whose Honor Guard speak for late veterans at their remembrance services, participate in many local parades and events, donate thousands to local kids and youth activities and sports, in addition to providing a special Treatment Court for veterans, to name a few.
"American Legion Post #108 will be celebrating its 100th year on September 14th, 2019, with a party at the Italian Benevolent Society Park. The party will begin at 10 a.m. and run until 6 p.m., and there will be things for children as well as adults to enjoy. Music, food and drinks will be available. All of the public are invited to come out to the Italian Picnic Grounds to celebrate 100 years of Amador Post #108 supporting veterans, youth, national security and promoting Americanism."
Come celebrate the American Legion Centennial on September 14th, 2019 at the Italian Picnic Grounds in Sutter Creek, with food, drinks, live music and fun for the whole family.
To learn more about the 100-year-long history of the American Legion, visit centennial.legion.org/california/post108. For more information on Post #108, follow the American Legion Post #108 on Facebook @ALPost108HonorGuard or visit their website at alpost108.org/amador-post-108. American Legion Post #108 is located at 11401 American Legion Drive, Sutter Creek, CA 95685 and can be reached at 209-267-9405.