Fiddletown's Chew Kee Museum is one of only twenty sites statewide selected by the California State Library for a free preservation assessment of its collections and environment. Operated as a museum by Fiddletown Preservation Society (FPS), which applied for the opportunity, the Chew Kee Museum displays Chinese banners and objects of daily life belonging to Chinese residents who lived and worked in the building for over 100 years, beginning in Gold Rush times.  A Chinese doctor of herbal medicine founded the store in 1855, and the last Chinese inhabitant died in 1965.
The Preservation Assessment, conducted by Myriad Consulting & Training, will provide recommendations for preserving the museum's rammed-earth building and its artifacts, addressing such factors as care of the collection, environmental controls, lighting, maintenance, security, pest management, and disaster preparedness.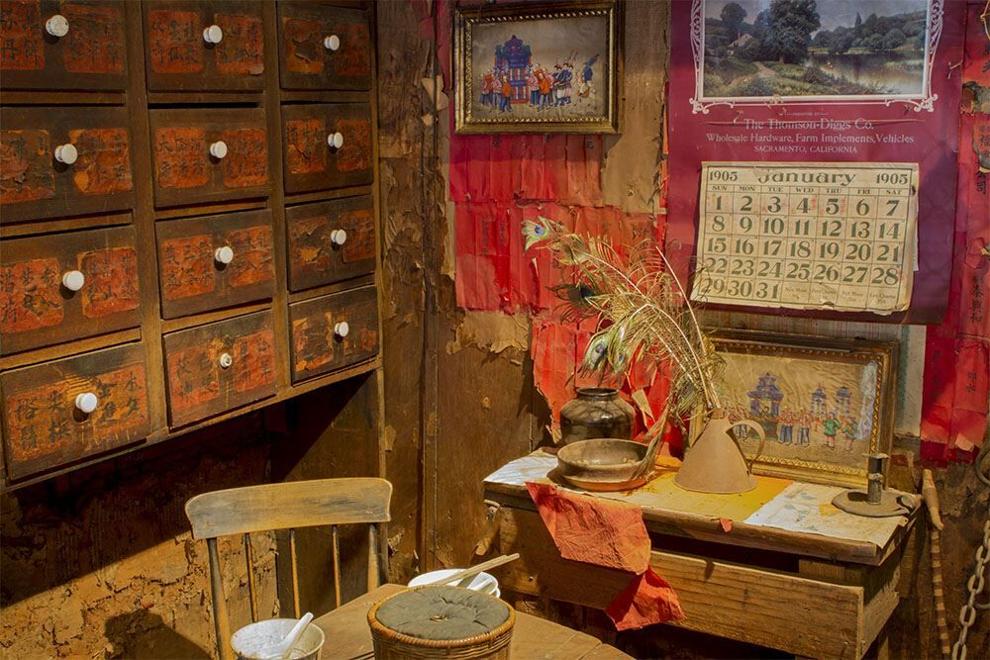 The recent fundraising campaign by the Fiddletown Preservation Society, "Raise the Roof and Protect the Artifacts," resulted in a new historically-modeled roof for the Chew Kee Museum.  Amador County, which owns the museum, contributed to the funding.  The campaign also funded a specialized paper conservator, Jennifer Parson of Kala Conservation, to repair and preserve fragile paper banners, signs, and newspapers that adorn the walls of the former store and home.
Time takes a toll on historical properties. The Chew Kee Store museum is included in the National Register of Historic Places and recognized for being a rare early example of Chinese life and culture in California. Moving forward, the final report of the Preservation Assessment will enable the FPS to plan and implement measures to preserve this unique museum.
The Chew Kee Museum is currently closed, following COVD-19 guidelines. The FPS, an all-volunteer nonprofit organization, looks forward to reopening when touring the small museum space is safe for the public and docents.