Most of us are familiar with the story of Bonnie Parker and Clyde Barrow, a criminal couple who traveled across the central United States together between 1930 and 1934 committing countless crimes, including murder, but were most well-known for their robberies of stores, gas stations and banks. Here is a story of how Sutter Creek local, Georgia Fox, came into an unfortunate encounter with a well-known accomplice of Bonnie and Clyde.
Bonnie and Clyde would occasionally hire and travel with an accomplice to help them in their criminal work, one of them being a man by the name of Raymond Hamilton, a young gunman in 1932, according to FBI.gov under Famous Cases. Hamilton left the duo some months later and was replaced by a 15-year-old teenager named William Daniel Jones in November of 1932.
Jones faithfully stayed with the five-person gang for seven months, comprised of Bonnie, Clyde, Ivan "Buck Barrow, Clyde's brother, Ivan's wife Blanche and William Jones. The gang carried out numerous bold robberies that made news headlines across the country, where they escaped capture in various encounters with law enforcement.
According to FBI.gov, on July 29, 1933, the gang ran into a shootout with police in Iowa, where Buck was killed, his wife Blanche was captured, but Jones, Bonnie and Clyde were able to escape. Although Jones was able to escape the shootout with police earlier that year, he was captured later that year in November of 1933 in Houston, Texas by the sheriff's office.
Despite Jones' capture, Bonnie and Clyde went on together.
Jones was in the Dallas County Jail on the morning of May 23, 1934 when Bonnie and Clyde were ambushed and killed in Louisans by law enforcement. At Jones' trial the following October, all state witnesses recommended against the death penalty for Jones and he was charged for murder without malice. Although the district attorney and prosecuting attorney recommended 99 years of jail time, the jury gave him a sentence of 15 years. After serving just six years in the Hunstville penitentiary, he was paroled. Jones lived the rest of his life in Houston, Texas next door to his mother and worked as a car mechanic.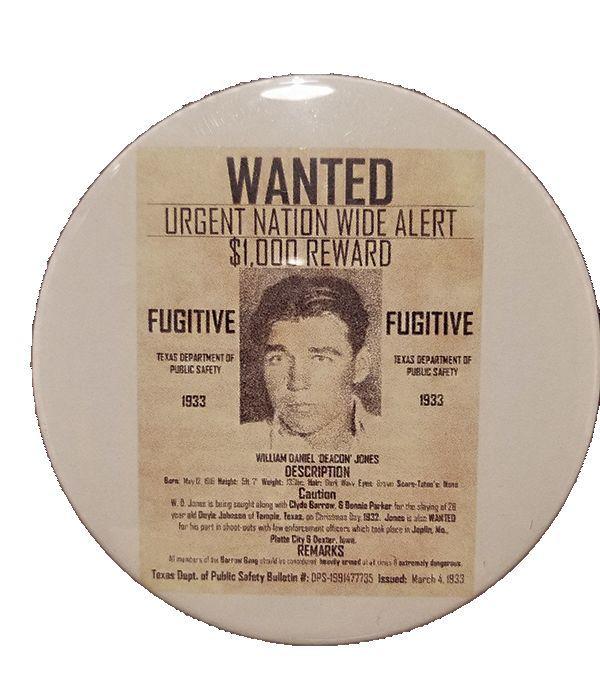 The year was 1946 or so, in the city of Houston, Texas where then 16-year-old Georgia Fox, local of Sutter Creek, worked after school at the Kirby Theatre, a main attraction on Main Street. It was the weekend in the early evening, and the theatre was showing an expensive and popular Road Show, "Wake of the Red Witch," featuring John Wayne. The line of people waiting to purchase tickets measured more than a block long, and Georgia was the cashier in the box office. 
As one of Georgia's co-workers, 16-year-old Helen Henry, stood behind Georgia waiting to relieve her for her break, a man stepped to the front of the box office with his hand in his jacket as if he was going to pull a gun out. 
As Georgia remembers it, the man said to her "This is a hold-up, give me the money." Georgia, surprised and scared, replied "I beg your pardon?" The man repeated himself and Georgia realized that they were being robbed. 
"I was told by management that if we were ever robbed, to not hesitate to their request because your life is worth more than the money," Georgia said. "So I pulled out the ones and fives and waved them around in the air, hoping someone would realize what was taking place." 
The man was not happy with the ones and fives and told her to grab the tens and twenties and "put them in the bag." He then grabbed the bag and ran left down the crowded street at about 6:15 p.m. Immediately, Georgia told the next man in line "that man just robbed me, follow him!" 
The man that went chasing after the thief, 17-year-old James Lewis, lost sight of the man and came back to the box office. By that time, the manager had called police and the FBI were upon the scene right in the middle of Main Street with hundreds of people waiting around to enter the theatre. 
All three of the witnesses, Georgia, Helen and James were called into the police station for a line-up to identify the person responsible for the crime, and all three teenagers picked out William D. Jones as the robber. At the trial in the Criminal District Judge's court, it was testified that all three young witnesses pointed to William D. Jones, old time pal and young accomplice of Bonnie and Clyde, in the line-up and said "that's the man." 
"It was stressed a few times regarding 'three teenaged witnesses,' as if we were too young to be able to identify the subject," Georgia expressed. 
As the trial resumed with much testimony from the three young witnesses, Jones claimed that he had an alibi and was working at his brother's garage when he went in to have supper with his brother, his brother's wife and his mother. 
Jones stood up to face the jury, "with his face drawn and tense," Georgia said, when the verdict was read that he, "William D. Jones, was not guilty of robbing the Kirby Theatre of $365 at supper time on January 8." 
In a newspaper article, it stated that "The defense attorney told the jury that this is a case of a man having to suffer because of a previous record...It is ridiculous that a man of any experience would have tried to rob a Main Street theater a 6 o'clock on a Saturday night, with crowds all around.' 
The article went on to say, "The defendant had admitted under cross examination to his association with the Barrow-Parker outlaws and to his convictions of narcotics and car theft charges." 
"My thoughts...how could three persons identify, in a line-up, the same man that was guilty of robbing the box office at the Kirby Theatre," Georgia asked. "This episode took place so many, many years ago, but to this day, I can still see his face in front of me at that box office. He was the man who robbed me, but I believe that we were so young, and Jones had a believable alibi from his relatives, that no wonder the jury believed them and not us teenagers. In this day and time, I think the outcome would have been different!"