How do you get a community excited about a laundromat? Sitting at the Ledger Dispatch, it was a bit strange receiving a phone call from a customer of Ione Laundromat & Dry Cleaning, 329 Preston Avenue (Ione Shopping Plaza) in Ione. Even a bit more odd when a second customer, then a third called in to see if we had been following the new owner and all that has been accomplished at her new business. Sad to say, the first thought was that it was a set-up. That we were being duped into covering a typical laundromat for coverage in your hometown newspaper. As we investigated the steady stream of compliments and excitement, we found it was not a conspiracy for coverage, but a beautiful business and a new owner, Judith (Judy) A. Rivera, taking charge of her first business venture and turning a laundromat into an incredible business of top quality service and dedication.
The story really begins over 20 year ago as Judy, at the age of eight-years-old, found herself as her mother's helper at Motherlode Laundromat in Jackson.
"We had lived in San Diego and moved to Amador County when I was eight," said Judy. "So yeah, I grew up around the laundromat. I was a little helper, and over time came to understand the laundromat business, and all that could be done."
Flash forward twenty years, Judy purchased Ione Laundromat in July of 2020 and opened quietly on August 1, with a special sponsor — that's right, Motherlode Laundromat.
"Taking over Ione Laundromat was kind of a disaster," explained Judy. "We spent weeks cleaning. Then we cleaned again. We fixed machines that needed to be repaired, restructured the interior for better use, upgraded security and continually work on convenience and the community connection to provide top quality service. Just a ton of work and upgrades."
Discussing the changes and additional services that Ione Laundromat has already completed, it becomes very clear why Ione residents are excited about one of their newest merchants. It's detail. It's listening. And yes, it is exciting and amazing.
"As soon as we opened I had two customers that planted a seed. One was partially blind and asked if we had a pick-up and drop off service. At the time we didn't, but I said I wouldn't take it off the table," said Judy. "A few days later a second customer asked about our hours. She had health issues and couldn't make it down to Ione Laundromat. So, the seed that was planted grew into our pick-up and drop off service."
Regular laundry, ironing, even dry-cleaning — where Judy works as the middle man between Jackson Cleaners — began.
"We offer pick-up and drop off services for Ione and the North Shore Camanche areas to those with disabilities or 65+. All the customer has to do is call (209) 256-7651, and we do the rest" said Judy. "If a customer would like to drop off their laundry when I'm not in, we have secure red drop boxes at Ione Laundromat they could use, leave their name, phone, with any special instructions for care (no softeners, light starch, etc.). We do the complete laundry service and call the customer when their laundry is ready."
Ione Laundromat uses hypoallergenic soap. The 20 washers and 12 dryers are ready for public use.
"We brought in a hot water line, which was no easy task," said Judy. "And we fixed and cleaned all the machines, as well as putting in security cameras. We even did some rearranging to better serve the public."
Simple changes like placing folding tables right next to the dryers, make the laundry experience easier and user friendly.
"I'll be adding larger dryers and machines of all types in the near future," said Judy. "It's about convenience and delivering the quality and service customers deserve. Bigger dryers make doing blankets and larger loads of laundry an easier task, for example."
To say Judy is a fan of Amador County and Ione is an understatement.
"Amador County is my home," said Judy. "I love it here. My new business has been such a rewarding experience in building my confidence level as a first time business owner and also in getting to meet so many wonderful people. The other businesses in Ione Plaza, the customers, everyone — it's just a dream come true. I listen and learn. We are a community small-business. That's truly the greatest gift and a real blessing because it is this community."
Judy's customers are finding that she is a blessing, as she shares a lifetime of knowledge and continues to build services, safety, and convenience for all. With her son, Isaac, almost four-years-old, to assist Judy at Ione Laundromat, it seems another laundry entrepreneur generation is in the mix for Judy's family.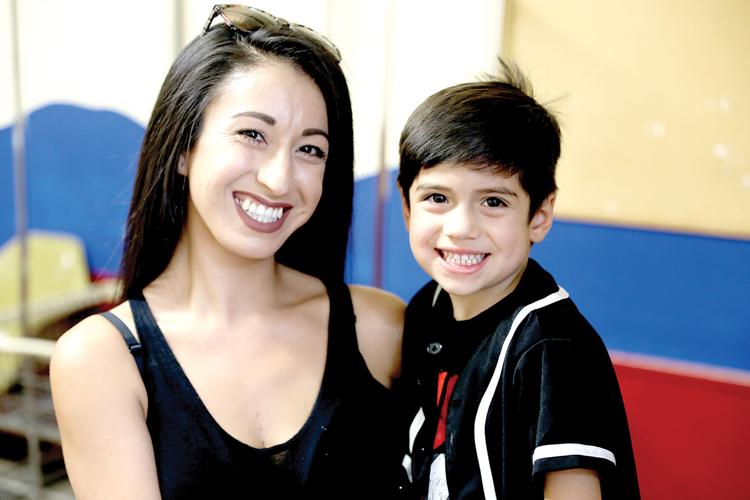 "I grew up around this and it's what I love to do," said Judy. "It's humbling that so many have reached out and been so happy with what I am trying to bring to the community — a top notch full service laundromat. If we haven't met, or you haven't had a chance to stop in, I look forward to meeting you and bringing you the very best service I possibly can."
It's the kind of attitude, the kind of business, and the kind of person that makes laundry day something to smile about. Ione Laundromat is open daily from 8 a.m. to 10 p.m., with drop off service Tuesday through Friday from 10 a.m. to 5 p.m. Pick-up service is done Tuesday through Friday for the City of Ione and Camanche North Shore, simply call (209) 256-7651 to make an appointment. When your laundry is completed to your specifications, you will receive a call.