Well...here we go.  Impeachment, Russia, Ukraine, PG&E, wildfires, college admissions scandal, racism, hatred, Harvey Weinstein...the list goes on and on. Not much good news to hear, or read about anymore. When you look around, do you see if anybody is really talking, listening, caring about one another? Watch and see if there is anyone who does not have their nose in some sort of screen, fingers darting about phones posting about their latest experience or culinary delight. Facebook or Instagram, it doesn't matter which one. Steve Jobs was once quoted as saying that a device he helped invent, that was intended to bring people together was doing quite the opposite. 
Have your attention? Feel the same way? There is a reason I have lived here in Amador County for 30 years. The lifestyle, quality of life and people are certainly not that of a big city. I'm sure you have noticed, right? Everyone is nice. There are helpful people everywhere. There is a real sense of community. People reaching out to truly make a difference. 
These are all very true, and set the stage for this article. My wife and I recently returned back to Amador County from Mississippi with a local Amador High School senior that I believe needs to be recognized. Her name is Gabrielle Griffin. A very successful student who has very lofty goals in life that include working for the FBI, and has a heart for serving. 
Think about boarding an airplane bound for Memphis, Tennessee, alone, as a 17 year old high school student. While in Memphis, you will meet up with 15 other southern California kids from a church youth group. Yes, she knew a few of them; however most of them were new to her. From there, along with several adults going along to drive and assist in the project, we all headed to a small Mississippi delta town named Tutwiler. I would encourage you to look it up. At one time, this town rivaled any third world dirt poor town in the world. Tutwiler is called "the birthplace of the blues," and was ground zero in 1955 when the civil rights revolution began. In downtown Tutwiler, there is a neighborhood of small homes that are being built under the heading "Tallahatchie County Habitat for Humanity." Modest homes to be sure, however clean, well built (almost entirely by volunteer labor), and in a city far from Amador high school. 
Tutwiler is flat, and basically a farming town known for cotton. Lots of cotton. As far as the eye can see… cotton. Occasionally you will see corn or soy beans, however cotton is the primary crop. You cannot visit this area of the country and not think about the slaves who toiled day after day with a 9 foot bag slung over their shoulder filling it with cotton plucked from the bolls by hand. An awful vision, to be sure. Today cotton is huge business harvested by multi-million dollar machines. Residents of Tutwiler are poor, by any of our standards, and African American, primarily. The point person in Tutwiler who assists with the home building and supplies is a lifelong resident who remembers walking down to the bayou with a bucket to get water to cook and clean, and if it rained, would need to head to the local market to get more cardboard to replace the roof over his head. He is a middle aged man with a smile as wide as the horizon, skin that is weathered and hands that look and feel like anybody with a life of labor behind them. His name is JD. He is never far from his phone as he is the town contact about everything that goes on around Tutwiler. Everybody knows JD. I started referring him as the "mayor," which he would reply with a smile and a laugh. An amazing man, to be sure, and now somebody I certainly can fondly call a friend. 
Along with JD we worked with Lorenzo, a twenty something lifelong resident as well who is built like any football tight end, however has very limited education. Lorenzo would step in and help with any aspect of the build, however his favorite pastime was throwing a football around with the other volunteers, and playing the drums for local church services. There is Pearl, a 70ish gentleman that mows the entire neighborhood with a walk behind mower. (There are no fences that border lots, and it's a LOT of grass.) He looks nowhere near 70, more like 50. Spry, easy going and as friendly as anybody can be. There are children with names like Boo who love to come and watch the build. On excessively hard or hot day, our youth volunteers would share cool drinks with the local kids, which delighted them. The common denominator to all of the locals is they were all incredibly friendly and kind. We were only halfway across this country, however it seemed like we were worlds away from all of the noise that surrounds the news cycle.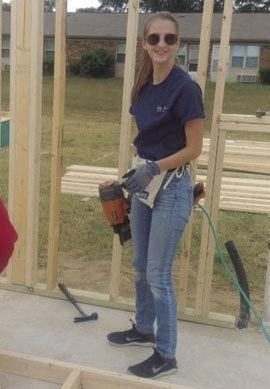 Gabby, our Amador High student, and the entire group of kids, along with the adult leaders (which included myself and my wife Cheryl), stayed in a nearby town Glendora while we built this home, our latest in a neighborhood of what will be 52 homes when finished. We have two more homes to go to complete the available home sites. When we showed up, there was a concrete slab and a pile of construction materials. In six amazing days, under humid, beautiful Mississippi skies, we framed the entire home including roofing, wall shear panels and wrapping to make it weather tight. 
Gabby was instrumental in the construction; hammering together wall packages, standing these walls and securing them to the foundation, helping to carry and install the roof trusses, covering the trusses with plywood panels with her nail gun, and installing the roof shingles. She also taught and assisted new students that did not have the experience she did. In the off hours, Gabby would spend time at the local community center with school age children playing basketball, or teaching them how to play chess. Additionally there were small excursions to visit the Emmet Till museum, tour the cotton gin, or on one occasion got to ride in a cotton picker, at night! Not something most high school seniors get to do. 
Gabby was one of the lucky students that went, Amador High school was on break. The other students who went from Southern California were not on break, and had to miss a week of classes. In my opinion, the lessons and experiences of taking this trip to a small, poor southern town to devote your time and effort in building homes for the less fortunate, is much more informative and beneficial than missing five days of any classroom, including university.
Yes, we spent the week building a home; however we were really building relationships. Making new friends, diving into a community that looks nothing like the one you are from, interacting with locals to the point where when we left, there were plenty of hugs and tears. For one week, school books were put on the back burner in place of sore muscles, splinters, and sweat. Not only did these kids learn how to build a home, hopefully they will learn that love and kindness knows no boundaries, or colors, or nationalities. There were never any issues with anybody. We put the news on hold and just poured into each other, regardless of who we know, where we were from, or what we looked like. Except we ate way too much homemade southern fried chicken and catfish, grits, beans and vanilla pudding, which I really enjoyed. Oh yes, and then there was the sweet tea!  Thank you for reading.