Gabriel Adair, Life Scout in Troop 477 for eight years and Ione local, has made a long-lasting wish come true for the Interfaith Food Bank by building them three, sturdy produce boxes for their clients to do their own grocery shopping when they come to the Interfaith Food Bank. 
"Our goal at the food bank is to try to restore some dignity and we feel like giving people the opportunity to choose their own food items is the best way to do that, so this is the first step for us," Beth Stanton, Executive Director of the Interfaith Food Bank, said. "Gabriel approached us to see what we needed at the food bank and I have been wanting these so badly, and we are so happy and pleased with them." 
The produce boxes have wire mesh on the top of them and additional pallets on the bottom to hold plenty of produce. Stanton explained that in the very near future, they are going to enclose the produce boxes, situated directly in front of the food bank, to keep them dry from the rain in winter and out of the sun in summer. Then, food bank clients can grab their bags and pick and choose what produce they want to take home with them, kind of like an outdoor market.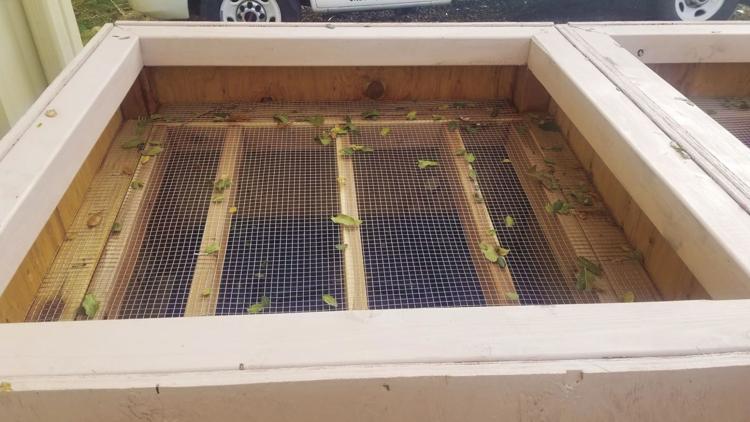 Gabriel went out into the community looking for a great project to complete for his Eagle Scout honor, and came across a friend, Christina Baxter, who referred him to the food bank and told him that she knows they need some help. From there, Gabriel, with the help of Mark Tresner, went to the food bank, talked with Stanton and drew up the plans for the boxes. Then, Gabriel needed donations for the materials needed to build them, in which Lowe's graciously donated $1,300 worth of materials. The wire mesh was acquired from Meek's Lumber and the owner of Ace Hardware in Ione, Jason Green, gave them all of the paint and paint supplies, as well as some additional screws needed, and told them to "take whatever they needed." 
After acquiring all of the supplies, Gabriel and some family and friends got the boxes built within one day and delivered them to the food bank. 
The community is so giving and when we have a need, they step right up," Stanton said. "Please remember to support the people who support us, it's so important."