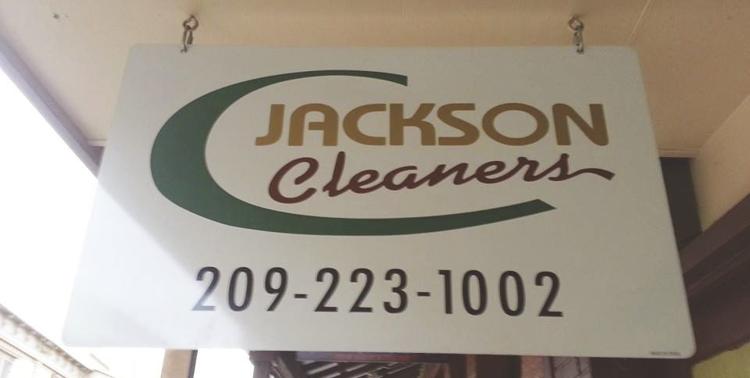 Q: Owners, please state your first and last name(s) and how long you have been an Amador County local for? If you are not from Amador County, where did you move from and how long ago?
A: John and Tami Trevaskis. Both born and raised in Jackson, CA.
 Q: What is the name of your business, where is it located and when did the business officially open?
A: Jackson Cleaners – 111 Main Street, Jackson, CA-Over 100 years ago!
Q: Please list and describe all of your services. 
A: Drycleaning, & Laundry Services -Draperies/Comforters/Wedding Gowns/Alterations
Q: What was your motive (the owners) of opening a business like this in our community?
A: We are third generation business owners at Jackson Cleaners….John's grandparents, Vern & Ruby Mounter purchased the cleaners in 1936. Then John's parents, Norm & Elaine Trevaskis took it over in the mid 1970's and then John & I purchased it from them in December 1999.
Q: If you purchased this business from a previous owner, what was your motive? Why did you seek to own a business like this?
A: To continue on with the family business.
Q: If you purchased this business from a previous owner, what changes have you made or will you make?
A: When we took over the business there were no computers and very old equipment. We've added all new state of the art presses along with a new drycleaning machine from Italy and a 30hp boiler. Today, we are completely computerized.
Q: Why do you think a community like ours could benefit from a business like yours? What do you hope to bring to Amador County through your new business venture?
A: Drycleaning your garments will keep them looking nice for a long period of time.
Q: What is the one reason that makes your business the one people should patronize, in other words, what sets your business apart from everyone else?
A: We specialize in good quality cleaning at a reasonable price with good customer service.  We are also very involved in the community. 
Q: What are the business hours of operation?
A: We are open Monday through Friday from 8:30 a.m. to 5:30 p.m.
Q: Is there anything you would like to add about your business that we haven't already asked you?
A: We have a 24-hour Drop Box in front of our store so that you can drop off your garments anytime…. Before/after hours and on the weekends.