Five years ago, born and raised local, Dominic Vicari, had a clear vision of what he wanted to do to live a fulfilled life: taking his passion of athletics and personal training to help the people in his community live healthier and happier lives. 
At the age of 23-years-old, Vicari took his first step towards his vision and opened up for the first time, his very own personal fitness studio in Jackson, Motivate Personal Fitness Academy. After four years went by, the business grew more successful and the vision grew closer, allowing Vicari to relocate the studio to Sutter Creek and expand his passion even further.
 The previous location was perfect for a first-time business owner, a small, one room 800-square-foot space to get it up off the ground, offering personal one-on-one training with his clients. As the business morphed, group training classes were introduced, and a one-room studio made it difficult to hold private training and group classes simultaneously. The new space had double the square footage, with a large training floor for group classes, and two smaller rooms for private training, enabling them to hold both at the same time, and ultimately, increasing their productivity. 
"The biggest motivation for opening this business was for the people who don't feel comfortable working out in a gym setting, so I have always been cognizant of that," Vicari explained. "With the expansion, it still felt like the original Motivate, where it was a comfortable, inviting atmosphere, but we had more room to have more private sessions." 
Vicari, along with his six other trainers (Andrea White, Carli Hill, Suzie Peters, Natalie Ostergaard, Tara Donahue and Colton Merriman) all work cohesively together to offer the community a wide variety of fitness classes for any age range, with most classes based around TRX (training resistance exercise), where straps hanging from the ceiling are utilized to use your own body weight in exercising.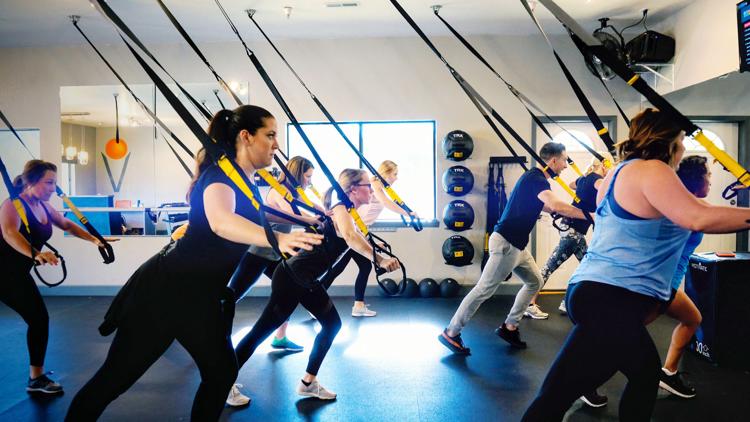 Vicari and Merriman teach youth athletic development sessions, for youth anywhere from 13- to 18-years-old who are interested in getting stronger, becoming more coordinated and focusing on building up a proper frame for lifting, so that when they get into high school, they have proper structure to not injure themselves. But this type of age group also holds a special place in Vicari's heart. 
"We also want to motivate and inspire them, keeping them in a safe environment so they can lift and not feel self-conscience," he expressed. "That was one of the biggest things I struggled with when I was in high school. I was really self-conscience because I was a small kid, so I kind of have a soft heart for working with youth like that, because I wish I had someone who built me up and pushed me towards being better." 
On the opposite side of the spectrum, Motivate offers Active Aging TRX with the foundational movements of traditional TRX, but more adhered towards people in their 60s and older who want to stay active, keep their bone density and muscle mass up, not hurt themselves, but also feel like they are moving forward. 
Suzie Peters teaches the power sculpting and barre class, focused on slow, controlled and pulsing movements that is meant burn deep into tissue for optimal muscle sculpting. If you are looking for something fast and peak caloric burning, they offer their Burn 30 half-hour classes for a quick sweat. 
Then, there are the Motivated Mamas classes every Saturday at 8 a.m. with Carli Hill, who specializes in prenatal and postpartum women. Bring your babies to class with you to have them join in on the workout! Many different types of classes are provided at Motivate, just visit the website (motivatepersonalfitness.com) for a complete class schedule. 
One thing that is undeniable at Motivate Personal Fitness Academy, is the environment and the group of members and trainers who have now become a family. 
"The number one thing is that we are very supportive. We opened to become a safe haven for people who want to change their life, where they can feel comfortable and not intimidated. It's very much a huge theme of our classes. We want everyone who walks through our door in that first moment to feel included, part of the family, supported, strong and empowered," Vicari said. "With that, we always want to have a very high-energy and positive vibe and we really don't settle for anything less than that. I am who I am and it comes pretty naturally for me, but I do think that trainers feed off the energy too, so when I wake up in the morning and I get to Motivate, it's that positive and supportive environment."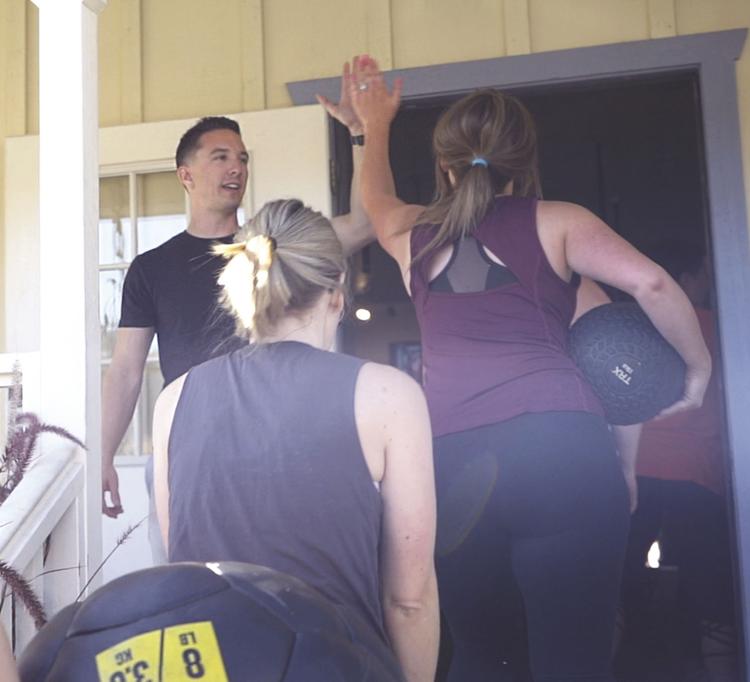 I, personally, began going to Motivate in September and have never felt more comfortable and confident working out. I've tried other gyms and felt that it was more of a competition with numbers amongst the members rather than focusing on individual growth and improvement. At Motivate, I am challenged every workout and feel my body being able to do more and more over time. 
Vicari stressed that his vision would never have come to life if it wasn't for the community we live in and that he grew up in. 
"I always tell people that it would have been a lot harder for me to build this business in a big city. This community is super unique and it's very supportive. I am so thankful to be supported by my community." 
 "I live a beautiful life because I am able to do what I love and stay passionate about it because of the support from the community, and without the members that we have, I probably wouldn't be able to live this life of inspiring others and the kids that I have always wanted to work with... I wouldn't have my team of trainers, the family of members and clients that I work with, and just this fulfilling life that I am very grateful for." 
Vicari has won the Best of Amador "Best Fitness Instructor" award for the past four years in a row, but it's not his name on the awards that he says he owes that to. 
"I always say that 'we' won best fitness instructors as a team. Motivate wouldn't be anything that it is without our team of trainers. A vote for me is a vote for the whole team. Each one of our trainers is a specialist, so they specialize in something that each of them are passionate about. Because of that, I am confident we do have the greatest team because they are fulfilled and put the clients first before anything else."
To celebrate Motivate's five-year anniversary, the public is invited to an open house on Saturday, December 7 from 3 p.m. to 6 p.m. at the studio, located at 380-C Spanish Street, in Sutter Creek. There will be beer, wine, appetizers, giveaways and sign-up specials for first-time members, and remember, the first class is always free! 
"I want to encourage people to check it out and try it because it's easy for me to talk about my business, but the best way is to actually show up and experience it and really see what it's about," Vicari ended.