A small, eager Tiger Cub grew up to be a strong, honorable Eagle Scout through hard work, life lessons, community service and genuine love for his community. William "Liam" Thompson, of Plymouth, was reverenced at his Eagle Scout Court of Honor at Plymouth City Hall on Wednesday, July 31. 
Liam is an 18-year-old graduate of Mountain Oaks Charter School and has lived in the city of Plymouth for his entire life. His father, David Thompson, introduced him to Boy Scouts when he was just 5-years-old as he started out as a Tiger Cub in Pack 63, making his way up to a Wolf, then Bear, transitioning into Troop 63 at the age of nine. 
Eagle Courts of Honor are established celebrations recognizing Scouts who have attained Scouting's highest rank, featuring a variety of very special ceremonies with the high honor being bestowed upon outstanding young men. In addition to the scouts and their families, often in attendance are a variety of special guests, members of the local district and council, public officials, troop alumni and adults who have had an impact on the life of the new Eagle Scout.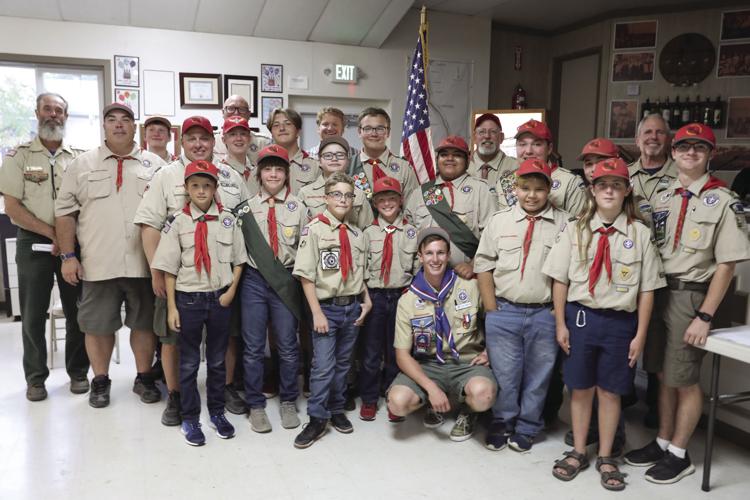 According to ProgramResources.org, "The Eagle Court of Honor has been referred to as Scouting's greatest moment. It should be an even that will long be remembered fondly by the young man being honored." Liam had his whole family there to support him, and his younger brother, Richard Thompson (also the Senior Patrol Leader for Troop 63), led the flag ceremony, while his father (an Assistant Scout Master) emceed the ceremony, along with three other people.
Now that Liam has achieved the highest honor in Scouting, he hopes to still be involved in Boy Scouts by becoming a counselor for the Snow Sports Merit Badge this coming winter. "You know what they say, 'Once and Eagle Scout, always and Eagle Scout,'" Liam laughed. 
One of the requirements for Liam to receive the Eagle Scout honor was to complete an Eagle Scout Service Project, a project designed to "demonstrate leadership of others while performing a project for the benefit of his community." Liam's project of choice was to make several upgrades to the Plymouth Community Garden on Lodge Hill. The project consisted of three parts: laying a cement patio to serve as the foundation for a tool shed, creating a potting table for children and adults, and building a composting bin. 
"I lifeguard at the Plymouth Pool, and I had the opportunity last summer to ask people what they would want to see in the garden, and they said a shed for tools, a potting table and a composting bin," Liam explained. "The cement patio is going to serve as the foundation for a shed that will hopefully house wheelbarrows, shovels and tools so that people don't have to carry them with them every time they go to the garden. It would be nice to see community tools in there that everybody can share. I also put in a potting table with two different levels so that kids are able to use it."
And the best part is, all materials needed for the project were donated by local businesses. One-hundred percent of the wood for the project was donated by the Amador County Logging & Mining Association, our local Lowe's donated just over $350 of materials and the City of Plymouth covered any other extraneous costs that may have arose. 
"That's one of the most helpful things about Amador County is that everyone is here to support you," Liam stated. 
The biggest rewards that Liam said he got out of scouting was the leadership experiences of talking to and managing people, as well as building teamwork so that people can work together to get things done. One of the biggest highlights in his scouting career, he said, was attending the National Boy Scouts Jamboree in West Virginia, which he said "was an experience of a lifetime." 
Liam would like to thank some very important people who helped him get to this point in his life, the first being his father, David, who "put me into the program and pushed me through it. I wouldn't be here if it wasn't for him." His current Scout Master, Josh Hall, who "has been scouting with me since I was in Tiger Cubs," and Matt Urjevich, "someone who helped me an extreme amount with the project. I actually ended up giving him my mentor pin, showing that I was truly appreciative of his help. He worked long days and nights with me." 
Liam is attending South Lake Tahoe Community College this coming fall with a Business Administration transfer major with an AA in Science. Outside of scouting, he loves to snowboard, longboard and play soccer.
"It's definitely very satisfying looking back at the process of my whole scouting career, from Tiger Cubs up to present. I've always set an expectation to do my best to try to be a role model and this is backing that with my name in scouting. It's a huge honor to receive the award."