Amador County has opened its first green medicine CBD shop in Ione, offering a range of reputable, lab-tested brands and products for pet and people needs. Naturally-occurring hemp-derived CBD is legal in all 50 states — it has no psychoactive properties, but contains all of the healing qualities that come from the hemp plant which are found to be beneficial for people and pets alike. 
Sutter Creek native Andrea Roberts worked as a veterinary technician in emergency and specialty pet hospitals for 15 years, witnessing firsthand the natural anti-inflammatory, pain relief and anti-anxiety properties in CBD pet treatments, even on her own two dogs, aged 15 and 16.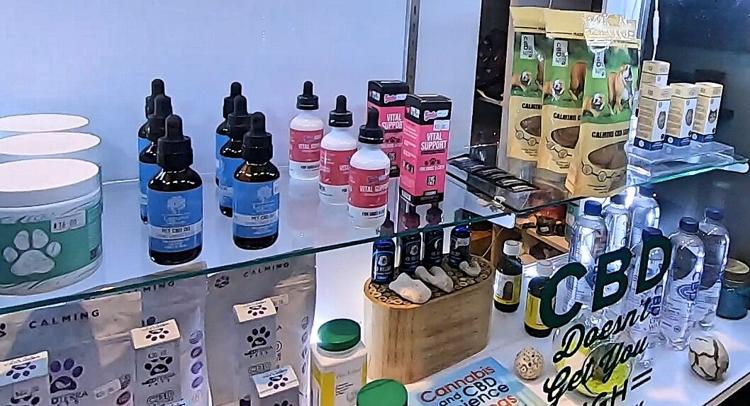 "My background is in veterinary medicine; I was a vet tech at Jackson Creek and in San Diego, working in orthopedic surgery, oncology, dermatology, internal medicine and emergency medicine for a total of 15 years," Andrea explained. "I saw a lot of relief for joint pain and anxiety for dogs and cats when they were treated with CBD…it was just amazing. One of my dogs, Fisher, is 15 and has a tumor- but since treating him with CBD for years, he is just doing great. There are so many lab-made synthetic chemicals people will put in their body but forget about the plants which can heal them with no side effects."
Andrea wasn't actively looking to open a CBD shop; when she moved back to Amador County to help with family, the pieces fell into place when she saw the storefront for rent. "I saw there was a need in Amador County for a place where people could find CBD products to help them out, so I spoke with the local police and made sure they were all right with me opening a store in Ione, and six weeks ago, I opened the Evergreen Emporium. You will find quality, reputable brands and a range of products from skin care to pain relief, bath bombs, tinctures, gummies, topicals, soaps, supplements, sleep aids and dog, cat, rabbit and horse treats containing CBD."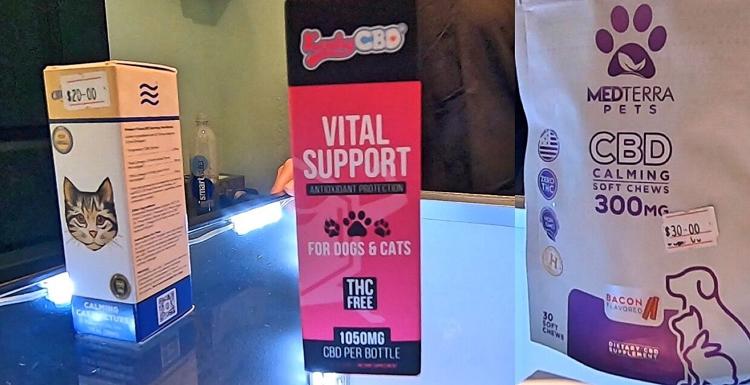 A few of Andrea's favorite pet products are Kushy CBD Vital Support Antioxidant Protection for Dogs and Cats, CBD Living Pet Calming Cat Tincture, and MedTerra Pets CBD Calming Soft Chews. In addition to those three, the Evergreen Emporium hosts a selection of quality CBD pet products for dogs, cats and people. The products are all non-narcotic and can reduce inflammation, provide pain relief, reduce nausea and treat skin conditions, lower anxiety/depression and help people overcome PTSD, treat seizures and is great for stress and overall health and wellness.
"When I explain what CBD (cannabanidol) is, it's the sober cousin of THC; though they both come from the hemp plant, CBD does not have any intoxicating effects," she continued, "CBD has big anti-inflammatory properties which can reduce pain in humans and animals. At the Evergreen Emporium, we only have reputable brands, lab-tested products that all follow the California Farm Laws with an amount of less than 0.3% THC content. It's natural, green, whole plant healing, and helps you with no side effects. CBD is derived from hemp, and people forget that there's these plants that exist that do the exact same thing as some medications, if not better, with no side effects."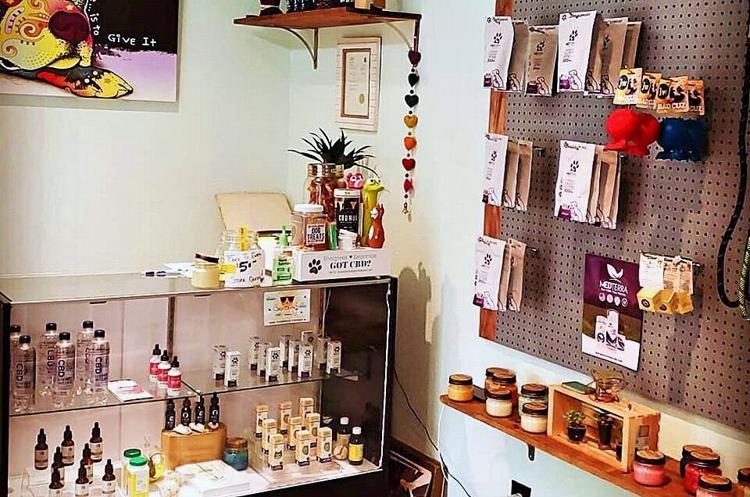 Ione's Evergreen Emporium is located at 14 West Main Street, Suite #5 (upstairs); the shop is open Tuesdays through Fridays from 11 a.m. to 5 p.m. and on Saturdays from 11 a.m. to 3 p.m., and special appointments may be made if you are in immediate need of a product. For more information, follow @IoneEvergreenEmporium on Facebook, visit evergreenemporium.com, email ioneevergreenemporium@gmail.com or call the shop at (209) 283-3884.