Mrs. Dorothy Van Thiel. Better known as "DVT," Dorothy Van Thiel was a long-time Jackson High School English teacher who was liked, respected and feared. She had a caustic tongue that nobody wanted to be on the receiving end of. John Kirkpatrick put it best when he said, "If she sent you to the principal's office by yourself you would be okay; if she went with you there would be hell to pay." At school dances, Mrs. Van Thiel carried a ruler to measure how far apart the dancing couples were. In the classroom, the ruler was often used on students' knuckles. She once appeared before the Jackson City Council trying to keep the illegal houses of prostitution open with the belief that the houses kept the boys away from her "girls." For those going on to college she was an excellent English teacher. To the rest of us, she was part cop, part priest and God rolled into one.
Mamie Becich and Doris Begovich. Both ladies owned and operated their own bars in Downtown Jackson: Mamie's and The Log Cabin, respectively. They were both heavyweights in more than just size. Neither one needed a bouncer at their bar. One story goes that Mamie, of Italian descent, and Doris, a Serbian, squared off with each other one night. Fred Oneto, Jackson's resident historian, does not recall it happening, but if it did occur, tickets would have sold for a premium. Doris was married once, but everyone knew her as a Begovich, and Mamie was one of about 2,000 Onetos in Amador County
Dan Vukajlovich and Jim Smallfield. It is almost impossible to remember one of these men without thinking of the other. Dan was orphaned at age nine and went to live with uncles in both Chicago and Detroit. He sold newspapers to Al Capone in Chicago. When he came home, he bought the R&R club in 1954. Jim, born and raised in Jackson, became his partner in 1955, changing the bar's name to the Wells Fargo Club. The partnership lasted for more than 40 years. Between upstairs banquets, bus trips to San Francisco Giants and 49er games and a constantly busy bar, anyone who moved away and came home for a visit made the Wells Fargo their first stop. Jim was an excellent bartender who saw and heard everything but never repeated anything. Dan knew everyone and was always first in line with his wallet to support local causes.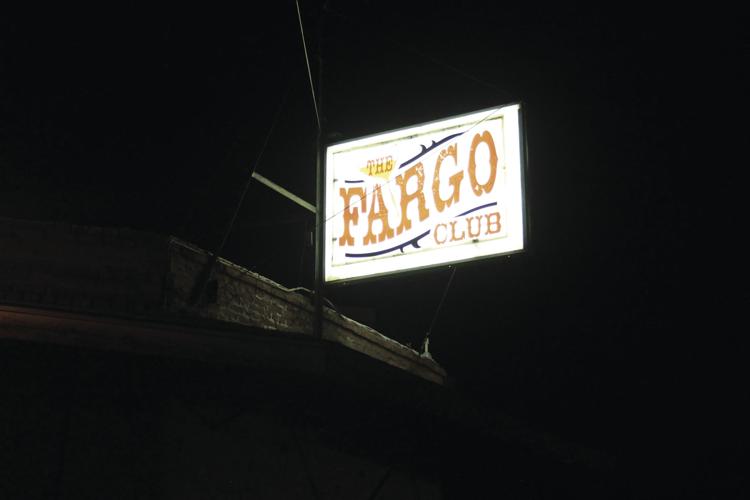 Sophie Kosich. Sophie owned and operated an ice cream parlor bearing her name. She was a sweet lady who made everyone's favorite milkshakes, strawberry sodas, and rootbeer floats with the best ice cream of the day. No one ever wanted to get on her bad side since then you would have to go to the other downtown ice cream parlor, Spagnoli's, which was good, but not in the same class as Sophie's.
Louis, Junior and Gene Spinetti. Louis and his sons owned and operated Spinetti's Hardware store on Main Street. The store carried everything from hardware to sporting goods and early on, TVs, and almost everything else non-food. There were no credit cards then, just a hand written ledger to keep records of money owed and paid by customers. In 1947, Louis hosted the first ever meeting of the Jackson Quarterback club at his house for the seven original members. For years, the Quarterback club was at the forefront for fundraising for local projects mostly involving youth sports and activities.
Rae Bolen. A waitress at different restaurants, she had a smile for everybody while managing to raise four boys by herself and working seven days a week at different bars and restaurants. Many people would decide on which restaurant to go to depending on where Rae was working on a particular night.
John Begovich. Brother of Doris and raised in Plymouth, John was a legitimate World War II hero, returning home with his Bronze and Silver Stars, and three Purple Hearts, to become a judge, County Supervisor, California State Senator and U.S. Marshall. Liked and respected by everyone, John never met a fanny he did not like to pinch, hunted year around, and had a key to almost every rancher's gate in Amador County. He was not intimidated by anyone or anything and he loved to play practical jokes. He once set off the local bank's alarm, but not to the amusement of a bib-overall rancher exiting the bank to deputies with their guns drawn. John's brother Milos ("Sharkey") made his fame in the Tahoe area as employee, partner and confidante to casino magnates Bill Harrah, Harvey Gross and Bill Chantrand, at various times. After Sharkey declined to sell his part ownership in a Tahoe casino and a week later his partner, who also declined to sell, was killed in a car bomb explosion, Sharkey changed his mind, sold out and moved to Gardnerville, where he owned the very popular Sharkey's Casino for more than 30 years, best known for their prime rib dinners.
Nedjo and Mel Vukovich. Nedjo ("Ned") and Mel were large, tough, Jackson-grown Serbian brothers who went to USC on football scholarships. Running back Ned played ahead of Frank Gifford until getting hurt. Lineman Mel was also a state amateur heavyweight boxing champ. Both returned after college and became successful insurance industry businessmen, Ned in Jackson and Mel in El Dorado County. Their dad, Sam, was a miner and well known anchor on the Serbian tug of war team that won a state championship. According to Fred Oneto, when Sam got his feet set, the opposing team could pull all day but Sam's feet were not moving.
Mary Evezich. Along with her husband Eli, they owned and operated the downtown bar/pool hall where teenagers spent many hours shooting pool. Staying on the good side of Mary was always preferred, but not always easy to do. Like many other adults of that time period, you always knew where you stood. A favorite ploy of the boys was to shoot pool until their date of the evening paid for her own way into the movie theater across the street and then go join her.
Next time, Part Four: More characters of 1940s and 1950s