I have long lamented the undervaluation of tradesmen and women. Without them our basic needs would go unmet. Think about it. The tradesmen build our shelter. They produce the vehicles that we drive and the roads on which they travel. Without the lineman electricity would not arrive at your home or business. Today our clothing and linens are produced in factories. In the past wool was spun on homemade looms and knitted into garments, and women gathered together to stitch quilts that kept our ancestors warm. In our modern world most young people choose to attend college rather than learn a trade, hoping to earn a higher wage using their brains rather than their hands. This has left us with a shortage of the necessary number skilled tradesmen in the workforce. There is a great need for carpenters, plumbers, welders, crane operators, roofers, electricians, and many others with occupational skills. Some of these trades will always be essential to our lives while other may be replaced by technologies developed in the future. It's possible that innovations like 3-D printing will be the future of home construction, reducing the number of carpenters needed. Some trades have already given way to technology, and although are they may still be in practice, they are not as common or as essential as they were in the past. This includes the art of the blacksmith. Today's blacksmiths often learn the trade as a hobby and eventually develop it into a business creating decorative iron works for buildings, sculptures, and repairing broken tools, parts, and implements that are no longer being manufactured. If we step back 150 years we find that every town and city relied on the men of this trade to keep them mobile, their farm equipment repaired, their horses shod, and provide a number of other services that could only be accomplished by them. Many men plied the trade of a blacksmith in Amador County, some working at it over a lifetime and others only for a brief period before moving on to other work. Part I of this series biographized some of the blacksmiths in Jackson. This week we move to other quarters of the county and observe the lives of smithies who served the communities of Fiddletown and Volcano.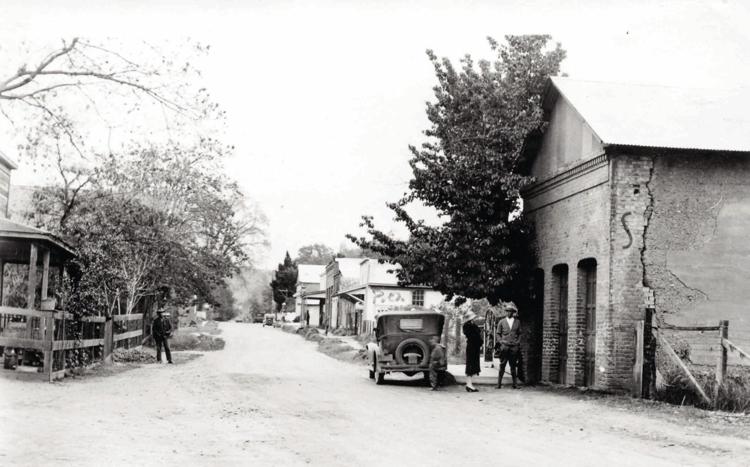 Anyone who is familiar with the sleepy village of Fiddletown will recognize the Schallhorn building, the largest structure in the town. It was constructed by Christopher Schallhorn, a native of Germany, who immigrated to the United  States in 1853 and by 1859 had settled at Fiddletown. Sources variously state that the first story of the building was erected in either 1870 or 1879 to house a blacksmith and wagon shop. The 1927 Amador County Women's Club history states that he built it of "lava rock, the blocks being hewn out by his own hands." The second story was added in 1880. Schallhorn worked as a blacksmith from this location nearly his entire life and also operated a general store here. To say he was an industrious man is an understatement. In addition to his trade he served as the Constable of Township 6 for a time and as the Fiddletown postmaster from 1899 until at least 1905. Christopher was also an inventor as were many blacksmiths, devising new tools, gadgets, and implements from experimentation while working their trade. In 1877, he and fellow inventor, Fayette W. Knapp, were granted U.S. Patent No. 194442 for design improvements on a buckle and snap hook. Schallhorn lived and worked in Fiddletown until December 1915 when he was found deceased in his store. He died from "a complication of diseases aided by old age."
Fiddletown may seem small but it was not too small for more than one blacksmith. While Schallhorn worked out of his commodious stone structure, other blacksmiths also worked in the town, including Alfred and Joseph Pigeon, Isaac McClary, John Doane, William Dixon, R.T. Hudson, Joseph Wooley, Walter R. Warder, Jack Donovan, and two men by the name of William Brown.  Alfred Pigeon was born in Quebec, Canada in 1836. At the age of 14, he left home and immigrated to the United States, settling in Fiddletown. By the mid-1860s Alfred was in the blacksmithing business and continued at it until his death in 1906. His son Joseph took over the business after Alfred died. The Pigeon blacksmith shop served the community for more than four decades. William Brown, whose shop was located just a block from Pigeon's shop, practiced the blacksmithing trade in Fiddletown from the 1880s until after the turn of the 20th century. There is some confusion as to his origins. On the 1880 census he claims to have been born in Switzerland in 1851/1852. When that census was taken, he was married to a woman named Christina, who was born in California and of German descent. They also had one son, Albert who was not quite a year old, having been born in October 1879. When the 1900 census was taken, William told the census taker he was born in January 1850 in Missouri to Irish born parents. His wife Christina gave the same information she did for the 1880 census and, likewise, the information for Albert was the same. By this time the couple had parented another four children, Jessie, Edward, and twins Cora and Dora.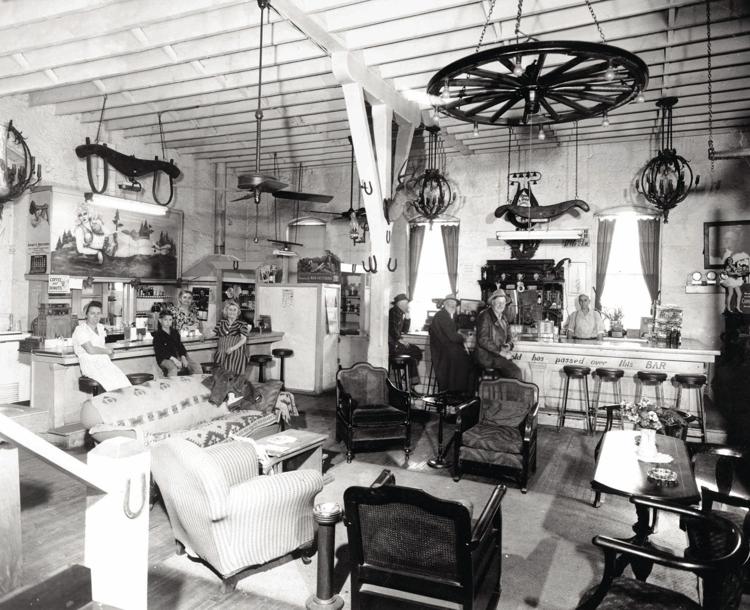 Isaac McClary, another blacksmith in Fiddletown, was known as a modest and unassuming pillar of the community, a man who had no enemies, and never one to brag about being "Linked by consanguinity to some of the great men of this nation." The "great men" referred to were John Adamas and John Quincy Adams, to whom Isaac was related through his grandparents. Although, McClary was born in Ontario, Canada in 1826, he was an American citizen, his parents having relocated there from Pennsylvania to engage in the logging business. His father built quite a small fortune there but lost it when he was unable to collect on debts during the war of 1812. A brother, who stayed in Canada and entered the manufacturing business is said to have amassed a fortune of $30,000,000 by 1908. Isaac chose not to stay and at the age of 19 left Canada for Michigan where he settled for a time and was married to Jane Moody in 1849. The couple left Michigan headed west and arrived in California by 1855. By 1858 they were settled in Fiddletown where McClary entered the blacksmith trade. He also had business interests in Bridgeport, El Dorado County. Isaac ran his Fiddletown business until he could no longer perform the strenuous tasks of the trade. In December 1907 Jane McClary died. According to Isaac's obituary, it was the "stroke that broke the camel's back." After her death he "pine away, sickened, and died" a month later in January 1908.
Traveling up the hill to Volcano in the 1860, one might call on A.M. Stevenson for their blacksmithing needs. He was the only blacksmith listed on the census for that year in Volcano but by 1870 there were six in the town – Rueben Crowder Walker and son Thomas Brown Walker, Loring Keeney, H.P. Peters, Joseph B. Cuneo, and James Hall. Reuben Walker, a native of Kentucky was born there in 1818 and moved with his parents and siblings to Illinois when he was 12 years old. In 1838 he was married to Eleanor Smith Flint. Thomas, who would follow in his father's profession, was born there in 1855, the fifth of eight children. Within three years of his birth, the family relocated to Pine Grove where Reuben set up a shingle making business. In 1870 both father and son were working as blacksmiths in Volcano but within ten years Reuben had moved back to Pine Grove where he was in the wagon building business and Thomas had moved with wife Mary and their four children to Castoria in San Joaquin County where he set up another blacksmith shop. Reuben died in Pine Grove in 1899. Thomas eventually ended up in Floriston, Nevada where he died in 1904.
Another blacksmith working in Volcano at the same time as the Walkers was Chandler Baker Goodrich. He hailed from Bingham, Maine where he was born on May 7, 1839. He came to California at 20 years of age. A few years later he returned to Maine but quickly turned around and he decided to make California his home. Upon settling in Volcano he first took up mining but then learned the skills of the smithy, setting up his own business. Goodrich worked out of this shop until about 1883 when he relocated to Geyserville, California. He stayed there working as a blacksmith for about five years before he moved to Healdsburg where he remained until his death in 1900. 
Loring Grant Keeney, another Volcano blacksmith, came to California from his native home of Pennsylvania as a young man but by 1880 moved to land outside of Jackson where he became a farmer. He and his wife, Mary Jane Rice Keeney raised four of their five children to adulthood, their son Ralph died at 2 years old. Both Joseph B. Cuneo and James Hall worked as blacksmiths in Volcano for just a short time. In 1880, Volcano had just as many smithies working there as in 1870, new names replacing the old, and so it was for the next several decades. Those men included James Scappucino, Conrad Hinterman, George Wilbert Stevenson, Frank Thompson, and Thomas Gillick who also partnered with John Baptiste LeDoux in a Sutter Creek blacksmith shop. Scappucino also worked as a smithy in both Volcano and Sutter Creek. Conrad Hinterman brought his trade with him from his native Switzerland when he came to the United States in 1887. He became a citizen in 1902 and worked in Volcano until about 1918 when he relocated to Merced. George Stevenson first worked as a blacksmith in San Francisco in the 1870s eventually moving to Volcano to work his trade. He was there but a short time and had moved on to Napa County by 1918. Frank Thompson was in business in Volcano in 1908 but by 1930 was not working out of his own shop. He was employed by Pacific Gas and Electric on the Salt Springs Project. There were another seven blacksmiths living in Volcano in 1930 that worked alongside Thompson at Salt Springs – John McKenzie, James Karliamoms, Nimco Leonadini, Joseph Brown, Carl Ericson, William Falconer, and Hames Healy. Thus, with the introduction of the automobile and less need for farriers and wagon builders, technology had caught up with them. If it were not for special metal working needed to complete the Salt Springs project, they may have all been out of work.
The last on our list of Volcano blacksmiths and probably the best known of all was George Washington Lucot. Doubtless our older readers may recall him or may have even known him. A native son of the town, he was born there on September 11, 1876 to Eugene Louis Lucot and Mary Elizabeth McCreevy Lucot. At about the age of 14, George decided he wanted to learn the blacksmith trade. He worked at the profession in both Volcano and Sutter Creek until 1914 when he ran for the office of Amador County Sheriff. Lucot won that and subsequent elections, holding the office for 40 years.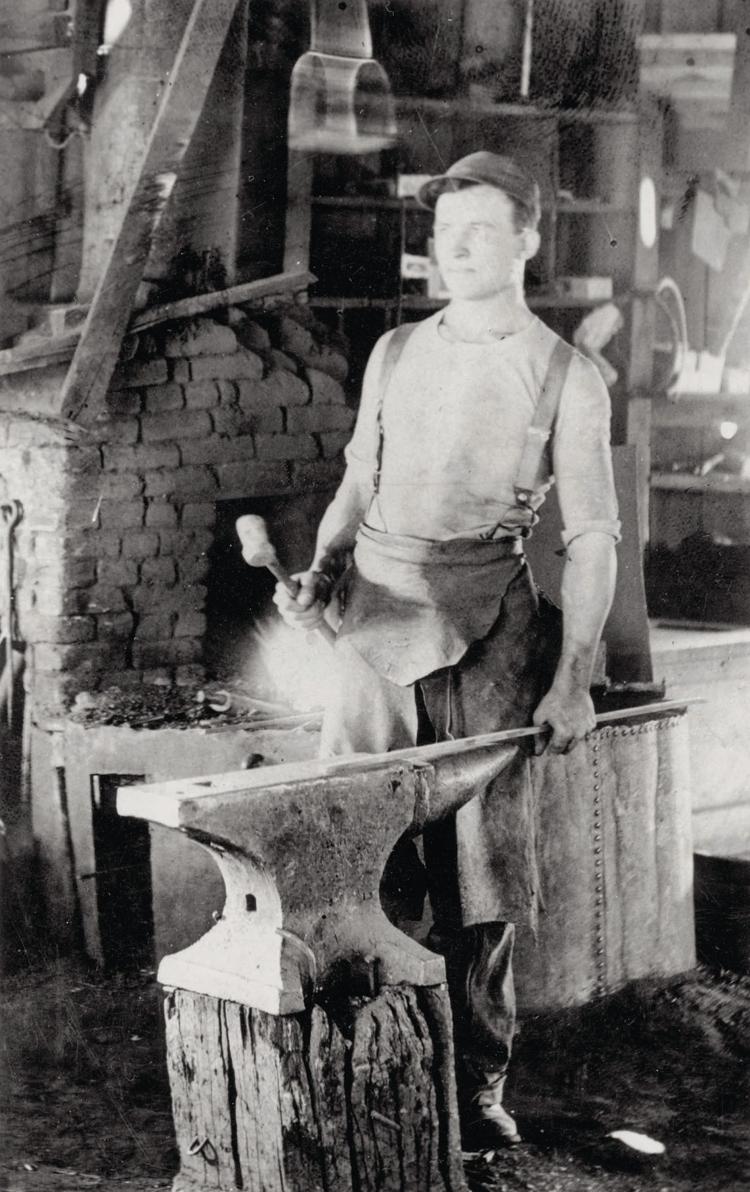 To be continued…Next Week: Smithies in Sutter Creek and Elsewhere