I recently read that five people died in one week on the slopes of Mt. Everest. Several of those deaths were attributed to the crowded conditions along the summit route leading to climbers experiencing severe exhaustion and lack of oxygen for extended periods of time. It got me to thinking about why people expose themselves to such situations and have concluded that it must be that they are adrenaline junkies. They crave excitement and adventure even at the expense of their own safety. It can be argued that explorers like Ponce de León, Christopher Columbus, and Marco Polo were adrenaline junkies; however, their adventurous behavior was motivated by the desire to expand knowledge of the world and annex new lands for their sovereigns, not to simply 'get there'. I can't help but think that the routine of our daily lives contributes to folks wanting to experience the adventure of a lifetime or a one-time dare-devil feat, even with the threat of losing one's life. Generally, it is those of some financial means who participate in this behavior but in the past, it didn't seem to matter how much money you had. In fact, many of our American forebearers gave up most everything they had to embark on an adventure with the goal of building a better life for themselves. Most historians agree that the intention of the men who came to California during the early years of the Gold Rush was to get rich. However, one can't help but wonder if they were also driven by that same sense of adventure that modern-day climbers of Mt. Everest possess. 
The Fraser River Gold Rush began in 1858 and lasted until the mid-1920s; however, the presence of gold in the region was known years before. As early as 1855, miners were leaving California for the region. In July of that year, the sailing vessel Commodore departed San Francisco with 500 miners on board bound for British Columbia but had to return to the city when the leaky ship proved unseaworthy. Three years later, in early 1858, when a strike was made at the confluence of the Thompson and Nicoamen Rivers, James Douglas, the governor of Vancouver Island, sent a shipment of gold to the San Francisco mint. It didn't take long for the news of the discovery to spread. One chronicler of the event states that within one month nearly 30,000 men descended on Victoria which normally had a population of about 500. The discovery was a few miles from the confluence of the Thompson and Fraser Rivers. As miners spread their camps along the waterways, the Fraser Canyon became the center of most of the activity, hence the name for the gold rush. When the news reached the California foothills, miners in Amador County joined those flocking north. Despite admonishments in local papers that the 'rush' was a humbug, and warning letters sent back to the county by those who first traveled north, they continued to leave by the dozens. Within that large group were a number of prominent citizens of Amador, including Armstrong Askey, Andrew Gover, John Levinsky, James Goldsworthy, Zachary Kirkwood, Diovol B. Spagnoli, George Payne, and Enrico Ginocchio. Many of these men were successful business owners. Could it be that they headed to the 'New Eldorado' simply for the adventure?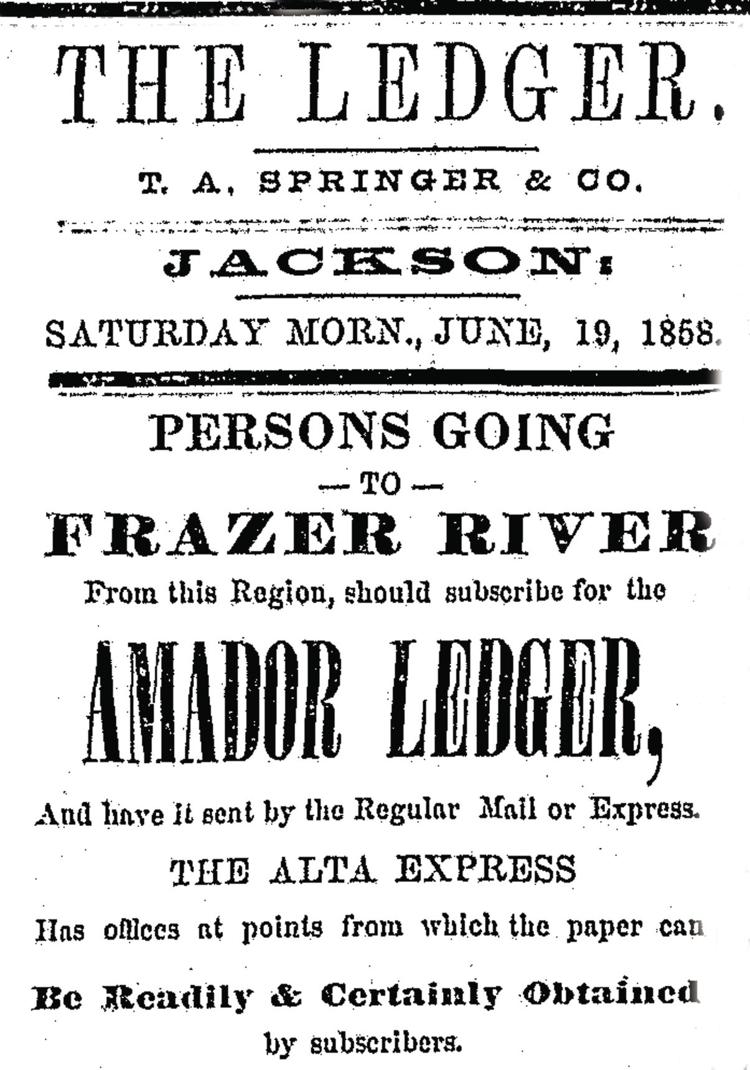 One miner who left with one of the first groups to leave Amador County was George W. Cook. He wrote home from Bellingham Bay, Washington Territory to his friend Edward Hedges of the conditions there. His letter of May 7 read, "I started once for the gold mine on the Frazer River. I went as far as Fort Langley (a Hudson's Bay fur trading post) and found the river rising very rapidly and it was almost impossible to get to the mines, so I came to this place and shall stay here until July, when I will again start. There is undoubtedly an immense gold region there, and it is very rich. Men are making $8 per day, and this is the lowest any man makes with the common rocker. I am now working at my trade (George was a carpenter) in the city of Whatcom. There seems to be quite a stir around this place. Two hundred men have arrived here on their way to the mines. They go from this place in canoes. The citizens of Whatcom are making a trail through to the mines – shortening the distance on half. I am satisfied in m own mine that these mines are as good as any ever were in California. I have seen quite a lot of dust. – Yours, G.W. Cook". No doubt the publishing of George's letter in the Weekly Ledger encouraged those who were considering leaving for British Columbia. By the end of May, it was apparent to Amador's citizenry that their numbers were diminishing by the day. On May 29th, a correspondent traveling about the county and reporting back to the newspaper about the mines wrote, "The Frazer River fever is very virulent throughout this part of the county…A company of five or six will leave Contreras about one month hence. A company will leave Volcano during the next three weeks and there are many will go as soon as they can raise the means. In fact, every man who is not doing well wants to go…Eight or ten days ago the Frazer River was scarcely heard from, while now scarcely anything else is heard." He went on to warn those who might leave for the new strike, "…I would say to all go well prepared, with all the necessaries, particularly money, or go not at all. A man who is doing reasonably well here is certainly making a bad move to leave for the Frazer River mines." He did well to warn those considering the move. Additional letters received from the region told of the striking scenery of the region but reports on miner's gold returns were not so glowing. Newspapers warned those who would leave to wait a few weeks for reliable information – "Look before you leap boys. We fear that hundreds who have already gone to the Frazer country, with jubilant hope, will have cause to regret their impetuosity." Still they continued to leave California.
Andrew Gover was another in the first group to head north from Amador and one wonders why he left. As they say, 'the grass always looks greener on the other side of the fence' but Andrew's first letter home, which was published in the Weekly Ledger, told a different story. Andrew and brother James Rousseau Gover, were owners of the successful Bell's Exchange in Drytown. These native Kentuckians were in California by October 1850 and first mined at Pleasant Hill in El Dorado County. When they first came to Amador County, they filed a claim on the Gover Mine. After selling the claim they began operating the business in Drytown. On May 13, 1858, Andrew wrote home to James from Whatcom, Washington Territory about difficulties miners faced procuring goods and traveling to the mines – "I have conversed with a gentleman living in this place who has just returned from the Frazer river mines. He says there are rich mines about one hundred and sixty miles from here, there are also pretty good diggings within forty miles of Whatcom. But there is no practicable way of getting provisions into the diggings. Provisions in the mines are worth a dollar a pound on average. A report is in circulation that it is the design of the Hudson Bay Co. to place their steamer on the river to form a blockade against American vessels furnishing supplies for the mines; thus securing to Victoria and forts Hope and Langley the exclusive monopoly of trade. The citizens of this quarter are endeavoring to open communication with the mining region through Uncle Sam's territory, instead of being dependent on the caprice of the Hudson Bay Co. The present inconvenience to which the land route will be subject to, is the dense forests with the thick undergrowth and the fallen timber, and a lake of five miles in length which cannot be gone round on account of the high steep cliffs of rock. This trail will be impassable for pack trains for at least three months yet. On this trail are several pretty valleys which remain unoccupied for want of ingress and egress. There are gold diggings within forty miles of this place, better than any I know of in California." It is not known if Andrew found the gold he was searching for in British Columbia, but it is evident that if he did his luck was not the best. Andrew must not have fared well up north as he was back in California the following year and signed up with Captain Joseph Stewart's Company of California Volunteers. Stewart was a fellow Kentuckian. The Captain and his men took command of Fort Alcatraz and transformed it into the most formidable coastal fort on the west coast. In 1860, Stewart and his men fought alongside Colonel John C. Hays at the second Battle of Pyramid Lake against Paiute Indians. Andrew remained with the volunteers at Pyramid Lake and built Fort Churchill. In 1861 he mustered out and was granted land in Placer County for his service. His brother, James left Amador County to become a hotelkeeper in Sacramento and eventually moved to Yolo County.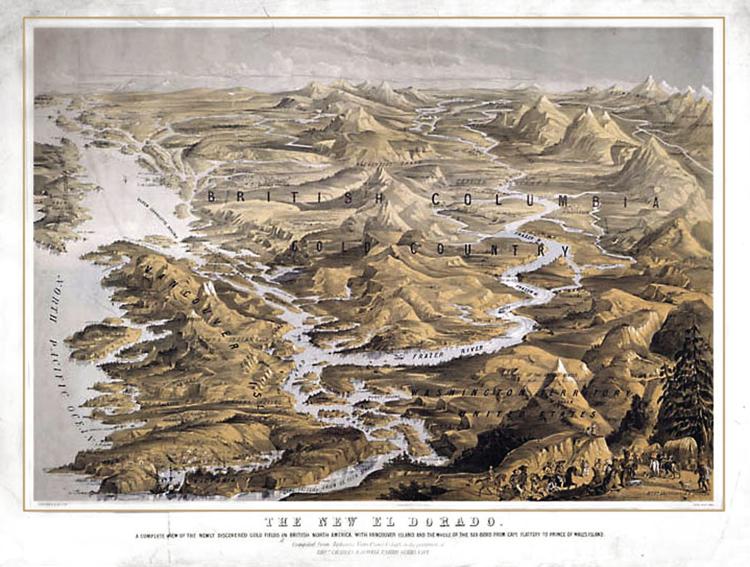 Shortly after Andrew Gover left for the British Columbia gold fields, a number of maps and handbooks were published to assist immigrants traveling to the area. The Hand-Book and Map to the Gold Region of Frazer's and Thompson's Rivers, with Table of Distances by J.J. Lecount was readily available at several general stores in Amador County for $1.50. The author, a former 'Chief Trader of the Hudson Bay Co.' even included a dictionary of the 'Chinook jargon' which promised to be of great use to the newcomers. While adventurous miners prepared for their journey north, many in California were worried about the effect the great exodus was having on the prosperity of the state. One writer who commented that it would be easier to dam Niagara Falls than stem the tide of "thousands of our most energetic miners and best citizens" leaving, was also of the opinion that those who remained should not be alarmed. He likened it to the Kern River Valley gold rush in 1855-1856 which turned out to be a bust but added that if the Fraser River turned out to be more profitable, those who immigrated there would return to California and bring their wealth with them. By this time news of the northern strike had reached the east coast and Europe. Most Californian's concluded that the state would benefit from those immigrants when they reached San Francisco on their way north.
In June 1858 it was reported that in one week nine men left Yeomet on the Cosumnes River, another group from Forest Home, and that in the vicinity of Whittle's Store near Drytown, nearly all the miners had vacated the area. On June 14th, James Goldsworthy, Laughlin Louis McLaine, William Barrett, D. Ballard, and several others departed Volcano. Many were surprised that Goldsworthy was among those leaving for British Columbia as he was keeping a saloon in Volcano at the time, owned in partnership with Bill Whipple of Jackson, a pine wood gas company in Mokelumne Hill, and he was also member of the Volcano Hook and Ladder Company. It is not known how well Goldsworthy did in the Fraser gold fields but he was back in Amador County in 1859 where he took up his saloon business again. In November, that year he suffered the woes of losing the business to a fire, the largest conflagration suffered by the town. His losses amounted to $2,000 which is equivalent to just under $60,000 in the current economy. Yet, he still had money to invest. He rebuilt the saloon and partnered with Andrew Jackson Mayo in the Pioneer Mill & Machinery Co. The partners built a sawmill upcountry and entered the lumber business. By 1864, he owned an inn on the Carson Pass Road at Corral Flat. William Barrett, his fellow Fraser River traveler, ran the hotel for him.
Another of Goldsworthy's traveling partners, Laughlin Louis McLaine, also left behind lucrative business prospects to head to the Fraser River. It may be that McLaine went along simply for the adventure and to familiarize his comrades with the ways of Canada. Laughlin was born on Prince Edward's Island on March 22, 1830. In 1850, at the young age of 20 he trekked west to California, settled in Volcano, and filed a claim in Soldier's Gulch that proved to be very rich. Here he mined until the Volcano group set out for Canada. There are no extant records to tell us how well McLaine did at Fraser River but he too returned to California and amassed a small fortune. In 1867 he was elected to the Board of Supervisors for District 2 and served in that position for six years. In 1869 he joined the banking business and became a gold broker, often purchasing up to $20,000 in gold dust and bullion in one month. McLaine also worked as the superintendent for the Amador Consolidated Hydraulic Gold Mining and Land Company. When he died in 1888, his estate consisted of mines, quartz claims, and real estate in Amador County valued at $1,500, Alameda County real estate valued at $1,000, San Diego County real estate valued at $2,500, one thousand shares of stock in the Kennedy Mine, notes and mortgages owed to him totaling $5,750, cash on hand at the London and San Francisco bank in the amount of $6,265.75, and numerous commissions owed to him for services rendered. Of the others who left Volcano in June 1858 to the Fraser River – William Barrett and D. Ballard – not much is known. Barrett did return to Amador County and ran James Goldsworthy's hotel on the Carson Pass Road. As for D. Ballard, this writer was unable to uncover more than just a speck of additional information on this person. I use the phrase 'this person' because there is the question as to whether Ballard was a man or a woman. The only D. Ballard that is found in historic records in Amador County is Dahlia Ballard, the daughter of pioneer settlers Archibald and Matilda Ballard who kept the National House hotel in Volcano. Her given name was Eliza Jane but she went by the name Dahlia, which she used when she married Laughlin McLaine on October 10, 1864 at the St. George Hotel. Although the majority of those who trekked to the Fraser River region were men, there were also a number of women who braved the wilds of British Columbia. Would it be so far fetched to think that she may have gone with them? Until further information in uncovered on a D. Ballard in Volcano during the 1850s we can only speculate. To be continued…Next Week – Part II: To the North and Back.