The thirteenth century French poet Rutebuef wrote of gambling – "I believe in dice; without a penny for the price. Full often have they got me meat, good wine to drink and friends to treat; And sometimes, too, when luck went worse, they've stripped me clean of robe and purse." This sentiment pretty much sums up the philosophy of the gambler - win or lose, they will always be in the game with the hope of the chance to win. If only they were left to do as they would without judgement. Yet, as long as there has been gambling, there have been those who oppose it. In California, this has held true from the days of the California Gold Rush to the present. Nearly every history written about the Gold Rush mentions how the practice of gambling plagued the morality of miners. John Sutter publicly complained about the woes of gambling to Hutching's California Magazine in 1857 when telling of his 1848 foray into what would become Amador County – "I broke up camp (near Mormon Island on the S. Fork of the American River) and started on the march further south, and located my next camp on Sutter Creek, now in Amador County, and thought that I should be there alone." Sutter was accompanied by about 100 Native Americans and 50 men from the Sandwich Islands which were to work for him finding gold. His reference to "being alone" meant that he would not be plagued by hordes of other miners as they had flocked to Mormon Island. He continued, "The work was going on well for a while until three or four traveling grog shops surrounded me, at from one-half to ten miles distant from the camp. Then, of course, the gold was taken to these places for drinking and gambling and then the following day they (his workers) were sick and unable to work and became deeper and more indebted to me...This whole expedition proved to be a heavy loss to me." Sutter gave up gold seeking and returned to his fort in the Sacramento Valley. 
In 1888, historian Hubert Howe Bancroft devoted an entire chapter in his Inter Pocula to gambling in California. It is clear in his writings that he opposed gambling – "how it dissatisfies society in its daily occupations, absorbs thought, dissipates energy, and renders men unfit for that steady application and reasonable economy which alone make a community prosperous" and yet he refers not only to card games. Bancroft sees the stock speculator, mine speculator, railroad builders, and shyster shopkeepers in the same way – that they became wealthy at the expense of other men, performing in a manner detrimental to society, by gambling on success. He then raises the question as to whether society is hypocritical in its judgement of the card and dice player, while ignoring the speculators. In the end, with all judgments aside, Bancroft concluded that gambling had shaped the character of California and he was correct. Was it not a gamble for each and every one of the thousands of miners, merchants, and investors that flooded into California in search of wealth? That penchant for taking a risk, by investment, in a card game, on the toss of the dice, or at a roulette wheel has endured since those early days. 
In 1854 several laws were passed to curb gambling in California but were difficult to enforce in the mining regions and thus were mostly ignored. However, as communities became more family oriented, local officials acted. The Amador County Grand Jury took the matter in hand in 1856 and indicted several 'gambling house' owners and, although it did not completely rid the county of the vice, it did force the participants to retreat from public view. This, however, did not last long. In 1887, a correspondent for the Amador Dispatch reported that gambling in Sutter Creek was alive and very active – "If the old saying is true that the prosperity of a miner can be judged by the gambling carried on, our town ought certainly to be lively. There are two faro banks and numerous 10 for a quarter games." The state continued to address the issue with the enactment of the second Constitution in 1879, and legislation passed in 1891. During the booming economy of the 1920s gambling was rampant in Amador County. In 1923 and 1924 it was once again the subject of Grand Jury investigations but after a few raids the games were opened up again.
California officials were not only doing battle against gaming in Amador but up and down the state. In 1937 gambling legislation was at the forefront of legislators agendas. The Executive Secretary of the Agricultural Council of California expressed this fact in his weekly column published February 11th of that year, "Gambling legislation – some drastic, some liberal, some highly questionable – promises to occupy much of the lawmakers' time. Literally scores of bill – prohibiting, legalizing and licensing dog racing, book making, horse racing, etc.; legalizing slot machines and banning slot machines; setting up a state lottery and licensing pin games – are awaiting consideration. Both numerically and in their publicity possibilities the gambling bills seem to be 'tops' this session, with liquor legislation almost as varied, as runner-up." Just two weeks later the same paper reported that all gambling in Amador County was ordered banned by District Attorney Allen L. Martin and Sheriff George W. Lucot, pursuant to an order issued by Attorney General U.S. Webb at a conference in Sacramento. The Amador notification distributed to countywide law enforcement stated that all gambling devices and equipment should be confiscated and destroyed and arrests be made. The Attorney General warned DA Martin, Sheriff Lucot, and Jackson Police Chief Earl J. Garbarini that he intended to "put Jackson on the map" in regard to illegal gambling. He had investigators visit Jackson on several occasions who found five or six establishments "operating openly and flagrantly in violation of the law" and that they had been closed down but soon reopened and that "They apparently have felt a certain freedom to operate in Jackson that they should not enjoy." It was apparent that not all Amadorians were in favor of the crackdown, even if they were not directly involved. In response, Drytown writer E.L. Kuykendall aka "Uncle Dudley" wrote in his weekly column – "Hurrah! And, so all kinds of gambling is 'tabu' in Amador County? Well, that's fine! No more will one hear the old, old familiar phrase "How about rolling the bones for a beer, Bill?" No, sir! No more of that from now on. Our peace officers and the people are a-going to see that the 'law' is enforced. There will be no more 'seven-up,' blackjack, poker (all varieties). No more guessing at the beans in a jar, and, we will not now be any longer pestered by our children pestering us for nickels and dimes to play the pinball games. No more P.T.A. whist parties because the players play for prizes, which is unlawful gambling now." One wonders if the crackdown was successful after reading an opinion of Amador Ledger's editor in which he chided the citizens of Amador to step up against gambling - "We see where Attorney General U.S. Webb had several of our county officers on the carpet because gambling being carried on in our county…that our county officers can't stop gambling in Amador county; U.S. Webb can't stop gambling in Amador County, but the people of Amador County can stop the games…There is no difference in the principle of gambling, whether it be a card party carried on at the P.T.A. or a two or four-handed card party held for stakes in some joint…Where are you going to draw the line?...gambling of some kind will continue to be conducted in Amador County until the people of the county shall arise en masse and demand that the gambling in any and every form shall cease." As instructed by Webb, the gambling houses were raided and closed down but once again, after a cooling off period, they were up and running again. The battle against gaming in Amador followed pretty much the same scenario until 1949 when the California State Attorney's office stepped in again, sending agents to Amador County where they raided the R&R and Pioneer clubs in Jackson. Again, the gaming closed down for a time and then reopened with local officials ignoring the activity. Then in 1951 the war against gambling in Amador County heated up and this time it would be won.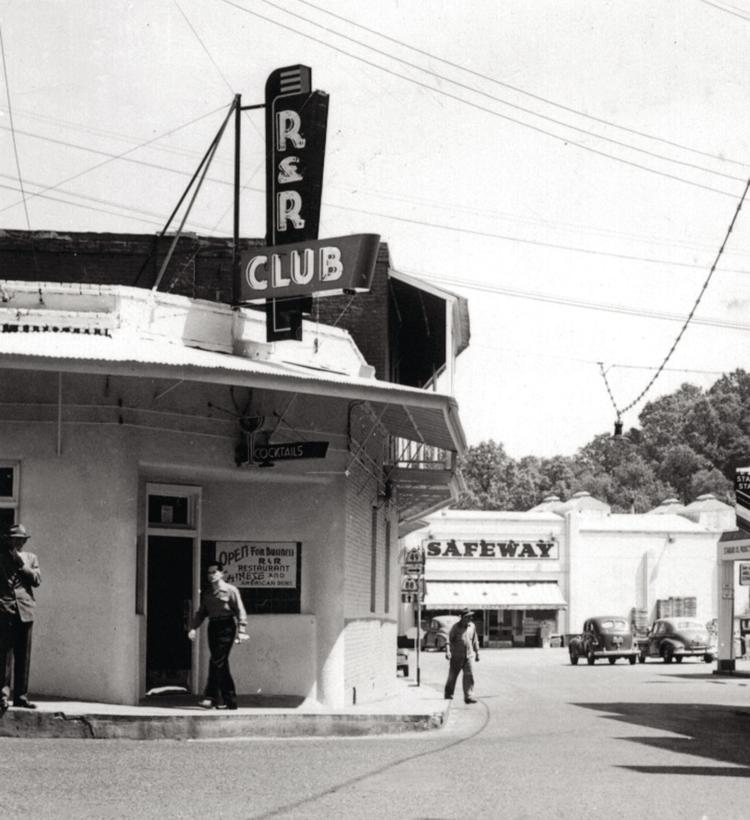 It began with the firing of Jackson Police Chief Richard "Dick" Maggi, supposedly for his failure to enforce the laws against gambling and prostitution; however, later events would show that his dismissal was all a show for state officials who were keeping their eyes on the situation. Amador County, and especially Jackson, was one of the last holdouts of those two vices in California. In Maggi's place, George Milardovich was made Chief of Police. Milardovich did enforce the law and with the assistance of Harold G. Robinson, a agent from the office of State Attorney Edmund "Pat" Brown, and support from Governor Earl Warren, they managed to clean up Jackson. However, it was clear that local officials were not happy. In 1953, Milardovich was fired and accused the Jackson Mayor and City Council of being "influenced by prostitution and gamblers." Milardovich was replaced by Guido "Guy" Tofanelli. Under his watch gambling and prostitution returned but state officials still had their eyes turned towards Amador County. Gambling was going on all over the county but Jackson was the only town with a red-light district.
A month after Milardovich was instated as Jackson Police Chief in May 1951, Mayor Thomas L. Jones, resigned from the City Council and Councilman Robert "Bob" Smallfield was elected to serve in his place. In September 1851, Milardovich received a confidential letter and report from Pat Brown in which he stated the report "discloses a bold and brazen scheme to form a conspiracy to violate the law." The report detailed a plot to open "Charter Clubs" in Jackson and Stockton. An agent who was on duty at the State Fair checking on the racetrack ran into Alban E. Kelliher, owner of the R&R Gambling Club in Jackson. Kelliher told the agent he was partnering with the former owner of the Louvre Club, George Thomas, the two owners of the Pioneer Club, Billy Gifft, the formerly an operator of two houses of prostitution in Tracy, and a Stockton Attorney to open the Jackson Club, and was trying to ascertain from the agent if they would be raided if they opened it up. Kelliher had already purchased a building on Main Street in which the upper floor would be used and they were planning on sending out 'membership cards' to over 2,000 persons who were known to frequent Jackson to gamble. The intent was to host two roulette wheels, two crap tables, and several blackjack games, and sell chips with the money removed from the premises every couple of hours to "avoid marked money from coming into the games." Kelliher's scheme either never came to fruition or it was headed off by state officials as there was no mention of it in the local newspapers. In 1953, Kelliher sold the R&R Club to Daniel Vukajlovich.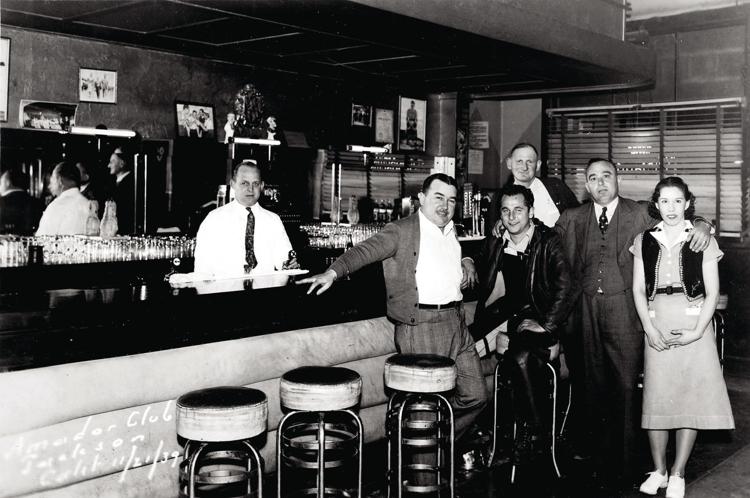 Under the watch of Jackson Police Chief Guy Tofanelli, gambling and prostitution returned to Jackson. In 1954, Edmund "Pat" Brown was re-elected as Attorney General, campaigning that he would rid the state of crime and prostitution. The following spring, Jackson's gambling halls and three red-light houses were raided, the owners were fined $10.00 each, and told to leave the county. In May, two liquor enforcement officers, Amador Sheriff Karl Joses, and D.A. Anthony Caminetti raided the Pastime Club in Plymouth breaking up a card game and found two youths drinking in the bar. Bar owner Loren Sturgeon, and two bartenders, Vernon Greilich and Robert Carpenter, were charged with contributing to the delinquency of the minors. The state continued to keep a tight hold on Amador. In March 1956, state agents led by Robinson ignored the 'clean' reports of local officials and conducted a vice raid in Jackson's red-light district. They arrested fourteen prostitutes and thirty-eight men. Also found were pills suspected to be narcotics but no gambling was going on. Tofanelli, was not aware that the raid was to be conducted but DA Caminetti was and he vowed to open an investigation of Tofinelli, Deputy Chief James Fregulia, and Constable Gildo Dondero. The following week, an unprecedented public Grand Jury session was demanded to investigate charges that as many as ten public officials "winked" at wide open vice in Jackson. Tofanelli claimed the day after the raids that he had no knowledge the houses were operating. Caminetti assured the public he would seek Superior Court approval for the open hearings and if he was not granted his request, he would go the State Attorney General. In April 1956, Attorney General Brown ordered the Amador County Grand Jury to look into any possible connection between Chief Tofanelli, night Patrolman Fregulia, and Constable Dondero and the fact that three houses of prostitution ran openly until they had been raided. The Grand Jury voted to hold an open public investigation. The Attorney General's office would pressure the Jury to determine if there were – 1) any payoffs to Jackson public officials associated with vice, 2) how prostitution could operate openly without coming to the attention of the police, and 3) was there any malfeasance or misfeasance of public office involved. The prostitution houses had been shut down with a pending abatement order but there was considerable uneasiness along Main Street where a multitude of taverns were the center of the city's gambling district, among them the Azure Club, the R&R, the Pioneer, the Globe Hotel, the Louvre, the Sport Club, the Amador Club, the 49er, and the Bank Club. Prostitution was the focus of subsequent investigation but as they say, 'where there's smoke there's fire' and 'birds of a feather flock together.'
To be continued…Next Week – The End of it All