The famous American journalist and writer, Ambrose Bierce, who penned one of the greatest masterpieces of literature, "The Devil's Dictionary," once said of gambling, "The gambling known as business, looks with austere disfavor upon the business known as gambling." No matter how you look at it, gambling is involved in most every choice we make. To gamble on business is acceptable and widely practiced; however, when it comes to betting money on games of chance, you either do it or you don't. Those who choose to bet on cards, roulette, horse races, sporting events, and a multitude of other contests, do it for various reasons – relaxation, escape, a risky escapade, as a profession – but mostly to win. Now there are some who don't gamble who could care less if anyone else does. They see it as a matter of personal choice. Then, there are others who choose not to wager their money and they don't think anyone else should. They see gambling as foolish and a threat to the welfare of society. These opposing groups have been at odds in California since the days of the Gold Rush. The same holds true for the vices that have long accompanied gambling – drinking and prostitution, but drinking, it seems, is recognized as more acceptable than prostitution, and so it was the latter that finally put an end to illegal gambling in Amador County in 1956.
Despite early California laws prohibiting specific types of gambling, prostitution was for the most part 'ignored' in the halls of justice until 1914 when the Red Light Abatement Act was passed. Within one year of James Marshall's discovery of gold at Sutter's sawmill in Coloma, it is estimated that nearly 200,000 people arrived in California with only 8-10% of them being women. However, it didn't take long for women to recognize that they too could find a fortune in California, but not all of them came to work as cooks and laundresses. By spring 1850, San Francisco newspapers were announcing the arrival of "the fairer sex in full bloom" but within a short time weeklies were complaining, "the perfect freedom and unseemly manner in which the abandoned females are permitted to display themselves in our public saloons and streets." It was written by Gold Rush chronicler Albert Bernard, "All in all, the women of easy virtue here earn a tremendous amount of money. To sit with you near a bar or at a card table…She had to do nothing but honor the table with her presence…They only work in the gambling hall in the evening. They have their days to themselves and can receive 'clients' who had no chance during the night." And so was the association between the gaming industry and the soiled doves, born on San Francisco's Barbary Coast that spread throughout the state.
There is a paucity of information on prostitution during Amador's early years. It is mentioned only briefly in newspapers and journals and usually when some other type of crime involved the women who plied the trade. Temperance groups long rallied against it but until the state legislature passed the Red Light Abatement Act in 1914, local law enforcement did nothing to curb the business. The Act, which still governs prostitution in California, reads – "every building or place used for the purpose of prostitution, and every building or place in or upon which acts of prostitution, are held or occur, is a nuisance which should be enjoined, abated, and prevented, and for which damages may be recovered." The law was clear – that no building could be used for prostitution; however, when cities started to fine building owners for allowing 'the trade' to continue, the activity moved to the streets. It took a number of years for cities and towns to enforce the Act but in several places law enforcement on the take turned a blind eye to both prostitution and gambling. Amador County was one of them. Newspaper stories attest to that fact. In 1909 the Dispatch reported that a man from Colorado was assaulted and robbed because he "broke the roulette bank" at the Garabaldi Saloon. According to a story in the 1988 Dispatch, the Garabaldi was the "most popular and patronized speakeasy and illicit drinking spa on Jackson's North Main Street" in 1921. In 1935, an unnamed woman – "a professional lady" – was tied up and robbed by a man posing as a 'client' after the couple left the National Hotel and retired to her 'apartment' near Jackson Creek. In 1945, Antonio Tonca and Saveta Kosich openly advertised the sale of a roulette table, a craps table, a poker table, and poker chips, furnishings, and their bar business at 73 Main Street in Jackson to Wallace Thorn and Thelma Shackleford. In 1979, in a letter to the editor of the Amador Progress News, an old timer recalled the "wide open days" when Jimmy Dodge's gambling establishment in the Louvre Café was known as the "2nd Little Reno at the time" where "roulette, blackjack, poker, etc. was wide open" and "Prostitutions were controlled and the houses were on the other side of the creek." This was about 1923 and when observing inmates at the Jackson jail free to roam during the day, he states "I did not see a woman prisoner at any time and that was the time when Jackson was wide open." Bardaracco's Boarding House that once occupied the space where the Wheel Inn is located, was home to a speakeasy and later a casino in the 1940s and 1950s. Another old timer recounts that behind this was "another building that served to offer consolation and solace to men who were unlucky at the gambling tables," or in other words, another house of prostitution. Each one of these incidents testifies that Amador County officials, and especially Jackson law enforcement, didn't give a hoot about enforcing vice laws but in 1956, forced by state officials to investigate, the entire mess resulted in a scandal that would not be soon forgotten.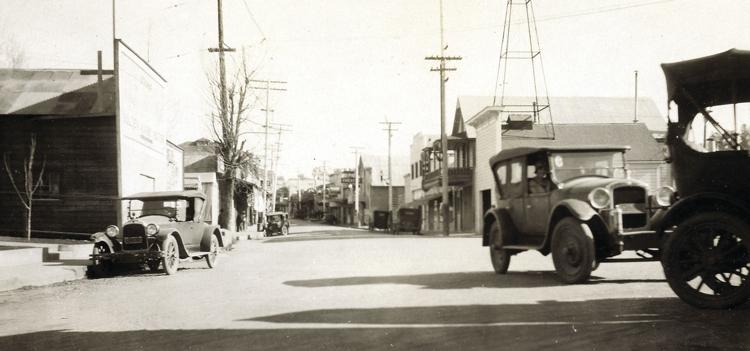 In the early 1950s, the California State Attorney General's office had its eyes on Amador County. State agents led raids on clubs in Jackson on several occasions and shut them down, but after each incident they would reopen. Raids of this type were going on at several locations in California where local officials were remiss in doing their duty; however, Jackson was the only town with an "open" red light district at this time. It was the shakedown of the prostitution that also brought gambling to end. In March 1956, state agents, led by Harold G. Robinson, chief criminal investigator for the Attorney General, raided Jackson's red light district, arresting 14 women and 38 male visitors. They were accompanied by Amador County Sheriff Karl Joses and District Attorney Anthony Caminetti; however, the raid was unbeknownst to Jackson Police Chief Guy Tofinelli. The agents, equipped with cameras, posed as customers and then barred the doors and snapped pictures at the appointed hour. In one house they found an escape door hidden in a clothes closet which explained why patrons were never present during previous raids, being able to escape out of the back wall of the building. The men were photographed and released while the women were arrested. Booked as madams were Jean Brown of the 'Brookside,' Ethel Patricia Martin of the 'Palace,' and Alma Nelson Smith of the house one time known as 'Jeanette's.' Records confiscated during the raid showed that the houses were making more that $1,400 per day. Under the 1914 Red Light Abatement Act, Judge Ralph McGee and DA Caminetti pursued having the houses torn down.
As the investigation continued, Chief Tofinelli, Jackson's Deputy Chief, James Fregulia, and Constable Gildo Dondero were put under the microscope. Tofanelli said he would "swear on a stack of Bibles three feet high" that he did not know prostitutes were working in Jackson and that if put to a vote in Jackson the business district would support it "by maybe more than 75 percent." Former fired Police Chief George Milardovich stated that he was dismissed because he repeatedly turned down demands of the City Council that he "open Jackson to gambling and prostitution" and that what they really wanted was to keep Jackson "open to gambling – prostitution was just the opening wedge." Mayor Robert Smallfield, like Tofanelli, said he was ignorant of any vice operations in Jackson. Reporters interviewed several Jackson businessmen who thought state officials should keep their noses out of Jackson's business. In April, newspapers reported that an open investigation into the corruption of Jackson officials would commence. By May 14, the investigation was completed and the Grand Jury was ready to hold an open public session. After the weeklong hearing it was clear that Jackson officials were aware of Jackson's illegal vice operations. Ex-madam, Anna Caplette, told of bribes paid to former Jackson Police Chief Richard Maggi, and officers Fregulia and Dondero, so they would allow the houses to remain open. The bribes must have been pretty substantial as Caplette told officials that in one 3-month period in 1952, her brother made about $20,000. Bob Mullins was a tip-off man. He would go around to the houses and let them know when a state raid was coming. He would load up the girls and take them to Sacramento for a few days.
Former Police Chief George Milardovich testified at the hearing that at the time he was named Chief there were no houses of prostitution in Jackson but in 1952, after the mayor and the city council had a few meetings, that changed. According to Milardovich, "They said they would open the town up quietly…then open with blackjack and everything else. After Brown (Attorney General) was sworn into office they opened up in about two weeks." He didn't know what to do. Having only been a patrol officer prior to his appointment as Chief, he was unfamiliar with the procedures of search warrants and didn't know he could arrest the gamblers and prostitutes without a warrant – "If you get a search warrant in this town, everyone knows it right away;" thus, the tip-off taxi driver. Milardovich decided to wait until Mayor Robert Smallfield "had a stack of chips in front of him and then throw him in the can." The Sheriff, George Lucot, instructed Milardovich to do it quietly. Then Robinson and state agents came in and closed everything down. After Milardovich was fired due to his crackdown on gambling and prostitution. In the end, Dondero and Fregulia were each charged by Grand Jury with perjury and, seven counts of soliciting and taking bribes to overlook the vice in Jackson. They were subsequently suspended by the city council. Tofanelli was accused of nonfeasance and failing to do his duty. Jackson City Attorney, Angelo DePaoli, resigned citing that the City Council failed to ignore his warnings to fire the Jackson police officers. Judge McGee heard the case against Fregulia and Dondero in October 1956. He found them not guilty of bribery and perjury, citing that they were "simply puppets who danced when others pulled the strings" as to when the town was to be "opened" and "closed." Attorney General, Pat Brown, told newspapers that the entire Jackson City Council should resign. Mayor Smallfield was incensed by his comments. In the end, the "open" state of gambling and prostitution came to an end in Amador County. Despite a plea from the Attorney General, Tofanelli got off scot free, the city council stayed seated, and James Fregulia was reinstated as night patrol officer.
California laws against gambling passed in 1879 and 1891 outlawed all card games except non-banked card games such as poker. That opening was just what actor John Wayne took advantage of in 1963 when he visited Jackson and sat down to a few hands with locales Tom Rasica of Pine Grove and Tom Kalim of Jackson. Accounts of the famous game claim variously that it started between 10:00 p.m. and 11:00 p.m. in the card room at the Wells Fargo Club or maybe at the National Hotel. Dan Vukajlovich who owned the Wells Fargo told that he was relieved of his duty of serving drinks so he could join the game which later moved to the National and was held in a small room a floor above the bridal suite. A supposedly unbiased scorekeeper, identity unknown, kept track of all bets, wins, and losses on a tablet. Everything was on paper and no cash ever put on the table. Rasica recalled that they played seven-card stud and in the beginning, he lost a couple hundred dollars to Wayne. Then the actor's luck turned and he started to lose big to Kalim, who recalled later he was getting rich on paper. The group played until the wee hours of the morning when someone brought in a bottle of whiskey. They played on, drinking the spirits and turning cards for high stakes until well after dawn. Witnesses recall that the pot for just one hand climbed to $25,000! Around 9:00 a.m. Tom Kalim's wife came into the room admonishing her husband to end the game. Wayne was on the downside and wanted a chance to win back his losses but the overnight adventure came to an end. His losses? Well, that depends on who's telling the story. The amount quoted by various individuals ranges from $2,000 to $40,000.  Only Tom Kalim knows how much he won that night.
Gambling in Amador may now occasionally host famous celebrities at the Jackson Rancheria Casino or Harrah's of Northern California at Buena Vista but those wild and wooly days of the poker game in a lean-to or a roulette wheel spinning at a Jackson saloon are long gone. The Federal Indian Gaming Regulatory Act, which became law in 1988, California's Proposition 1A, legalizing casino gambling on tribal lands, and subsequent laws and negotiations between Native American tribes and California governors, have made gaming available to residents in most California counties. So whether you are in favor of gambling or against it, card games, roulette wheels, and slot machines are a permanent feature of California's heritage – just as much as those games of chance that were played by the earliest residents of the state who gambled on a chance to get rich during the Gold Rush, whether it be via mining, merchandising, or stock speculation.