It would be hard to make a list of Thanksgiving traditions that doesn't include football and family, so it's only fitting that the Argonaut High School varsity football team is spending Thanksgiving week preparing for arguably the school's biggest football game in nearly two decades.
At 1 p.m. this Saturday, November 27 in Sacramento, Argonaut will try to win just the second Sac-Joaquin Section football championship in school history and first since 2004 when it takes on Rosemont of Sacramento in the Division VI section finals at Hughes Stadium on the campus of Sacramento City College.
"We're a family," Argonaut senior Caleb McElfish said. "I couldn't be happier playing for a section title alongside my brothers."
The Mustangs, seeded second out of 12 teams in the Division VI bracket, advanced to the section finals for the first time in 17 years with a 37-24 victory over No. 3 Livingston in the semifinals on Friday, November 19 at Dan Barnett Field in Jackson.
"It feels great to make it to the section championship, especially because the last time (Argonaut) made it was the year I was born," senior Colby Eckhart said.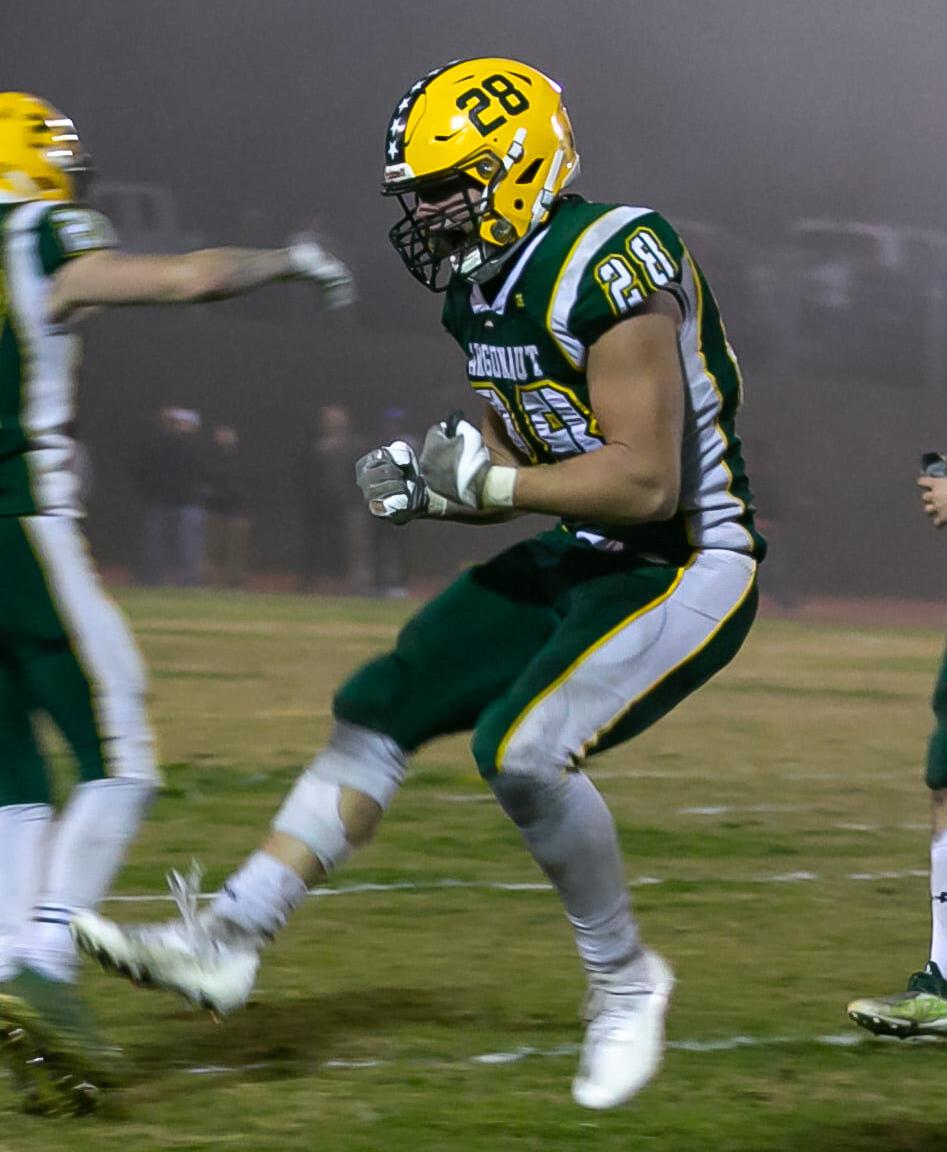 Eckhart provided bookend highlights in last week's semifinal victory, returning a Livingston kick 88 yards for a touchdown to give Argonaut a 9-6 lead in the first quarter and intercepting a pass on the final play of the game. In between, the Mustangs (9-3) took control of the game with touchdowns on three straight possessions, starting with a nine-play, 79-yard drive that culminated with a 2-yard touchdown run up the middle by McElfish with 29 seconds left in the second quarter, giving Argonaut a 23-9 halftime lead.
After receiving the second half kick, Argonaut scored again with senior Randy Fage punctuating a 55-yard touchdown drive with a SportsCenter-worthy highlight. After catching a short pass from quarterback Beau Davis in the slot, Fage faked like he was going to pitch the ball to a teammate running outside. The Livingston defender covering Fage took the bait and turned his attention, and body, toward the sideline, clearing a path that Fage took to the end zone for a 22-yard score and 30-9 Argonaut lead.
Livingston fumbled on the first play of the ensuing possession deep in its own territory and sophomore Robert Prather recovered the ball for the Mustangs, setting up another touchdown – an 8-yard run by Eckhart – that stretched the lead to 37-9.
Led by the continued development of the offensive line, Argonaut rushed for 235 yards on the night, averaging 6 yards per carry. Eckhart led a balanced rushing attack with 70 yards and a touchdown on seven carries; Beau Davis rushed seven time for 57 yards - also completing all four of his pass attempts for 68 yards; junior Mateo Flores had 45 yards and a touchdown on 10 carries; and McElfish had 37 yards and a touchdown on 11 carries.
"One of the biggest bright spots has been the development of our offensive line (Zach Steele, Fernando Martinez, Owen Olivarria, Chase Yocheim, Austins Hills) and their continued progress each week to improve their skills," Argonaut coach Rick Davis said. "(They) dominated in the Livingston game."
Defensively for the Mustangs, McElfish was in on a team-high 10 tackles and had one quarterback sack; junior Robert Spigarelli was in on eight tackles, had one sack and blocked a Livingston punt that resulted in a safety that gave Argonaut an early 2-0 lead in the first quarter; and Fage and senior Josiah Sanders, along with Eckhart's game-ending pick, had interceptions.
Livingston (7-5) scored twice in the fourth quarter to cut Argonaut's lead to 37-24, but time would run out on any comeback attempt by the Wolves and Argonaut celebrated its first section finals appearance since 2004 on the field with members of the community.
"It means a lot to be representing Argonaut High School," Beau Davis said. "We worked so hard and deserve to be in this position, practicing hard day in and day out … (and) staying focused on our goals."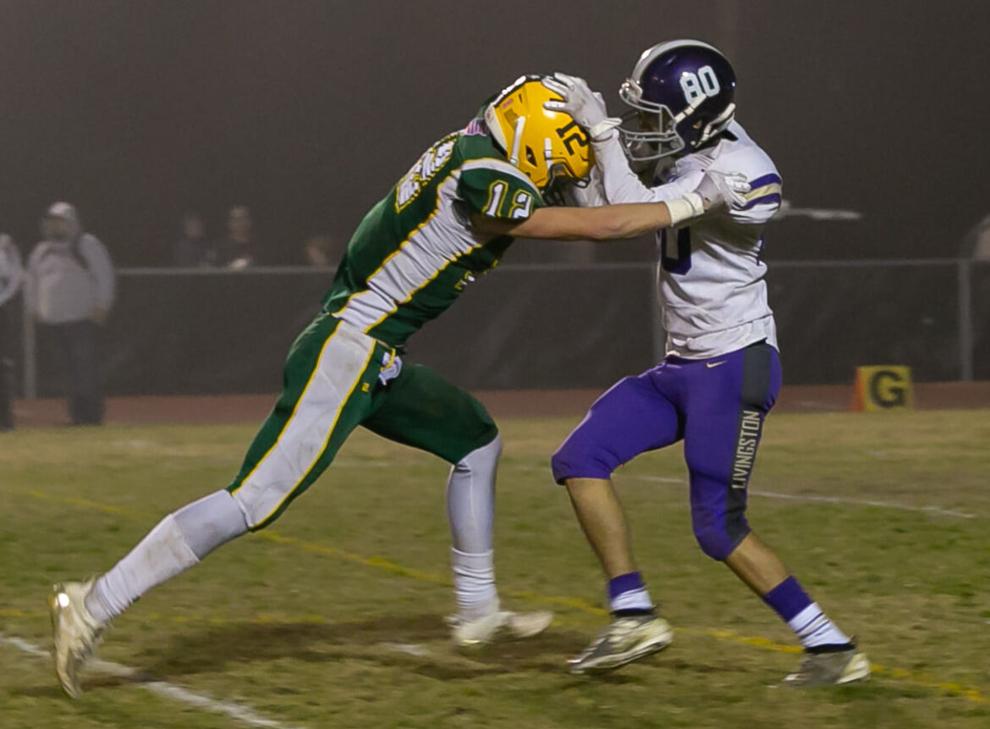 Standing in the way of the Mustangs and their goal of hoisting the coveted blue Sac-Joaquin Section championship banner are the fifth-seeded Rosemont Wolverines (11-2), who knocked off top-seeded Bradshaw Christian 18-13 in the semifinals. After beating Liberty Ranch – a school with 1,115 students – in the quarterfinals, and Livingston – 1,195 students – in the semifinals, Argonaut – with its 532 students – will now take on a school in Rosemont that is nearly three times its size with an student enrollment of 1,572 students.
"It's an unbelievable feeling for all of us to be back after getting so close for several yearas and being knocked out (which) makes this one even sweeter," coach Rick Davis said. "This team has been through so much and to go through the ups and downs of the past two years and make it to this point is remarkable.
"Rosemont is obviously a quality opponent and we will have to have a great week of practice to get ready for them. Our guys are happy to be here, but still not satisfied."
Since starting the season with two straight losses, Argonaut has won 9 of its past 10 games, seemingly growing stronger each week.
"The keys for us getting better is keeping the right mindset, keep moving forward, as well as becoming closer as a team," Sanders said.
McElfish said one of the big reasons this year's team has been able to make the consistent strides it has week to week has been the ability of players to battle against one another all week in practice and then go battle for each other on game night.
"We're always competing with each other for starting positions and talking trash to one another, but when game time comes, we have each other's back," McElfish said.
Another key to Argonaut's growing confidence on game nights is the prep work being done each week by the dedicated coaching staff, which includes, along with Rick Davis, Matt Floyd, Matt King, James Marzano, John Hickman and Andrew Stevens.
"The coaching staff has been doing an amazing job with play calling, strategy and motivation," Beau Davis said. "Each week ... they have us prepared and ready to roll."
A victory over Rosemont in the section finals would not only deliver Argonaut its first section championship since 2004, but would also extend the season for the Mustangs as the section champion will advance to a CIF Northern California Regional Bowl Game.