The first rivalry matchup of the season between the Amador and Argonaut high school varsity boys soccer teams turned out to be the worth the wait. In a back-and-forth battle on Saturday morning, January 8 in Sutter Creek, Argonaut broke a tie in the final 10 minutes of play with a goal from senior Jose Sahagun that gave the Mustangs a 3-2 win.
In the makeup of a game originally scheduled to be played on December 16 that was cancelled due to weather, Argonaut jumped out to a 2-0 lead in the first half with a goal from senior Jesse Flores, assisted by sophomore Zak Gardner, and another from freshman Miles Mauck, assisted by senior Caleb McElfish.
Amador fought back to tie the game 2-2 on goals by freshman Trevor Johnson and junior Max Parkey.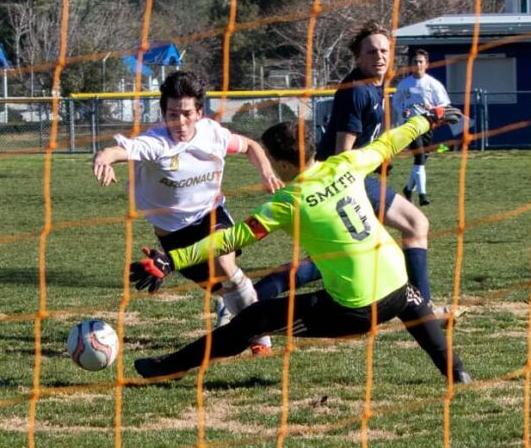 "Being down 2-0 in the first half was a mental battle, but the team responded very well," Amador coach Greg Wall said. "I was proud of the team's heart and determination to battle their way back."
Wall credited seniors Alex Nicholson – on defense – and Elias Elias Torres – on the frontline – for helping spark the comeback for the Buffaloes.
In the final 10 minutes of play with the game still deadlocked at 2-2, Gardner sent a long pass up the field for the Mustangs, which led to Sahagun's game-winner.
The Buffaloes (2-7, 1-3 Mother Lode League) and Mustangs (4-7, 2-2) are scheduled to meet again on Tuesday, February 1 in Jackson.
Argonaut 5, Calaveras 0
On Tuesday, January 11 in Jackson, senior Jesse Flores had two goals and three assists in a shutout win for the Mustangs. Also for Argonaut, senior Jose Sahagun scored two goals and had an assist; and sophomore Zak Gardner also scored a goal.
Senior Caleb McElfish earned the shutout in goal with defensive support from seniors Alec Giron, Michael Martinez and Cooper Cross, along with Gardner.
"I'm very proud of these boys," Argonaut coach Laura Zanelli said. "It's been a struggle to find their groove, but it's finally coming together."
Calaveras coach Rob Leetham agreed, saying "(Argonaut) had a rough preseason with the weather and lack of field time, but you would never know it the way they played."
Summerville 4, Amador 1
On Tuesday, January 11 in Sutter Creek, junior Max Parkey set up classmate River Hulson for the Buffaloes' lone goal against the Bears.
Amador 1, Calaveras 0
On Thursday, January 6 in Sutter Creek, Amador sophomore Ian Gillott scored on a penalty kick after teammate Jay Fillmore was taken down in the goal box, which turned out to be the winning goal for the Buffaloes in an otherwise scoreless battle. Junior Preston Smith earned the shutout in goal for Amador with 12 saves. Also for the Buffaloes, junior Max Parkey returned from an injury to provide a spark on defense and sophomore Lukas Sherman played multiple positions to give his team a lift all over the field.
Sonora 6, Argonaut 2
On Thursday, January 6 in Jackson, the Mustangs fell behind 2-0 in the first 20 minutes of the game, but scored twice in a 3-minute span – both goals were scored by senior Caleb McElfish with assists from classmate Jose Sahagun – to tie the game at 2-2 before the Wildcats ran off four unanswered goals in the second half to take the win.
Girls soccer
Calaveras 5, Argonaut 3
On Tuesday, January 11 in Jackson, the Mustangs (3-10-1, 0-2-1) took an early 2-0 lead on goals by senior Sophia Villa (on a penalty kick) and sophomore Siena Flock in the opening 10 minutes, but Calaveras (10-2-1, 4-1) scored four unanswered goals before halftime and - after Flock scored again to make it 4-3 - sealed the win with one more goal in the second half.
Montana Grant and Sydney Remus scored two goals each for CHS and Kaydance Norried scored one.
Calaveras 1, Amador 0
On Thursday, January 6 in San Andreas, Calaveras followed up its 10-goal outburst from two days earlier against Summerville with a quick goal by Kaydance Norried early on against the Buffaloes (3-8-1, 0-2-1), but that was all the scoring either team would muster the rest of the way.
"We scored within the first minute, but then the Amador goalie put up a brick wall that we couldn't get past," Calaveras coach Matt Simpson said. "It was a good game the whole time. Amador made a hard push in the last 15 minutes, but we held them off."
Girls basketball
Argonaut 62, Bret Harte 42
On Friday, January 7 in Jackson, the Mustangs jumped out to a 14-5 lead in the first quarter and continued to build their lead in the second and third quarters on the way to a league-opening win over the Bullfrogs. Senior Gabbie Gascon led the Mustangs with 31 points, including six 3-pointers. Also for Argonaut (15-3, 1-0), senior Emily Newton scored 19 points and junior Lily Carson added eight points.
Sonora 47, Amador 16
On Friday, January 7 in Sonora, junior Emily Lickiss scored six points to lead the Buffaloes (1-12, 0-1) on the opening night of league play.
Calaveras 83, Summerville 13
On Friday, January 7 in Tuolumne, all 11 players on the Calaveras roster scored in an easy MLL-opening win over the Bears. Senior Sierra Lowry led the way for Calaveras (15-3, 1-0) with 16 points and 10 rebounds, and junior Brooke Nordahl added 14 points.
Boys basketball
Calaveras 65, Summerville 40
On Friday, January 7 in Tuolumne, Calaveras started strong against the Bears and never looked back on the way to a win in the league opener. Ten different players scored in the win for Calaveras (13-6, 1-0), led by junior Jay Clifton with 16 points to go along with eight assists and four steals. Also for Calaveras, junior Braeden Orlandi had 14 points and five rebounds; and senior Travis Byrd grabbed a team-high eight rebounds.
Amador, Argo league openers postponed
Due to COVID issues, the Amador boys league opener against Sonora and the Argonaut boys league opener against Bret Harte were both postponed last Friday, January 7 and will be rescheduled at a later date yet to be announced.
Wrestling
Krupsky places first for Buffs at Escalon
Three Amador wrestlers earned victories in their first varsity competition at the Escalon Tournament on January 7 and 8.
Junior Isaiah Krupsky went 4-2 overall with four pins at the tournament to finish in first place in his 138-pound bracket. So far this season, Krupsky has 17 overall wins with all 17 coming by pin.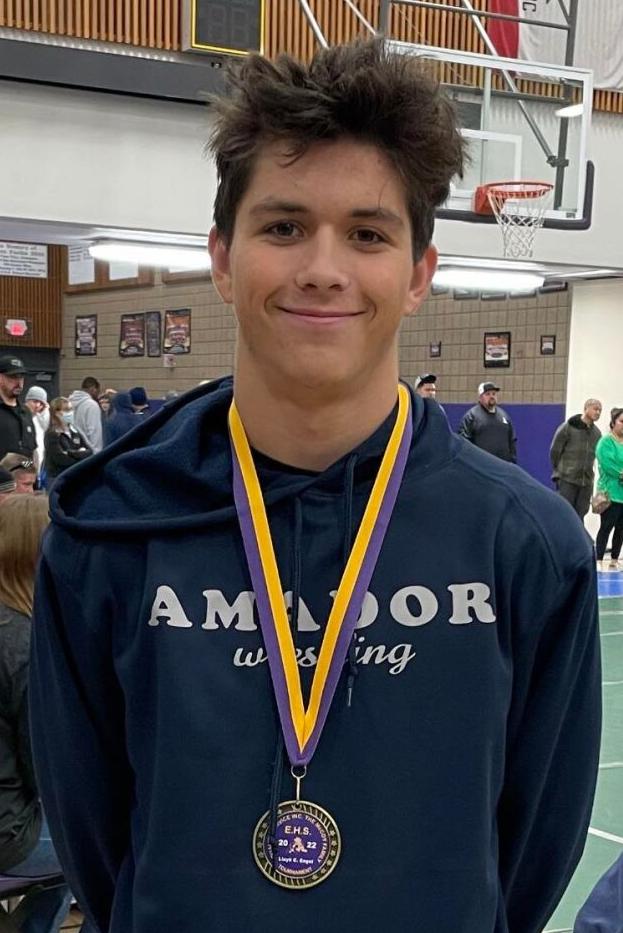 "He's a beast," Amador assistant coach Dathan Miller said of Krupsky. "He stays in the room and works hard learning techniques. He could do some serious things in the near future."
Also for Amador, sophomore Owen Daly also went 4-2 at the tournament and placed third in his 195-pound division; and junior Anthony Baldenegro won two matches in his 220-pound division.
JV girls soccer
Argonaut 3, Sonora 0
On Thursday, January 6 in Jackson, freshman forward Jenna Critchfield scored two goals to help the Mustangs stay unbeaten overall on the season and win a matchup of MLL unbeatens by handing the Wildcats their first league loss of the season. Freshman Molly Gilliam also scored a goal for Argonaut (10-0).