The Argonaut High School varsity football team opened Mother Lode League play with a 35-0 victory over Calaveras on Friday, October 1 at Dan Barnett Field in Jackson, snapping an eight-game losing streak to Calaveras. 
The Mustangs, who hadn't beaten Calaveras since the 2012 season, have now won four straight games overall this season – all in dominant fashion – since starting out the season 0-2.
"I am extremely pleased with the performance of our entire team, from the guys getting us ready in practice (Anthony Pimentel, Austin Brooks, Brayden Welch, Athaniel Villa, Leo Monioz, Keyshawn Monge, Logan Manner, Nate Belogub, Colby Flemming, Scott Kristoffersen, Aiden Castro) and all of the contributions from each of these guys on special teams and being ready at all times to help their team is just a special thing that my entire staff is enjoying," said Argonaut Head Coach, Ricky Davis. "These guys play hard and enjoy doing it!  They are always looking for something to get better at each day of practice."
Notching an impressive victory over Calaveras, there were a great deal of standout performances. Most notably the offensive and defensive lines.
Offensive Line: Zac Steele, Fernando Martinez, Owen Olivarria, Aaron Smith, Austin Hills, Chase Yocheim, Max McCracken at TE. The Offensive Line had 268 yards Rushing and 116 passing and 5 TD's, no sacks and 78% blocking efficiency.
Defensive Line:  Dylan Bennett, Marcus Harrison, Robert Spigarelli (7 tackles 2 sacks), Chase Yocheim (5 tackles) produced 2 sacks, 7 QB pressures, 6 tackles behind LOS and helped provide pressure for 2 interceptions and 1 strip. They held Calaveras to 128 yards rushing, 46 yards passing and 4 first downs
Standout performances from: Beau Davis (8 tackles, 1 rush TD, 1 pass TD), Josiah Sanders (1 rush TD, 5 tackles) , Mateo Flores (4 tackles, 1 TD, 1 int), Randy Fage (2 catches, 4 tackles),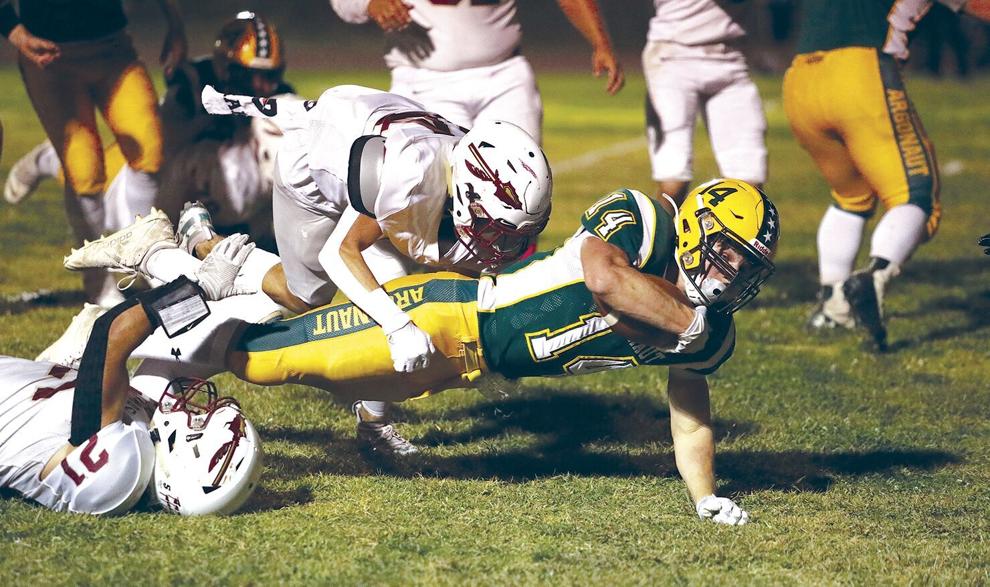 Colby Eckhart (2 TD, 1 int), Caleb McElfish (4 tackles, 8 hard runs inside), and Max McCracken (3 tackles)
Jesse Flores had another great night kicking the ball with 3 Touch backs, a great punt to the 4 yard line and 5 for 5 on PATS
 Argonaut (4-2) will host Big Valley Christian of Modesto (1-5) in a non-league game this Friday, October 8 before returning to league play with a game against Summerville (2-2) on Friday, October 15 in Jackson.
During this Friday's game against Big Valley Christian, Argonaut will recognize the Jackson High School Tigers part of its history.
JV football
Calaveras 30, Argonaut 26
On Friday, October 1 in Jackson, the Calaveras JV team won its first game of the season, defeating the Mustangs in the Mother Lode League opener for both teams.
Offensively for Calaveras, Ethan Ayala passed for 61 yards and two touchdowns, and rushed for 44 yards on six carries; Josh Manzo had a 23-yard touchdown reception; and Scott Beadles had two receptions for 30 yards and a touchdown, and a 95-yard kickoff return for a touchdown.
Defensively for Calaveras, Ayala forced a fumble and Adrian Urbina recovered a fumble.