The Argonaut Junior Mustangs junior varsity youth football team just knows how to win.
On Saturday, September 24 at Sonora High School, the Junior Mustangs kept their undefeated record intact with a 20-19 victory over the Sonora Junior Cats, rallying back from a 13-point deficit and scoring the winning touchdown late in the game on a 65-yard kick return by Kaden Roderick, who was assisted by stellar blocking from his teammates.
"This week's win … was a total team effort that all 38 players contributed to," Argonaut JV coach Rory Grady said. "They stayed united and worked hard to come back from a 13-point deficit to (win) in the last minute of the game. Excellent offensive, defensive and special teams effort from the entire team."
With three weeks remaining in the Motherlode Valley Football League regular season, Argonaut and Hughson are both tied for first place in the JV division with 6-0 records.
Hughson 18, Calaveras 12
In a matchup of unbeaten teams on Saturday, September 24 at Hughson High School, Traxton Gobble and Matthew Timewell scored touchdowns, but the Junior Reds suffered their first loss of the season at the hands of the Huskies.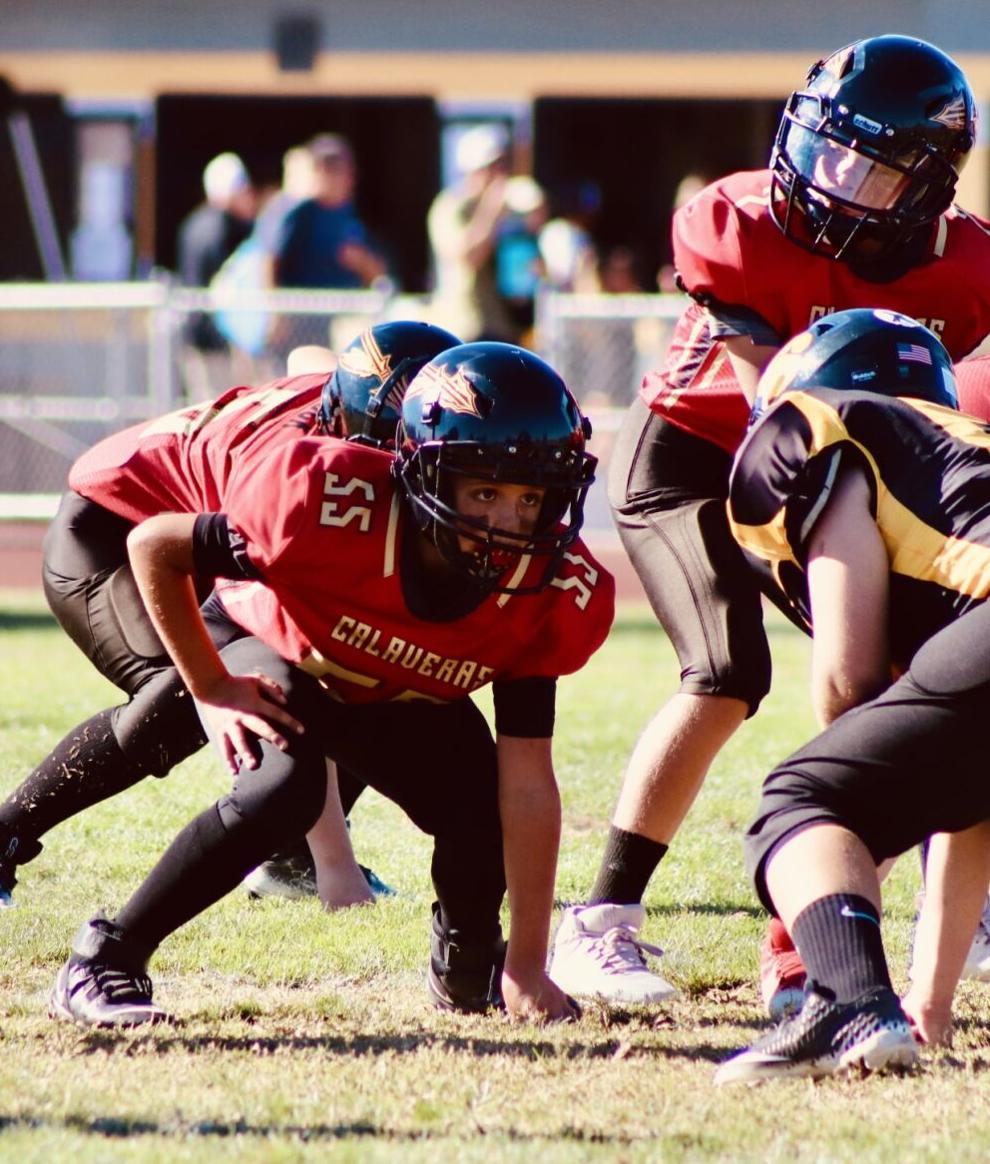 Defensively for Calaveras (5-1), Austin Lock and Summer Roberts had a number of tackles.
Varsity
Sonora 36, Argonaut 8
A 65-yard touchdown pass from Jordan Caspary to Aiden Smith highlighted the day for the Junior Mustangs in a loss to the undefeated Junior Cats. Argonaut (2-4), which had won two in a row, moved the ball well during the game, but had a few drives stall out right outside the end zone.
"We like the hard work and commitment from the players and we are looking forward to putting together a full game and getting some more wins to finish the season," Argonaut coach Jared D'Agostini said.
Calaveras 8, Hughson 6
The Junior Reds held the host Huskies to just 24 total yards of offense and forced a fumble in the second half to pull out a win on the road. Jayden Lopez and Patrick Rieger had five tackles each, Shaan Brock had a sack and Aaron Koepp had an interception to lead the defensive effort for Calaveras (5-1).
Offensively, Jr Patolo rushed for 61 yards; Owen Shahan rushed for 59 yards; Landon Patrick had one catch for 19 yards; and Cohen Curran scored the lone touchdown for Calaveras on a 16-yard run.
Novice
Argonaut 20, Sonora 7
The Junior Mustangs shook off a slow start to beat the Junior Cats and stay undefeated on the season. Offensively for Argonaut (6-0), Logan Booker rushed for more than 100 yards and scored three touchdowns; Chase Hernandez had 30 passing yards; and Ayden Ryan had two catches. Defensively, Hernandez and Ryan each had three tackles for loss.
Calaveras 39, Hughson 0
The Junior Reds cruised to the win over the Huskies on the road. Highlighting the shutout effort on defense for Calaveras (5-1) were Wyatt Hickerson, Carter Lim and Luca Varni, who each had an interception and multiple tackles. Offensively for the Junior Reds, Lim and Mason Williams rushed for two touchdowns each; and Bryce Botelho and quarterback Riley Emerson ran for one touchdown each.
Junior Novice
Sonora 24, Argonaut 12
The Junior Mustangs were handed their first loss of the season at the hands of a well-coached – and undefeated – Junior Cats team. Braxton Gillman and Case Cazadd each scored a touchdown for Argonaut (5-1) and Blake Bowers had a team-high nine tackles.
"This was a very competitive game for our boys," Argonaut coach Beau Gillman said. "I think it was good for them to see that we still have some work to do if we want to be the best. A few fumbles really turned this game into the Cats' favor. I was impressed by how well coached they were. I'm proud of our boys for not giving up and playing hard until the end."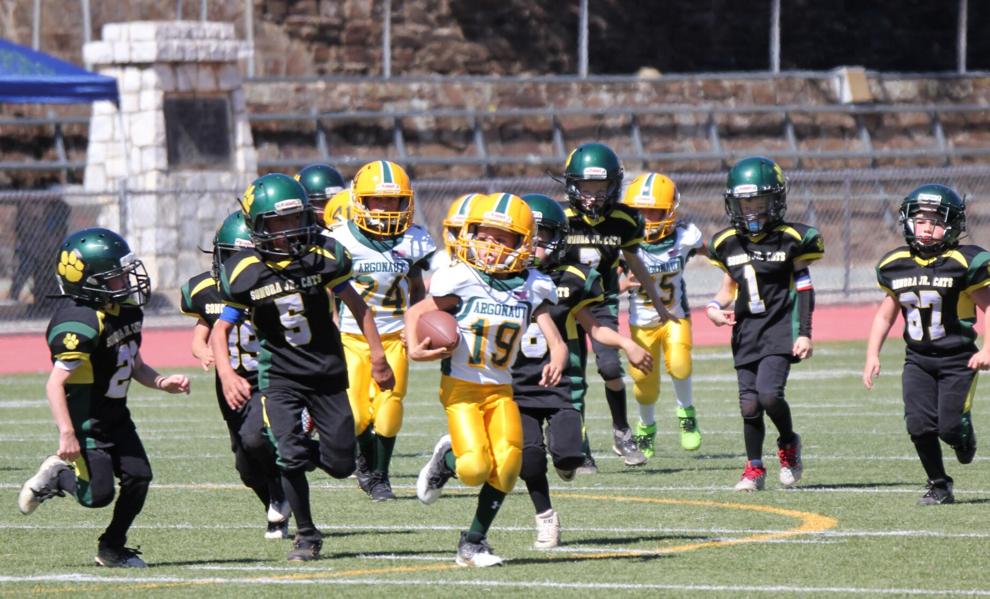 Editor's Note: Stats for the Amador Junior Buffalos games against the AMA Junior Bullfrogs were not reported.
Calling all youth football coaches! Email your team's results to jmalamed@ledger.news by Tuesday morning each week to be included in our weekly Youth Football Roundup. Photos are also welcome!