While the Caldor Fire remained within its footprint for several days as acreage burned remained unchanged, as of this morning, the burn perimeter shows a slight decrease by 410 acres with a total of 218,857 acres burned. Fire management continues to prioritize containment. Overall containment remains at 71%. A total of 2,702 personnel are now assigned to the Caldor Fire. There have been 16 first responders plus 2 civilian injuries reported to date with no deaths. The cause of this fire remains under investigation. Full containment is estimated for September 27, 2021.
As of 7:00 AM today, command of the Caldor Fire has been transitioned to a single Incident Management Team with California Interagency Incident Management Team 12, Michael Nobles as Incident Commander. The West and East Zones of the fire have been consolidated into one and CAL FIRE Amador-El Dorado Unit is a cooperating agency, providing a Type 3 organization to manage the State land jurisdiction of the fire.
Active fire suppression efforts are ongoing. While containment continues to increase, there are still many areas that continue to burn. Work continues on the Desolation Wilderness, Echo Lake, Lake Margaret, Caples Creek, and around the Kirkwood Ski Resort as well as other areas where fire remains present. These efforts will continue until full containment is achieved.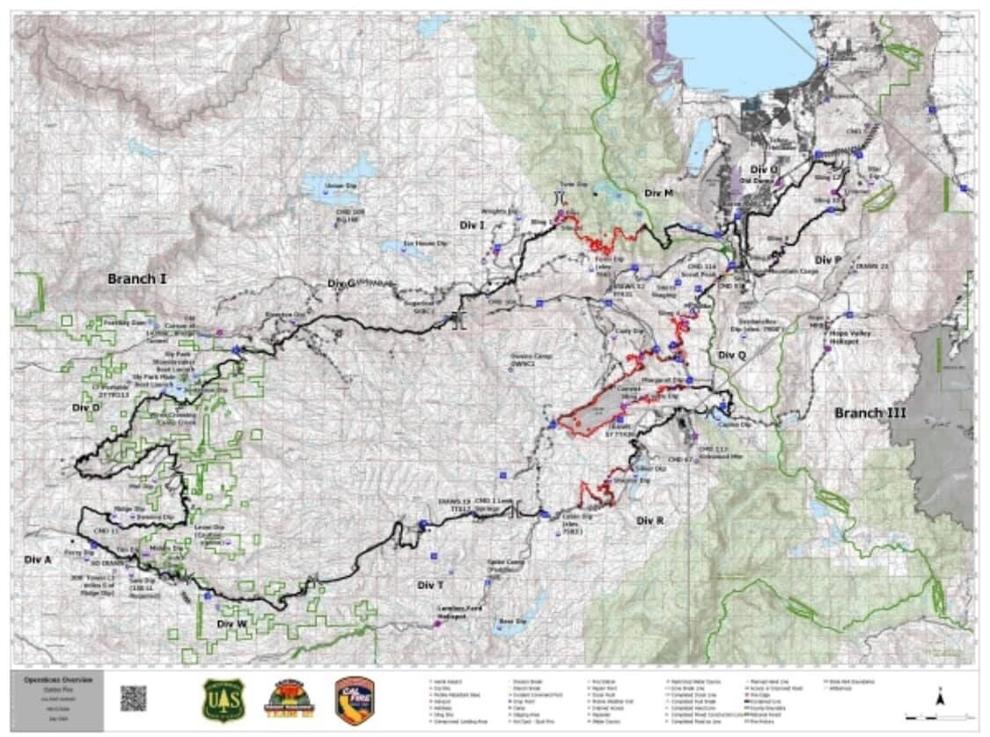 Weather will be a challenge for firefighters over the next couple of days as we enter a Fire Weather Watch on Saturday. Winds over the fire will begin to increase today with ridgetop winds from 13-18 MPH and 20-25 MPH tomorrow with gusts up to 35 MPH.
While repopulation has begun there are still roads and areas that remain closed for firefighter and public safety. Crews are working with local utilities such as PG&E which has identified more than 17,000 hazard trees that need to be taken down to help ensure roads are safe to travel. A portion of Highway 50 remains closed between Kyburz and Myers for public safety. Several personnel are working along the highway falling hazard tress and repairing infrastructure, such as power and phone lines.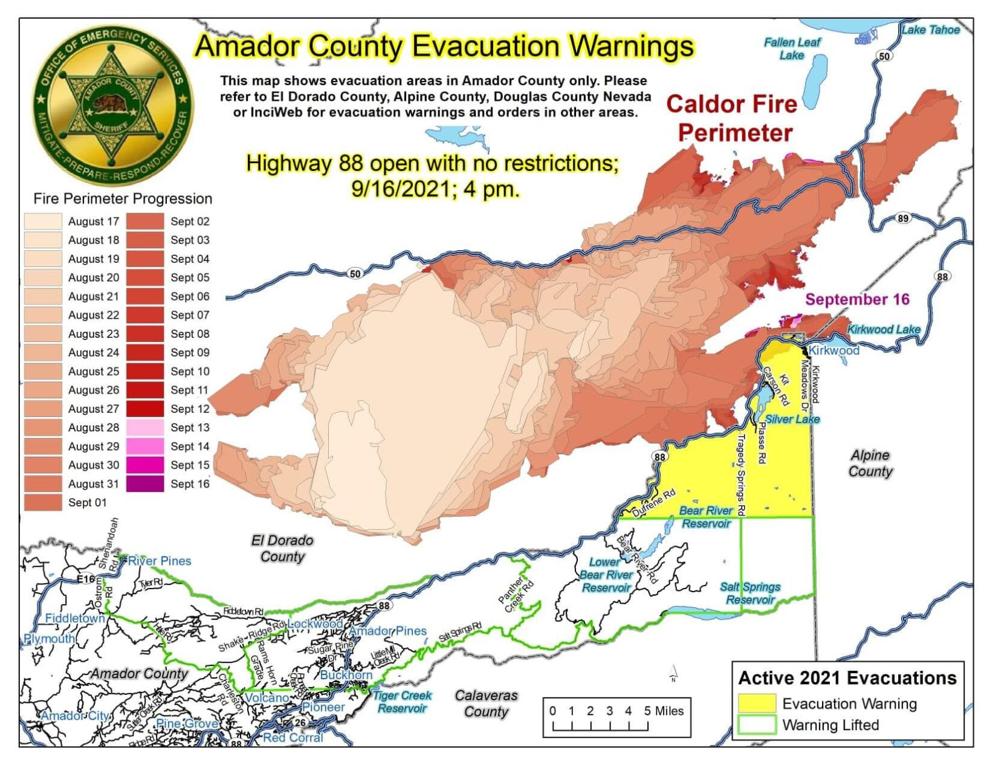 As of 4 PM yesterday, Highway 88 was opened with no restrictions from Peddler Hill to Kirkwood in Amador County. The mandatory Evacuation Order in the Silver Lake and Kirkwood area of Amador County was downgraded to an Evacuation Warning only. This area is highlighted in yellow on the attached Amador County map. The Evacuation Warning east of Panther Creek Road that included Bear River Reservoir and Salt Springs Reservoir was lifted.
The USDA Forest Service Pacific Southwest Region ended the regional closure order affecting National Forests in California at 11:59 PM on Wednesday, September 15th, two days prior to the original end date of September 17th. However, forest-wide closures will remain in place and be extended until midnight on September 22nd on the Los Padres, Angeles, San Bernardino, and Cleveland National Forests in Southern California due to local weather and fire factors, as well as a temporary strain on firefighting resources supporting large fires in other areas of the state.
In addition to the four National Forests that will remain closed in Southern California, some National Forest System lands throughout the state will be closed under local closure orders in areas of ongoing wildfires to ensure public safety. This includes the Eldorado National Forest in Northern California, which has a forest closure order until September 30th. Fire restrictions also remain in place across all National Forests in California to prevent new fire starts. Please refer to the local National Forest that you plan to visit to obtain specific information on closures and restrictions. For more information, please visit:
https://bit.ly/3Aewyw2
.
The Lake Tahoe Basin Management Unit closure order (19-21-05) remains in effect for the following backcountry areas: Desolation Wilderness, Meiss Country, Barker Pass and McKinney/Rubicon through September 19, 2021. Access and orders will be refined over time, for more information, visit:
https://www.fs.usda.gov/ltbmu/
.
A Burned Area Emergency Response Team (BAER) has started evaluating the Caldor Fire area. This is a rapid assessment of burned watersheds by a BAER team to identify imminent post-wildfire threats to human life and safety, property, and critical natural or cultural resources on National Forest System lands and take immediate actions to implement emergency stabilization measures before the first post-fire damaging events.
Damage inspections are 100% complete in the Caldor Fire burn perimeter with 3,356 structures assessed. As of this morning, 4,762 structures remain threatened by the Caldor Wildfire. A total of 1,003 structures have now been destroyed and another 81 have been damaged. Of those numbers destroyed, 782 have been verified as single family residences, 18 as commercial properties plus 203 other minor structures.
As areas in evacuation areas begin to repopulate, wildlife is a concern. Some wildlife may be injured or burned due to the fire. Please keep an eye out for wildlife and in particular injured wildlife. However, if injured, please keep your distance and do not touch. As a reminder, do not provide food or water to bears; it is illegal, and it can lead to escalating nuisance behavior including break-ins and human-bear contact that may result in the death of that bear.
"Wildlife is very resilient and many animals can recover and heal quickly on their own. Do not approach or provide food or water to burned and injured animals. Your proximity may be adding stress. If you care, leave them there," states California Department of Fish and Wildlife.
If you see injured wildlife that you believe needs assistance, please note the location and call a nearby wildlife rescue: Lake Tahoe Wildlife Care, Inc. (LTWC) at (530) 577-2273, UC Davis Wildlife Disaster Network (WDN) at 1-800-942-6459, Gold Country Wildlife Rescue (GCWR) at (530) 885-0862 or Wildlife Care Association of Sacramento at (916) 965-WILD (9453). These organizations are trained, ready and able to assist.
If you are missing a domestic animal, please call El Dorado County Animal Services - West Slope Shelter at (530) 621-5795.
Repopulation consists of complex coordination between fire, law enforcement, public works, and utilities to ensure the safety of residents and fire responders alike. The public is reminded to stay vigilant on current fire conditions. Please continue to adhere to road closures and any evacuation orders and warnings. There will be smoke in the respective areas as firefighters continue firefighting operations. If at any time you feel unsafe, please call 911. For tips on returning home after wildfire visit: Returning Home Checklist - Ready for Wildfire.
Caltrans District advises the traveling public to exercise caution while traveling in the Caldor Fire area, as crews and emergency responders continue to work. Drive slowly and yield to any emergency personnel in the area.
Three counties, El Dorado, Amador and Alpine Counties, remain impacted by the Caldor Fire. For the latest updates and links to information, please visit the
Ledger Dispatch Facebook page
.