Detectives with the Calaveras County Sheriff's Office confirmed this week that human remains discovered in October near Glencoe have been identified as belonging to Steve Delaney Jr., a 42-year-old Concord man who grew up in Amador County and had been missing since August of 2021.
Delaney was first reported missing on August 28, 2021, by his fiancée Staci Greer, who filed a missing person report with the Concord Police Department after Delaney hadn't come home or showed up at work since she last spoke to him by phone on August 24.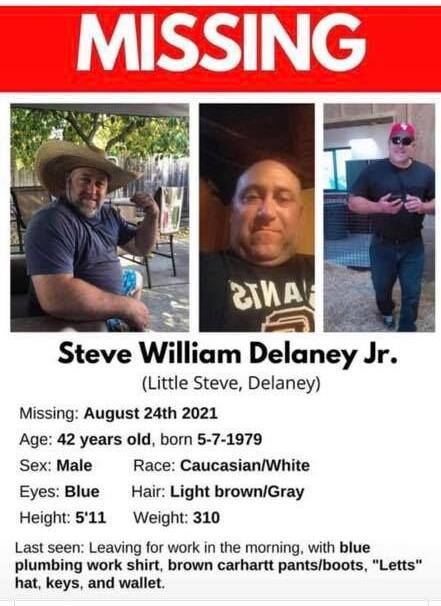 Delaney's 2007 white Ford Expedition was found abandoned near the Lower Dorray/Diamond Lane area of Mokelumne Hill on August 25, 2021, and his cell phone also pinged in that area.
Initial searches of the area didn't turn up anything, but on October 23, 2022, the Calaveras County Sheriff's Office received a report regarding the possible discovery of human remains from a caller who had been hunting in the area of Ponderosa Way east of the North Fork of the Mokelumne River. The suspected human remains were reported to be located within a steep drainage that was not easily accessible in rugged terrain. Detectives and a Forensic Anthropologist hiked to the location and confirmed that the remains were human. No cause of death or injury was immediately apparent at the scene.
The Calaveras County Search and Rescue Team was dispatched to the area and successfully extricated the remains from their location to a roadway, where they were transferred to the Calaveras County Coroner. An autopsy was conducted on October 24, 2022.
In a post on the Facebook group page "Find Steve Delaney" on Wednesday, January 18, Staci Greer announced that she had been informed by authorities that the remains discovered were those of Steve Delaney. Lieutenant Greg Stark of the Calaveras County Sheriff's Office confirmed that positive identification with the Ledger Dispatch on Thursday morning.
"First, I want to thank everyone for your prayers, kind words and well wishes," Greer posted. "As you all know, a body was found in October. Our son was swabbed for DNA a week after the discovery. Today, I got a call from the Sheriff's Department. The body is in fact Steven W. Delaney Jr. His body will be cremated and ashes will go to his daughter Chloe Delaney. With Bo being so young, his sister is going to save some ashes for him and I will have a necklace made for him. And the remaining of his ashes will be laid to rest with his baby sister, Camron. In a private ceremony.
"Thank you again to everyone. He is in the arms of Jesus and no longer suffering from his demons. He is gone, but never forgotten. I will always love and miss him. We had many good years together that I will forever be grateful for until we meet again."
According to Stark, a cause of death has not yet been confirmed.