Some really confident cats do well in strange places, but most do not. One thing I learned from Jeff Holman is that cats need to be "grounded" to their new homes before they are released outdoors. I have to admit that I was pleasantly surprised after A-PAL Humane Society's first year of placing barn cats to discover that over 95% of new owners said that their barn cats were still with them and thriving. Jeff leaves the cats at their new homes in cages for several weeks before they are considered grounded and released.
Our Executive Director, Cooper Steely, called me to ask what to do with a big orange cat that had been rescued from a field in Sutter Creek by Carol Olson and Joan Martin. Carol had seen this cat acting strangely just rolling and she went to the Paws Partners Center in Jackson where she had begun to volunteer and gathered gloves and a crate and Joan Martin for assistance.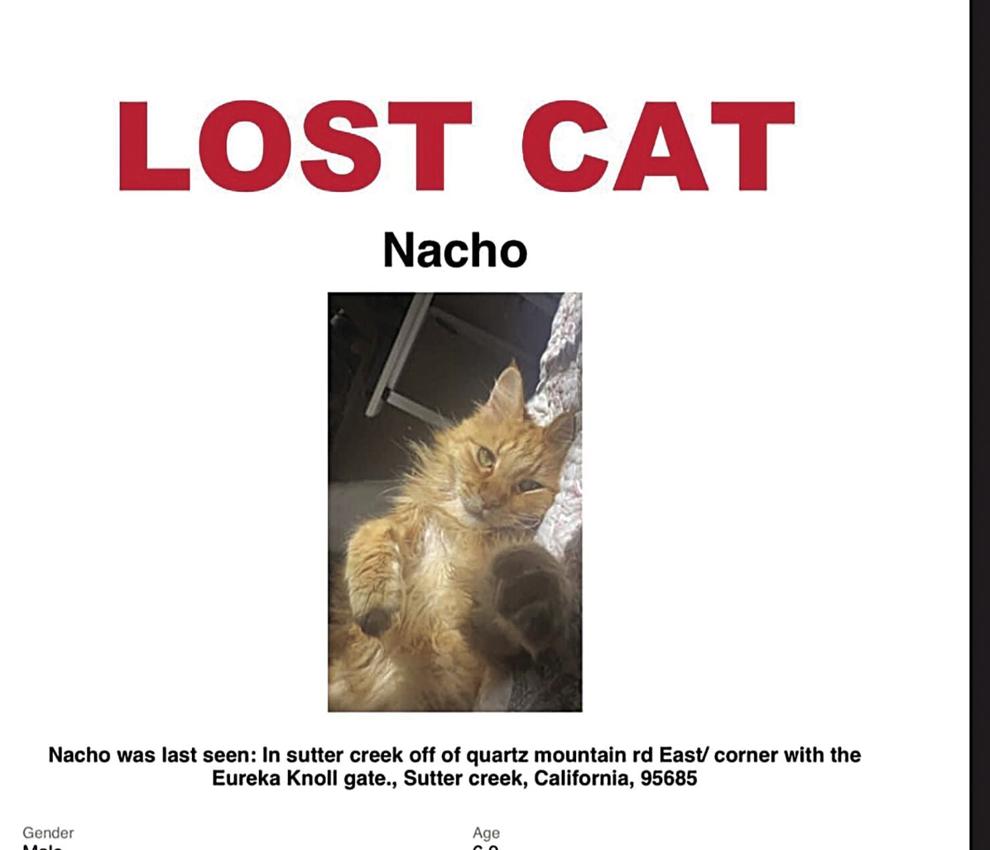 What they discovered was a cat that was totally unaware of their presence and clearly in need of help. This cat stared ahead and did not even seem to know he was being lifted into a crate and he was unable to stand. Long haired and orange, he put up no protest and he was matted and dirty. Cooper was asked to call Acorn Hills Animal Center to see if they would accept this big orange cat who clearly needed the care of a veterinarian.
Animals are always a little bit of mystery because they cannot tell us what is wrong, but this cat was more so because we had no owner history. We wondered if he had been dumped or if he was lost. The mystery was that he was so disabled that he could not possibly have gone far in this condition. We also learned that he was neutered and microchipped and as he improved under the care of Dr. Alison Pillsbury and her staff, he showed that he was sweet, so we knew someone had loved him.
The microchip showed no registry, so the mystery continued for this poor, big orange cat. Initially, he was unable to stand or to eat and was so wobbly that he had to have his head held to be able to take in food. His weight was just over 10lbs and you could feel every rib on his sunken backbone.
After a week we received a call that this cat, who was simply being called Big Orange Cat, was ready to come back to A-PAL and go to foster. As I was picking up another cat, Dr. Alison showed this cat to me explaining that he was now able to stand and eat although unsteady. We agreed that he would go to A-PAL after the weekend and Acorn Hills would work on getting his mats out for us. I told Dr. Alison that I would try to find this cat's owner. I remembered a post and hoped this would be that cat, snapping a few photos of him before I left.
I went to Amador Animals and Pets Facebook page where I had seen the post and began paging through. After about 30 minutes I found the post. The photos seemed similar, but I could not be sure. First I sent the photo to the person who made the post on the string where she had reported her beloved lost cat and then I realized she might not see it, so I sent her a message asking her to call me. To my surprise, Shaylee Hubbs called me immediately and seemed certain that this was her cat, Nacho. Her post was made in early January and I was calling more than a month later. Could this even be possible?
I explained to her that Nacho was at Acorn Hills Animal Center and asked her to call them. I called Acorn Hills too because we were all in disbelief that we may have located Big Orange Cat's owner. Shaylee told me that she took her two cats that lived with her in Davis to stay with her parents in Sutter Creek over Christmas break. These cats enjoyed ranch life and were allowed outside and one came back, but Nacho did not. 
This cat had weighed 17lbs and dropped 7lbs during his 5 miles of travel from Quartz Mountain Road to Pine Gulch Road in Sutter Creek. He had endured relentless rain, hail, flooding and extreme cold. The fact that he had gone so far and had escaped predators and extreme weather was a testament to how much he was loved and how determined he was to get home. His family matched his chip number on his paperwork with his chip reading confirming this was indeed their cat Nacho. Shaylee Hubbs told me many times how grateful they were that he had been found and that all of the family was crying happy tears. 
I learned three things from this miracle recovery of Big Orange Cat. First, I would never let a cat outside in a place that may be strange to them. This cat was so loved and well cared for that he miraculously survived. Second is to always double check that your microchip registry actually is recorded. It is possible to think you have successfully recorded your microchip and I encourage everyone to double check. And last, social media can work magic. A big shout out to the Amador Animals and Pets Facebook page and Lori Crisp for getting this Big Orange Cat home. Shaylee posted and this made it possible for her beloved cat to be matched to her and to be returned to the best place for his continued recovery, home.
A-PAL Humane Society was formed in 1977 as a 501 (c) (3) non-profit organization and dedicated to the Humane treatment of animals in Amador County. We work to prevent the overpopulation of pets and the suffering that results from it through spay/neuter programs and support Amador County animals and the people who love them. A-PAL pulls animals from our local Amador County Animal Shelter and Adoption Center for foster, treatment when necessary, and adoption. We welcome volunteers at 12360 Trade Center Drive and have a special need for weekend adoption assistance. For more information about our programs, please visit pawspartners.org or call 209-223-0410.