Inspiration is everywhere for experienced quilter Sue Green, from Nova Scotian flags and sights seen on travels to banners in front of businesses…and even an antique stained glass window from her grandparent's previous Santa Cruz home, the Golden Gate Villa.
Green recreated a detailed replica of the colorful stained glass window in her quilt Violet, winning Best of Show at the 2021 Amador County Fair; the large piece depicting a young lady holding a bouquet of violets in a stone alcove, surrounded with intricate symmetrical flowers and foliage, with a few artistic liberties to add her own touch.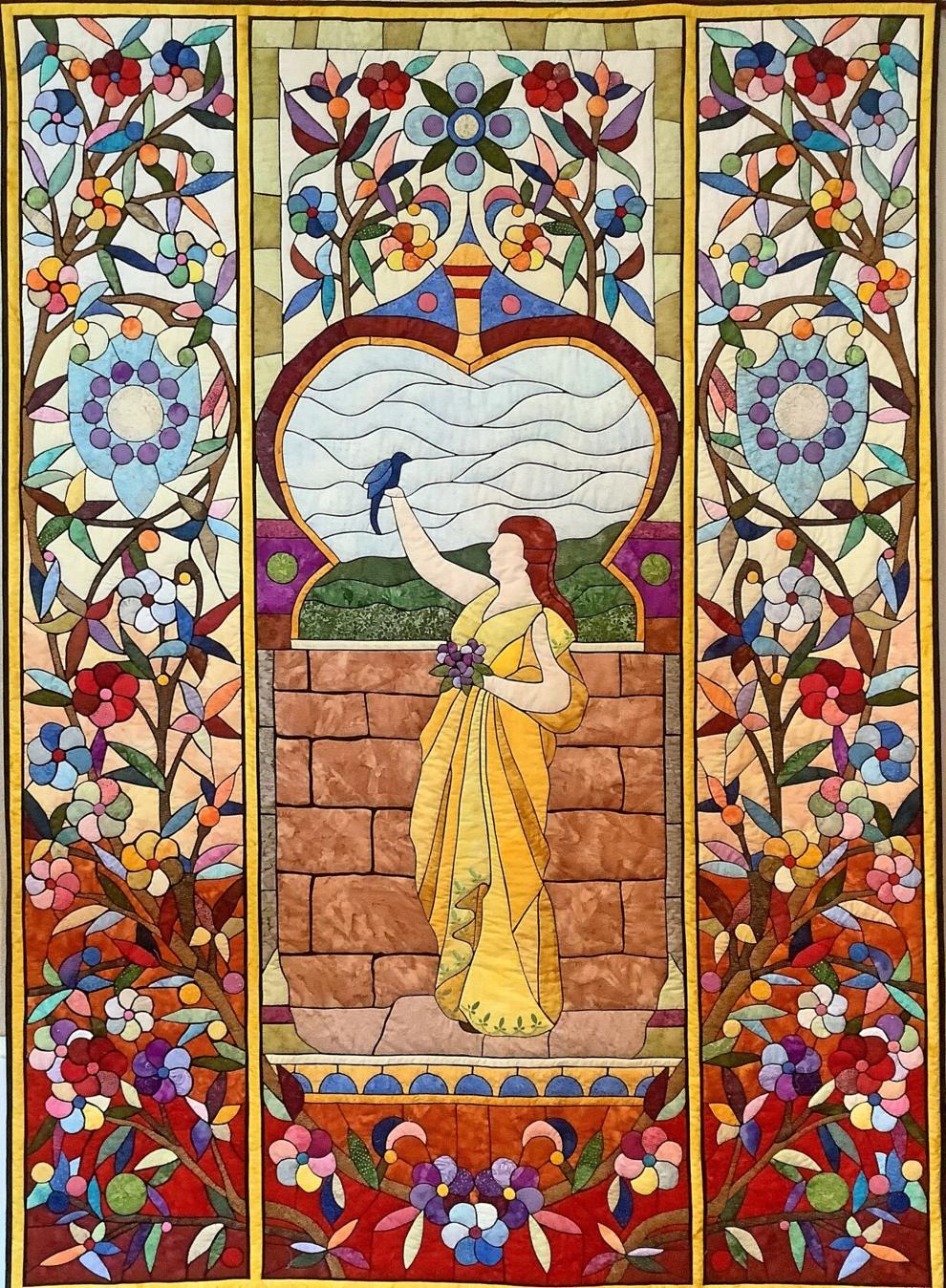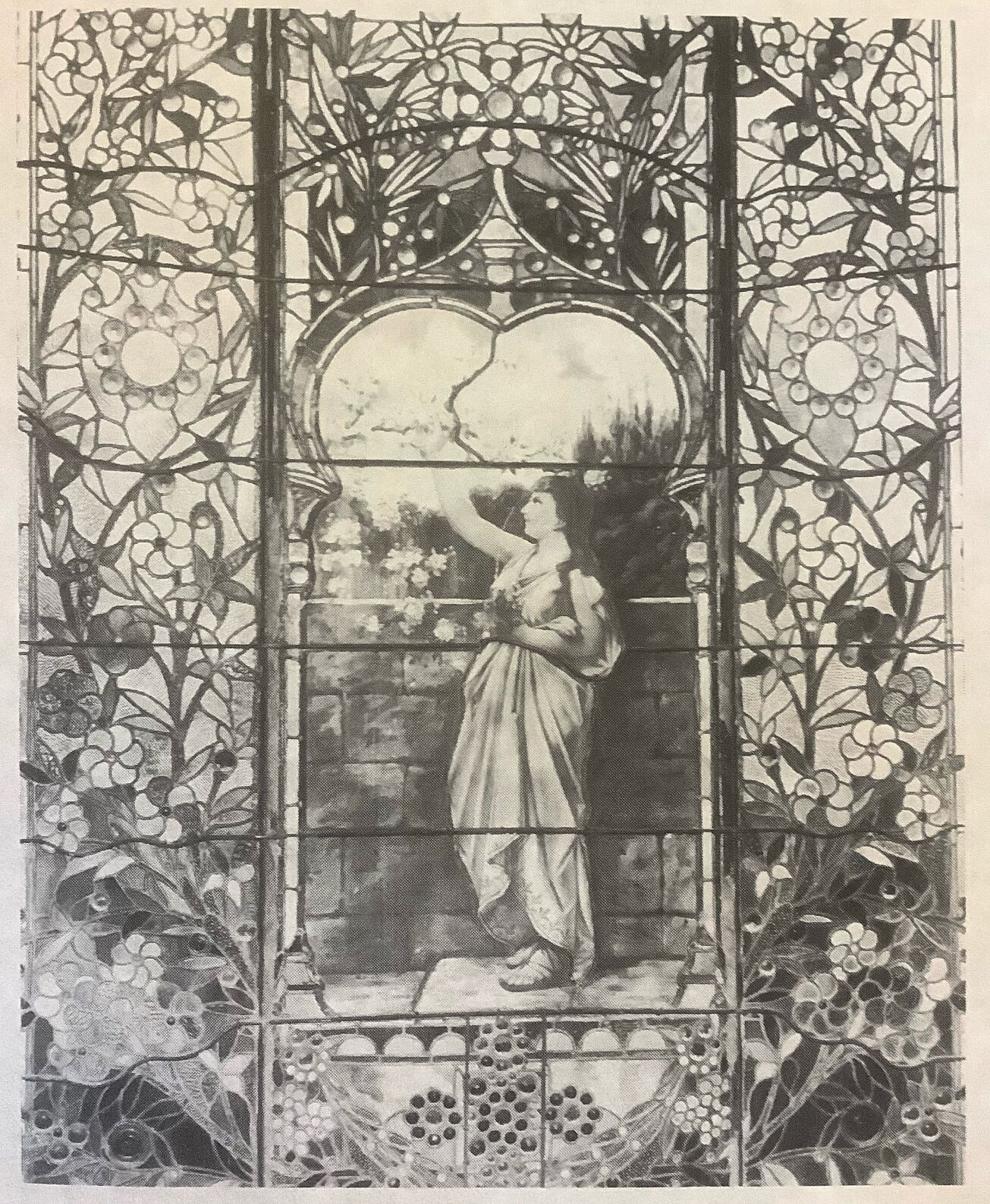 "My quilt, named Violet, was inspired by a home my grandparents owned from 1957 to 1963," Green explained. "We kids would visit, walk town the block to the beach, and play on the staircase underneath this beautiful, 12 foot tall window, which was jeweled and made of stained glass accented by painted glass. I always loved and remembered that window, ever since my childhood, and later came across an old family photo with the window from 1962. I kept the picture, and had the opportunity to visit again in 2018. The original residence, my grandparent's home of six years, had been converted into apartments, and I walked right up and opened the door. A lady came running and explained that this was her residence, and I apologized and said that my grandparents used to own this home, and I remembered the window. She invited me in and gave me a tour of her apartment, and I saw that window again."
Lighting up the staircase from the 1st to second floor in the mansion is a huge 12x9 foot size piece; the window paints the picture of a peaceful moment for the young lady dressed in Classical clothing, holding a bouquet of violets and reaching up to a nearby blossoming apple tree. The window even harbors a dark history- when Green had a chance to revisit in 2018, the residence-turned-apartment building had its own pamphlet. That idyllic, serene scene had played witness to a terrible tragedy at the turn of the 20th century. 
"The man who built the home was named Major Frank McLaughlin, and the house was built in 1891," Sue said. "And his story is incredible."
Major McLaughlin was well-rounded in his many careers: a policeman, civil and mining engineer who worked on the Union Pacific Railroad turned Wild West deputy to famed Marshal Bat Masterson, even having a tense stare-down with (and surviving) challenging the fellow lawman Wyatt Earp. He had a brief escapade in the Union Army fighting against the Confederacy during the American Civil War, built (and subsequently dynamited) the beginnings of the Oroville Dam, then took up platinum and gold mining in California, brushing shoulders with the highest of society…inventors, politicians, bankers, media moguls and the wealthy elite; including personal friend Thomas Edison, San Fransisco Chronicle Founder Michael Henry de Young, California's Lieutenant Governor William Thomas Jeter, and President Theodore Roosevelt. 
McLaughlin had become something of a living legend in the late Victorian era, both across the US and abroad, receiving numerous requests to serve in then-president William McKinley's cabinet and as the Californian governor. These were all declined by McLaughlin, who escaped the summer heat and pressures to get involved in politics in his newly built Golden Gate Villa on Beach Hill in Santa Cruz, where he took up residence with his wife Margaret Loomis and her daughter Agnes. Frank raised the young girl as his own, and was reportedly extremely fond of her, showering her with the best of his affluent lifestyle; from electricity to movies, fireworks displays and creating new drinks and dishes, cooking them himself at his extravagant galas. The stained glass window pane was another display of wealth and devotion to Agnes, depicting her in a romanticized setting, in front of an apple tree and surrounded by elaborate floral motifs - and hosting the legend that Frank took cuttings of Agnes' own hair to be mixed into the vivid paint colors. 
Agnes' beauty was described as the ideal Gibson Girl, and her curious mix of an extravagant life and devout Christianity was the envy and talk of the town - her outfit and appearance with a handful of violets at an 1892 ball noted by the Santa Cruz Sentinel, and again a few years later by the Sacramento Record Union. Though seeming odd now, this was during a time when affluent young women were dressed in their best to be "presented" to the community and to catch the eye of fellow wealthy potential suitors at such grand parties, as a sort of PR stunt to ensure they married well either in their own class or above.
Those glorious years had come to an end for the Major; his loving wife Maggie had passed, leading him into a deep depression while his fortunes had turned…and he, despite living in one of Santa Cruz's grandest mansions while showing the outward appearance of being wealthy as ever, was facing destitution. According to the original report and reinforced by both Susan Dormanen's 1991 brochure and Sue's recollection, Major McLaughlin committed a murder-suicide on the second anniversary of his wife's passing; heartbroken and distraught for losing his beloved wife and mother, and for the loss of his fortunes and despair at the thought of his beloved Agnes living in poverty. 
Now in her thirties, Agnes Loomis-McLaughlin, betrothed to two men and more devout than ever before, was shot in the head by her father Major Frank McLaughlin on the morning of November 16, 1907. He left his adopted daughter to die before phoning his friend, former Lieutenant Governor turned banker William Thomas Jeter to report the murder and his plans for suicide before ingesting cyanide. The macabre event was reported in the San Francisco Call's Volume 102, Number 170 - dated November 17, 1907. The headline read "Frank McLaughlin Kills Daughter and Himself at Santa Cruz. Bullet and Poison Used: …Beautiful Villa Is The Scene Of Double Tragedy. McLaughlin Carries Out Plans Formed Months Ago…Shoots Daughter as She Sleeps After Mass…Father Seeks to Save His Offspring from Poverty." 
In his depressive state caused by the loss of his wife and finances, the Major had retained enough clarity to plan the tragedy; even weeks earlier penning his own obituary, a will and various letters explaining his reasoning to his banker friend Jeter and the world, writing, "To leave my darling child helpless and penniless would be unnatural and so I take her with me to our loved one. She is the very last one who could face this world alone….She's going with me because I love her so." According to the Call's report, the original plan which the Major wrote in a letter to his physician Dr. Morgan, was to "give his daughter poisoned wine and drink some himself." The Call speculated that this was not dramatic enough, and as a person who was all about theatrics, McLaughlin chose the latter plan and even posted his various letters and notes, many of which were delivered by servants as the crime was committed.
"They say that after his wife died, Major McLaughlin was so distressed that he never buried his wife's body, and she was never embalmed," Green noted. "He wanted to make his own investigation into her cause of death, which was determined at the time to be a degenerative spinal disease. He kept her in a vault and used to visit her, can you even imagine how that must have been? He loved her so much that he couldn't bear to send her back to New Jersey to be buried without him." A line in The San Francisco Call's November 17, 1907 paper that was printed just a day after the tragedy, supplies some evidence to support this: "Before slaying the sleeping girl, the broken promoter arranged for a double funeral, for the removal of his wife's body from the receiving vault where he allowed it to remain, probably in waiting for the tragedy today." Per Frank's request, the three bodies had been arranged to be sent back East to be buried by Agnes' Aunt. 
Understandably surprised by learning of the dark history surrounding the Golden Gate Villa (which is now listed on the United States National Register of Historic Places) Sue chose to create a quilted version of the window, forever immortalizing the memories she retains of happy times playing in her grandparent's home during her childhood. "Violet is a quilt made totally of needle turn appliqués on batik fabric, applied onto a black background to give the appearance of the leaded metal in the stained glass window," she said. "The focal point is little Agnes. After seeing the window all those years later in July of 2018, I stared the quilt, which took about two years and 4-5 months to finish. I was making other quilts along the way, but finished it up in time to enter it in the 2021 Amador County Fair."
Violet's detailed piecework and clear story depicted was well-received at the Fair this year, earning the Best of Show Award. "I'm very proud to have won…it was pretty fussy, and so was I!" Sue laughed. "It was a lot of work, taking the time to get all of those lines and little things straight, leveling that wall. I also made a couple of changes like lengthening Agnes' dress because I did not want to deal with toes, and changing the apple tree to a bluebird perched on her hand. I'm taking Violet to Santa Clara for the Pacific International Quilt Festival on Tuesday, and we'll see how she does later this week!"
A quilter of 35 years who has lost track of how many quilts she has made, Sue is also a current member of the local Sierra Gold Quilter's Guild, also a past president, vice president and board member throughout the 14 years as a membership chairperson. She welcomed any fellow quilters or persons who would like to learn the skill to join the Sierra Gold Quilter's Guild. "We meet on the second Tuesday of each month at 10 a.m. at Mt. Zion Church in Pine Grove, and new members are always welcome," Green finished. "We share patterns, techniques, and quilt making, and also hold classes, workshops every month and show-and-tell, and you can learn so many new techniques and ways to improve quilting. There's also our biannual quilt show that showcases our member's creations of quilts and wearable art and also in which the Opportunity Quilt is auctioned off, along with other smaller quilts and gift baskets of quilt supplies. We also set up a Country Store with fabrics, kits and notions, pattern books and consignment items. The Sierra Gold Quilter's Guild also creates community projects, like donating lap size or larger quilts, chemo caps, clothing protectors, Christmas stockings and animal beds, all of which our members have made out of our stash of donated or quilter's own fabrics. It's a big part of our group to give back to our community."
To learn more about the Sierra Gold Quilter's Guild or to join, visit their website at sgqg.org, email pjdominici@yahoo.com or call  209-304-0606. Meetings are held on the 2nd Tuesday of each month at Mt. Zion Church (subject to change back to Zoom). Mt. Zion Church is located at 13891 Cedar Pine Lane in Pine Grove.