On the rare sunny day of the seventeenth of March, Rachael Lara is busily working inside instead of basking in the sun's temporary golden glory beaming over her new roof and lighting up the verdant park across Main Street. The luck of the Irish isn't just granted to her and her husband today, it's being earned.
The Tin Roof Wine Cafe has moved from Drytown to 9414 Main Street Plymouth, right in between City Hall and the shared tasting room of Fate Wines and Hellcat's Crush. It fits in perfectly and looks great.
Rachael and Cris Lara originated the vision of their wine cafe in Drytown, finalizing the purchase of that location just a few days before the COVID lockdown that none of us celebrated the recent third anniversary of. The Laras had all the time in the quarantined world to transform that former antiques shop into a multi-room, multi-theme wine cafe / date night cafe. It was well received by the community and gained a loyal following by supporting local brewers, farmers, wineries and growers. That two-way loyalty isn't going to change, but the internal theme will.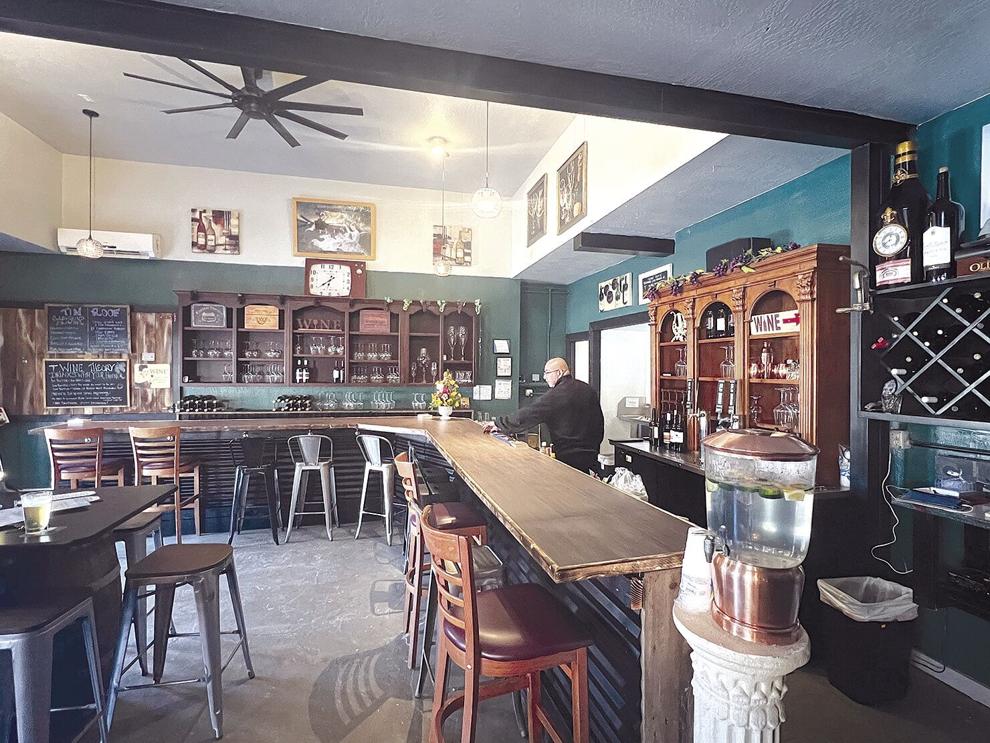 "This new location to me, it's getting just a little more historic, a little more speakeasy, but with that being said…" Rachael Lara pauses for a moment, "…it's going to keep evolving because things don't just happen. I myself can't just walk into a J.C. Penney and say 'oh that's so cute I'm gonna put that in there.' I don't like replicas. I want pieces of the town."
This writer emphatically agreed and our conversation took tangents beginning with other locals' ideas of rotating historic exhibits in our local library or city offices. Then we spoke about some proposed public art projects in the park, which led to how to involve kids in civic activities. In other words, Lara has moved all of 3.2 miles down the road but her heart has expanded to hold that much bigger of a community inside it. This isn't just a business reopening, it's a type of support to enliven those near its influence.
That's what our town needs, and keeps getting, as more like her choose Plymouth to operate within. Marianne Akerland, Plymouth City Mayor, hopes to thank these entrepreneurs soon by holding something like,  "…a ribbon cutting ceremony symbolically reaching from the new adult education school to down past the hotel," representing the many changes since Covid in established and new businesses. 
Lara speaks more on the changes to her business' appearance. "A traditional speakeasy has a secret door, and we are working on that. I am playing with ideas like  library shelves that open, but I don't want to harm books. But I really want to have imagery of old buildings in town inside, and maybe a mural dedicated to the past, present, and future of Plymouth."
It's not really a change, it's enhancing the community and protecting Plymouth's roots.
Lara continued, speaking about her interest in working with other local business owners and Rotary members who put on events in town. She wants to start something together, not just open and close her doors for profit.
"When I grew up, my grandpa said that when you show up, both feet better be forward. So that's always my thing, and it lets everybody in."
Some have asked if the events, culture, and menu will change with the new speakeasy theme. They will, and they will morph into something bigger, something more. She's hoping for some rocking in the Plymouth Popup Plaza across the street, and wishes she had bagpipes for Saint Patrick's Day so she could set the holiday mood.
The culture will pick up where it left off. When a regular walks in, everybody will still act like it's the Cheers bar and call out their name. 
As for Thirsty Thursdays, they will continue, as insiders hoped for. And then there is Fuzzy Friday. Named after a member of her customer family, Kat (Rachael loves you, Kat), this day too shall thrive. Some take it to different levels from coming in unshaven, to matching Kat's fuzzy hair, to Lara topping them all coming out of the kitchen looking like Bozo the Clown with her husband Cris wiping the sweat off her face with her makeup running all over. 
Food offerings have always rotated, and will continue to do so. Sogood Catering is working in the kitchen alongside Rachael making various offerings. (Sogood Catering also creates some dishes for Fig Barn Cafe down the street.) Currently, a grilled peach salad, French dip with au jus, Carolina sliders, and lasagna rolls fill out the body of the menu, accompanied by a half dozen lovely 'petite eats' and a pair of charcutrie / cheeseboards. Come in to see which local beers are on tap or in containers, and explore the Laras' selection of local wines.
Some folks have asked what will become of the previous Tin Roof location. A lot of love and dreams fueled the couple's restoration of their former storefront at 15917 Highway 49 in Drytown. They know the future buyer will spot the potential they brought out in that multi-themed retail (and home) space that the neighborhood adopted. Perhaps it will become a bakery, coffee shop, gem and coin shop, soup and salad bar — who knows — but it certainly is set up to be a turnkey operation with all the hard work done to prepare it, and the Laras' wish that all support that new business as much as it did their own.
Come visit the new location of the Tin Roof Wine Cafe at 9414 Main Street in Plymouth as soon as you can. It's already beautiful inside and there is something new each time I have visited so far. 
Tin Roof's new earlier hours are: Thursday 4 p.m. - 8 p.m.; Friday 12 p.m. - 9 p.m.; Saturday 12 p.m. - 9 p.m.; Sunday 12 p.m. - 7 p.m. and M,T,W: closed. With nearby Taste Restaurant now open for lunch year round weekends from 11:30 a.m. - 2 p.m., Fate Wines is also extending their hours, so visitors can take advantage of the large parking lot across the street and slowly stroll from ABC to the Plymouth Hotel. 
'Like' their page at https://www.facebook.com/TinRoofwineCafe online.
Editors note: For subscribers interested in what frames up the Tin Roof's history, please read the June 2021 article available at www.ledger.news online (see attached link here online).