It was an extremely busy week for VFW Post 8254 Ione and DAV Chapter 118 Ione. So busy, that when we received the schedule, we sat in disbelief that it could all be accomplished. Not only were the events a success, they were brilliant.
On Sunday, November 7, VFW Post 8254 and DAV Chapter 118 were honored to perform the Honor Guard at the Veterans Benefit Shoot at Camanche Hills Hunting Preserve.
Many found members of VFW Post 8254 and DAV Chapter 188 at the Veterans Bowling League Tournament and along with the American Legion and the Marine Corps League, they supplied the Color Guard.
Wednesday and Thursday, the busy crew conducted two days of poppy drives thanks to Walmart and the support of the community. But they were hardly finished, as on that very same Thursday the crew took part in the Veterans Day Parade in Jackson.
All leading into Sunday, where we finally caught up with the VFW Post 8254 and DAV Chapter 118 at the VFW Post 75th anniversary and remodel grand reopening.
For those in attendance, it was a great evening in a beautiful renovated Post. It was an evening of honor, awards, information, plans and positive feelings.
As one visitor claimed, "This is like how I remember Ione used to be. Great people, great fun, an amazing dinner and everyone just laughing, loving and celebrating each other."
VFWCA District Commander Rick Linares and his wife Kelly joined in the special rededication of the newly remodeled post.
Awards were given to numerous amazing individuals for their dedication, work and efforts. VFW Post 8254 Ione and DAV Chapter 118 recognized their choice for Law Enforcement Officer of the Year, Sergeant Jonathan Alfred, Ione Police Department; Paramedic/EMT of the Year, Paramedic Dave Barstow, American Legion Post 108 Ambulance Service; Firefighter of the Year, Engineer Stephen Billingsley, Ione Fire Department; The VFW Service Award was presented to Bob Gray.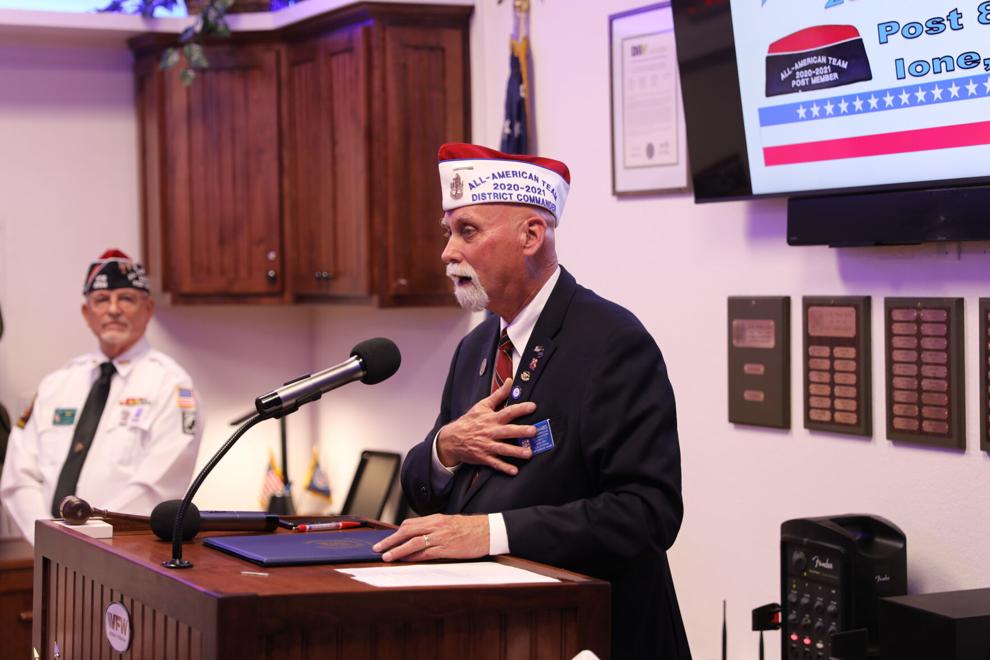 The VFW Post 8254 and DAV Chapter 118 also named their winners for the student Patriot's Pen and Voice of Democaracy Awards. Lilly Howden of Ione Junior High School won the Posts Patriots Pen, while Chistopher Luke Hermanson, Amador High School, won the Posts Voice of Democracy honor. Both will now continue to compete at District level with an opportunity to advance to State and National competition.
For those that missed the grand reopening, VFW Post 8254 Ione and DAV Chapter 118 invite you to stop by 207 South Amador Street in Ione.
This was the perfect event leading into Thanksgiving, as it reminded a standing room only crowd, we have a great deal to be thankful for, and at the top of that list would be the Veterans and members of VFW Post 8254 and DAV Chapter 118. Congratulations as a good time was had by all.